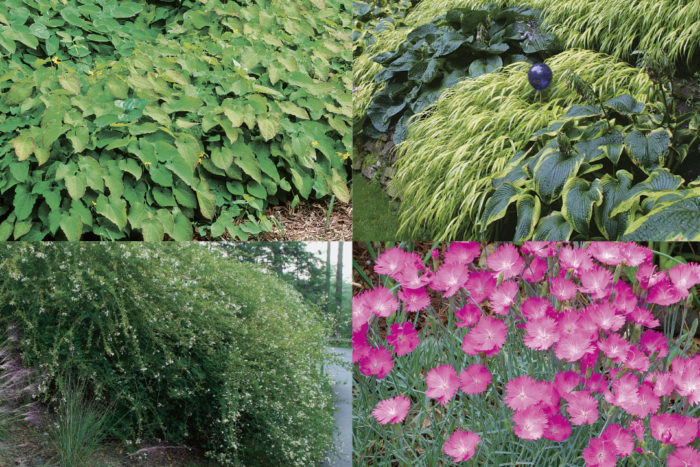 Those who choose to garden on an incline exemplify the saying, "When life gives you lemons, make lemon­ade." While limited accessibility and maintenance chores can make them difficult to maintain, slopes offer highly visible exhibition opportunities that are easy to take advantage of with slope-friendly plants.
Desirable plants for slopes are low maintenance and evergreen, and they spread to squeeze out weeds and lessen the need for mulch. All three characteristics don't always show up in good slope plants; some of the best, for example, are deciduous. Regardless, the following shrubs and perennials are proven performers, tried and tested in my slope gardens.
'Fröhnleiten' Epimedium is a Tough and Tiny Wonder

Epimedium

perralchicum

'Fröhnleiten'
I am always on the lookout for tough evergreen ground covers, and this epimedium is one of the best. Though 'Fröhnleiten' officially spreads to 2 feet, mine has formed an 8-foot-wide colony around the base of an oak tree with no watering other than rainfall. The heart-shaped compound foliage features maroon highlights on old and new growth. Star-shaped, ½-inch-wide, bright yellow flowers are borne just above the leaves in early spring and require no labor on the gardener's part. The foliage stays nice until late winter, when it tends to brown out; a springtime cutback will fix this.
USDA Hardiness Zones: 5 to 8
Size: 8 to 12 inches tall and 2 feet wide
Conditions: Partial to full shade; moist, well-drained soil
Chinese Indigo is Like Finishing School for a Slope

Indigofera kirilowii
This refined bloomer is one worth getting hooked on. With short stature, pink flowers, and a spreading habit, Chinese indigo is a woody perennial made for slopes. Its dense root system is great at holding soil, and its uniquely textured compound leaves are an elegant addi­tion to hillside designs. The lovely racemes of flowers remind me of small pink wisteria blooms. It's reliable during a drought and can handle cold temperatures, too. It should be cut back to the ground in winter in Zones 5 and 6.
Zones: 5 to 9
Size: 30 inches tall and 3 feet wide
Conditions: Full sun; moist, fertile, well-drained soil
'Merlot' Virginia Sweetspire Offers Three-Season Interest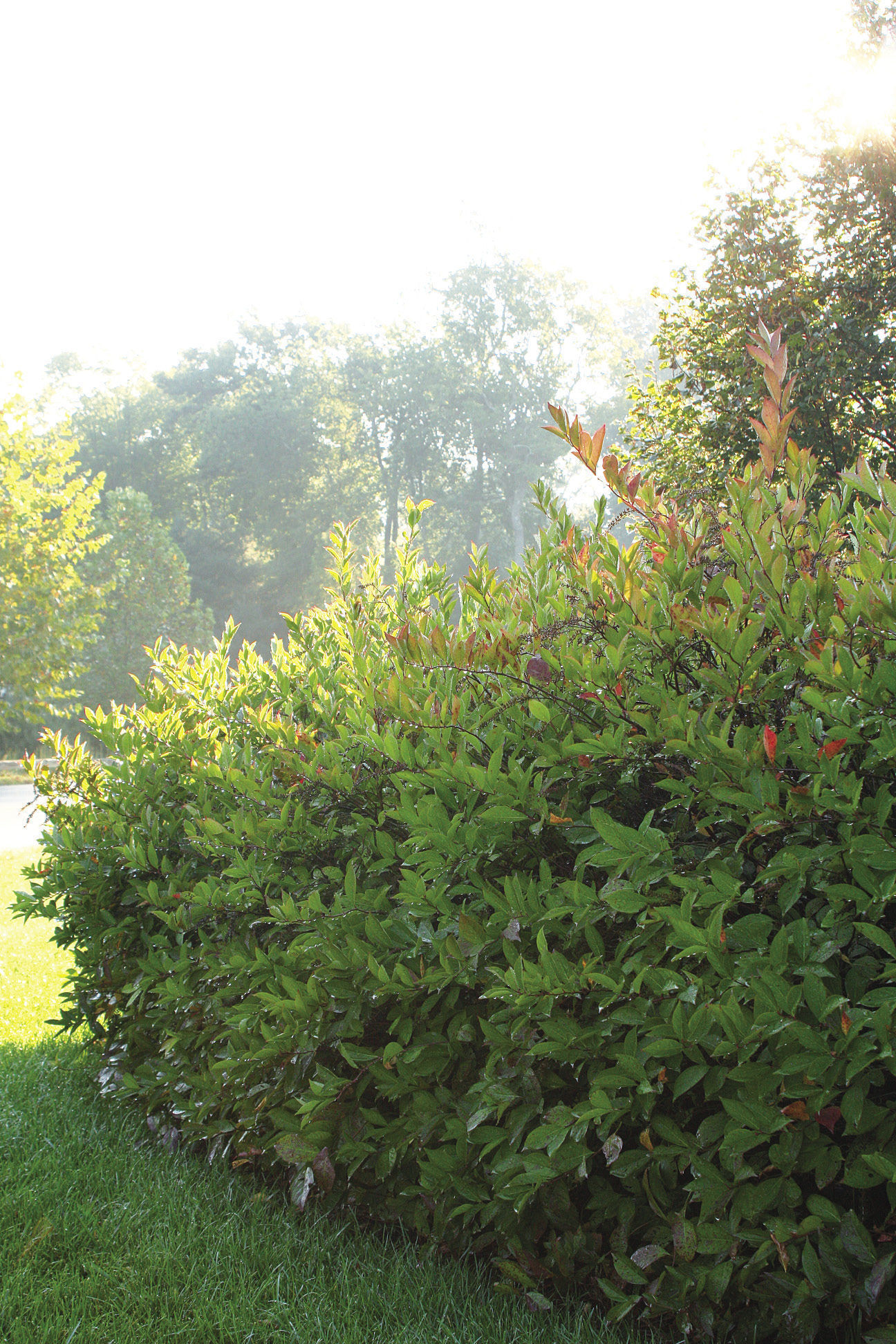 Itea virginica
'Merlot'
'Merlot' Virginia sweetspire, a native North American shrub, spreads to form a wide slopeside colony. Although it isn't evergreen, 'Merlot' compensates with tremendous versatility and tolerance of wet and dry conditions. Beautiful racemes of white flowers in spring are followed by deep maroon leaves for fall color. Its upright yet arching shape makes it a graceful addition to slopes, where its habit can be fully appreciated from upper or lower vantage points.
Zones: 6 to 9
Size: 3 feet high and 6 feet wide
Conditions: Full sun to full shade; moist, well-drained soil
Muhly Grass Forms Dreamlike Tufts on the Toughest Inclines
Muhlenbergia capillaris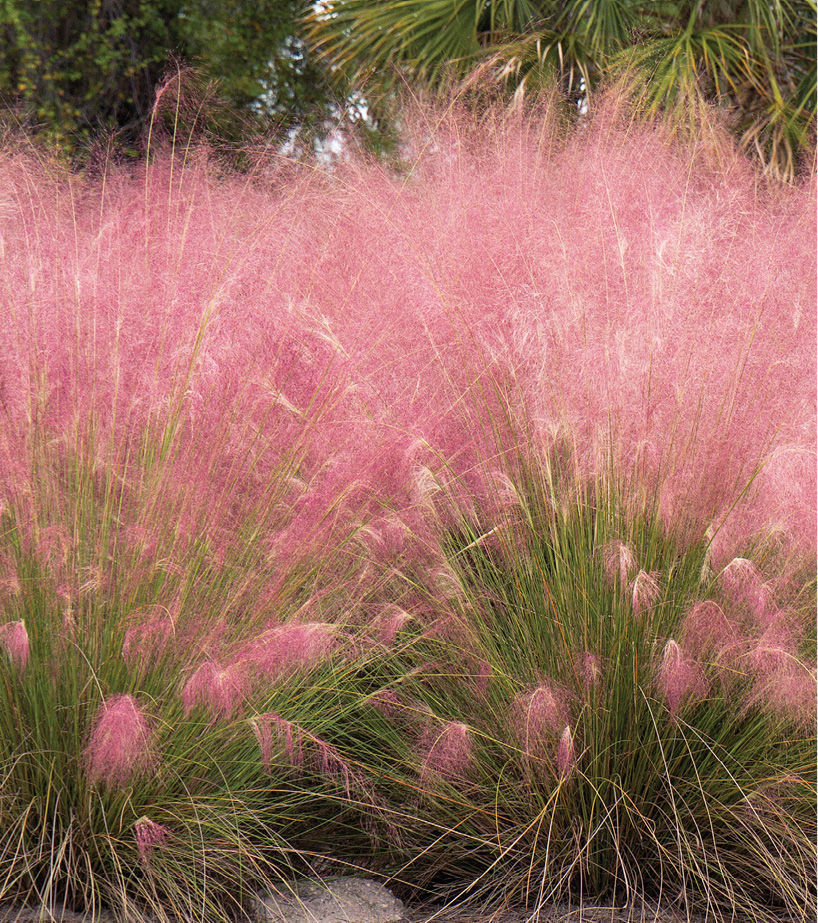 Muhly grass's fine texture and short stature make it a controllable grass that adds verticality to an incline. It clumps instead of spreading, so it won't bully other plants and take over your design. As with most grasses, muhly grass is drought tolerant, handles full sun, and needs little care once established. Its best trait is its flower display, which appears at the end of summer and continues through fall. The flowers look like a hovering, purplish pink cloud, which makes it seem as if the grass has lost its solid structure. Muhly grass will require an annual cutback to keep it looking fresh.
Zones: 6 to 9
Size: 3 feet tall and 2 to 3 feet wide
Conditions: Full sun; average to dry, well-drained soil
'Aureola' Japanese Forest Grass—The Hillside Midas Touch

Hakonechloa macra

'Aureola'
This wonderful cascading grass works well on shady hillsides. 'Aureola' Japanese forest grass is a slow spreader with great texture and illuminating color, which can be hard to come by in the shade. Its bright yellow foliage is a foot tall and tends to lie over in layers that give the impression of a waterfall coming down the hill. Because its interest lies in the foliage and there are few blooms to deal with, this is a low-maintenance choice that won't have you climbing to deadhead. Dry shade isn't best for this grass, but moist, dim spots suit it well.
Zones: 5 to 9
Size: 14 inches tall and 16 to 24 inches wide
Conditions: Partial to full shade; moist, well-drained soil
'Firewitch' Dianthus Solves Erosion Issues with Style

Dianthus gratianopolitanus

'Firewitch'
If you're looking to stabilize an eroding slope, 'Firewitch' dianthus is your low-maintenance answer. In 2006, 'Firewitch' was voted the Perennial Plant of the Year, and it is still the perennial I turn to most. Its foliage is gray-blue, and its display of carnation-like, bright pink flowers is a show­stopper in spring with repeat blooming in summer. Don't be fooled by its delicate appearance: 'Firewitch' is a tough beauty. While other dianthuses struggle in summer heat, 'Firewitch' continues to put on a flowery show that won't need unwavering care.
Zones: 3 to 9
Size: 6 to 12 inches tall and wide
Conditions: Full sun to partial shade; well-drained soil
'Albiflora' Bush Clover Turns a Slope into a Floral Bouquet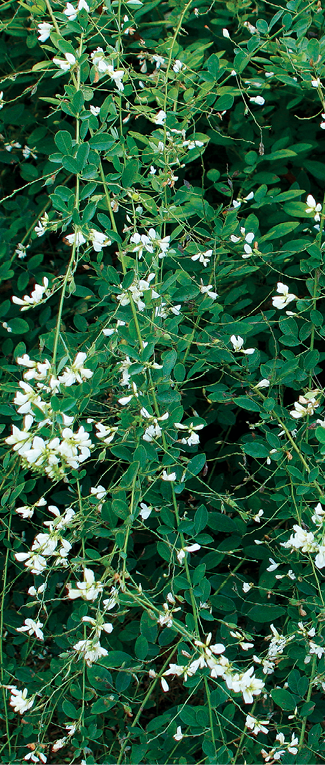 Lespedeza thunbergii

'Albiflora'
End-of-summer flowers and a tolerance of hot, dry banks make 'Albiflora' bush clover an unjustly underutilized plant. Although it's a woody-based perennial, it is considered a shrub by most people because of its size and its name. 'Albiflora' is the choice bush clover for slopes as it grows a foot shorter than its relations, making it easier to place and care for on an incline. As many as 50 slender stems emerge in spring and form a beautiful uniform spray. The weight of thousands of small flowers causes the stems to drape almost to the ground. 'Albiflora' requires little to no maintenance, other than to be cut back to the ground once a year. It will increase in girth and cover a large area through the coming years.
Zones: 5 to 9
Size: 5 feet tall and wide
Conditions: Full sun; fertile, well-drained soil
Mountain Bamboo is Tough and Doesn't Spread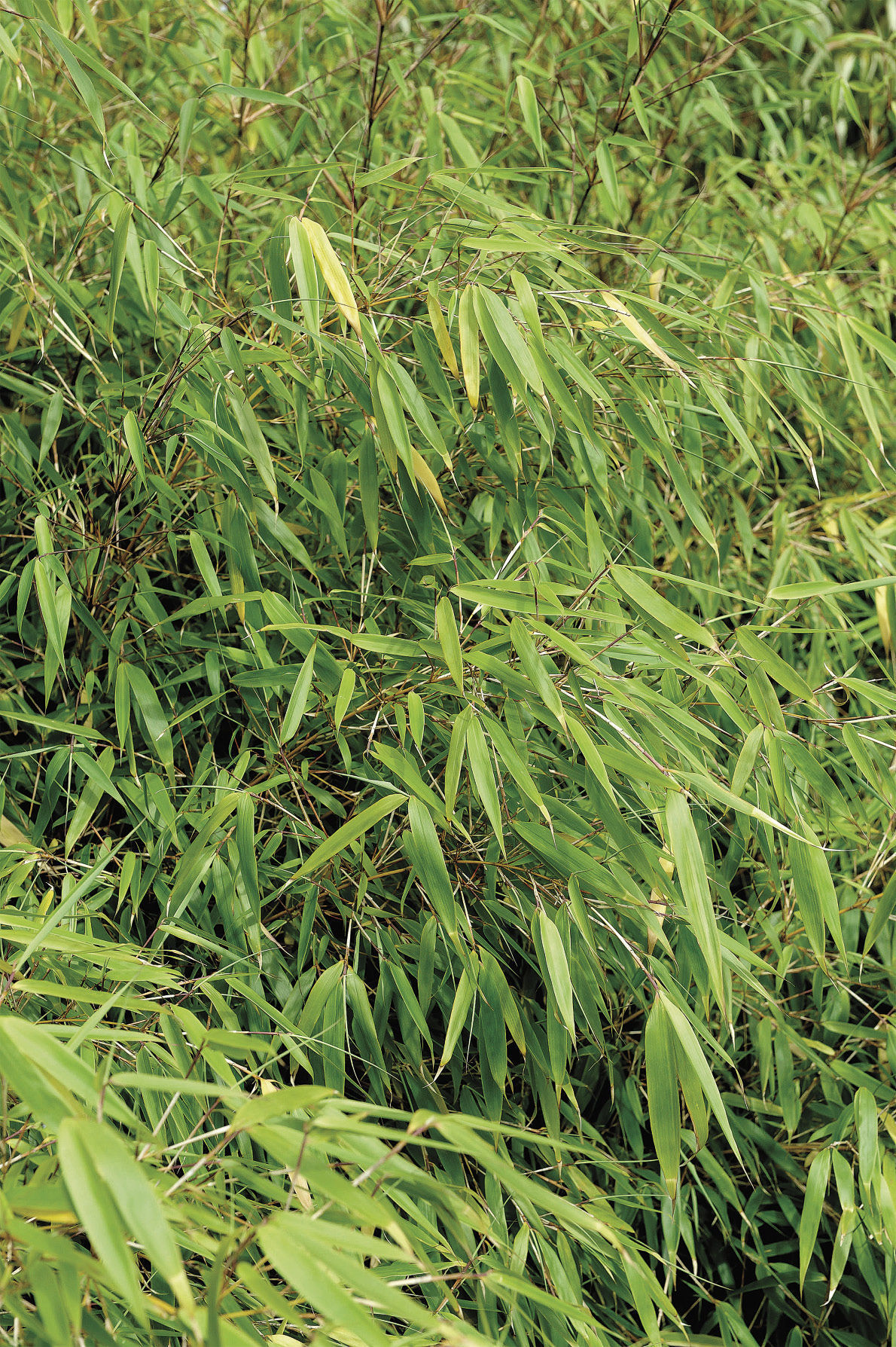 Yes, this is a bamboo, but oh, what a plant! Mountain bamboo is a clumping evergreen variety that isn't invasive—like its relatives—and can tolerate many conditions. I grow it in full shade, but it can handle full sun. Mountain bamboo has a dense habit, growing up to 7 feet tall with leaves almost to the ground. The tops sprawl out while the base stays tight and manageable, making it a great screening option. Once established, this bamboo gets as close to the no-maintenance ideal as possible.
Zones: 5 to 9
Size: 7 feet tall and 8 feet wide
Conditions: Full sun to full shade; moist, well-drained soil
Add Some Novelty with Blue Leaf Isu Tree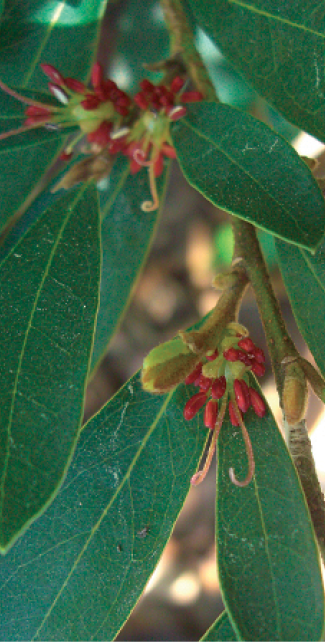 Distylium myricoides
Blue leaf isu tree is a slopeworthy gem of which relatively few gardeners are aware. It is low mounding, is nicely layered, and does a great job of slowing erosion. 'Vintage Jade', a new cultivar of the species, is one to keep an eye on: It grows in lower mounds than the straight species, acting almost like an evergreen ground cover. It is hard to come by these days but should become more available with time.
Zones: 7 to 9
Size: 4 feet tall and 6 to 8 feet wide
Conditions: Full sun to partial shade; well-drained soil
---
Proper Placement Matters
A site as specific and
challenging as a slope needs a good, solid planting plan. Here are some tips to consider before breaking ground: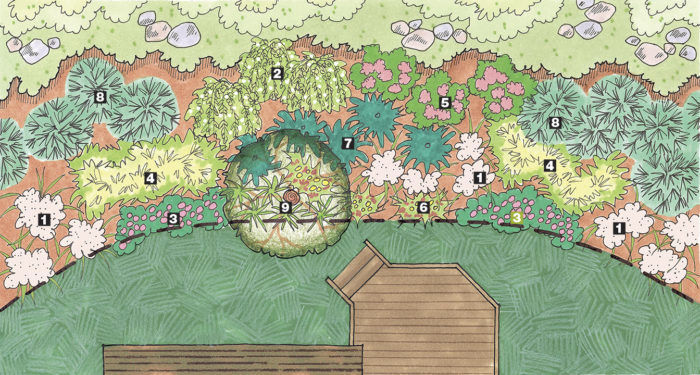 Make it easy on yourself
Unless you want calves like those of a long jumper, avoid perennials that will have you climbing around for regular maintenance. All the plants in this article are easygoing, but there's no such thing as a no-care plant. Perennials like dianthus and epimedium require occasional cleaning up, more often than shrubs or grasses. Keep them at the base of the slope for easy access.
Plant in drifts
Instead of placing single plants here and there, install them in drifts. Caring for groups is easier than looking after spread-out specimens as there are fewer places to climb to. Spread muhly grass and blue leaf isu tree in drifts through the middle layer of the slope to create continuity.
Create shade for must-have plants
You can plant a small tree at the base of a sun-soaked slope to host shade-loving plants, like Japanese forest grass and epimedium. Despite our most ardent wishes, there is nothing we can plant to shed light in shady spots.
Don't let large plants steal the show
A plant like 'Albiflora' bush clover grows tall, and mountain bamboo spreads wide. Place them at the back of a slope planting so that they don't eclipse smaller plants. They also make nice backdrops to the design as a whole.
1.

Muhly grass
2.

'Albiflora' bush clover
3.

'Firewitch' dianthus
4.

'Merlot' Virginia sweetspire
5.

Chinese indigo
6.

'Fr

ö

hnleiten' epimedium
7.
Blue leaf isu tree
8.

Mountain bamboo
9.

'Aureola' Japanese forest grass
---
Hunter Stubbs is the owner of B. B. Barns Landscape Company in Asheville, North Carolina. 
Photos: Steve Aitken; Jerry Pavia; Antonio Reis; Dency Kane; Michelle Gervais; Doreen Wynja; courtesy of Chuck Hubbuch/www.southeastgarden.com; Thomas Alamy/www.gapphotos.com. Illustration: Martha Garstang Hill
---
Sources
The following mail-order plant sellers offer the widest selection of the plants featured:
Forestfarm, Williams, Ore.; 541-846-7269; www.forestfarm.com
Plant Delights Nursery, Raleigh, N.C.; 919-772-4794; www.plantdelights.com
Lazy S'S Farm Nursery, 2360 Spotswood Trail, Barboursville, VA 22923; www.lazyssfarm.com