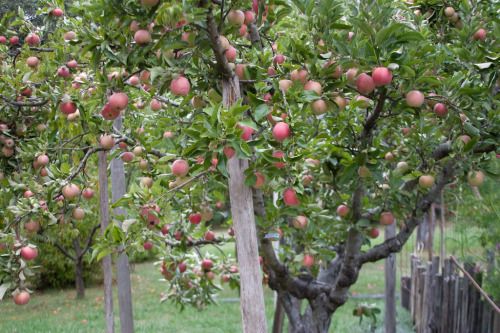 What we did on our summer vacation this year is move to a new homestead! One of our biggest focuses is adding to the small orchard that is already here — which is really only about a handful of trees at this point. We have a pear, an apricot, a plum, a nut (perhaps almond?), and a very productive fig tree that's our start to a brand new home orchard.
Our Northern California climate offers us incredible choices in terms of fruit varieties. Some of the trees we're considering are peach, apricot, apple, plum, pear, quince, olive, cherry, orange, pomegranate, fig, and even some nut trees. Nothing is out-of-bounds at this point. Our minds are wide open and aside from the actual planting day, I think that this is one of the most exciting parts!
During these planning stages we're not only deciding which types of trees, but also:  
 Varieties within those types (such as Granny Smith, Honey Crisp, or Jonagold apples?)
Tree sizes. Considering the general "standard" sizes are 18 feet tall and higher, we're probably going to stick with the "dwarf" varieties.
How much land we're going to devote to the orchard.
The crown diameter of each tree once it's mature. We'll want to be sure to leave enough space between them so that no one crowds anyone else by hogging all the sun. Along with how much land we'll devote, this will help us decide on the number of trees that we'll plant.
Which trees need to cross-pollinate with another variety in order to produce fruit and which are self-pollinating. It's pretty darn important to know how your trees have sex.
Reach out to other fruit growers in the area for the latest information on what is going on with fruit and nut trees in our county. This will be key to ensuring our success.
Of course, this is just the beginning of what we'll consider as we plan the new orchard, but having the answers to these first questions is a great start. Husband-extraordinaire and I have our individual favorites, so we're each going to sketch out two orchard plans each. the final design will be a blend of our ideas (fair is fair).
After we have our ideas mashed together in one place, we'll seriously consider which fruits or nuts are either in demand or rare in our area. This is because a secondary (potential) reason to have the orchard is to perhaps sell at the local farmer's market after a handful of years. We try to always have gardens and animals here at our farm pull double duty in some way.
Have you ever planned and planted your own home orchard? What were your biggest successes and hardest lessons?