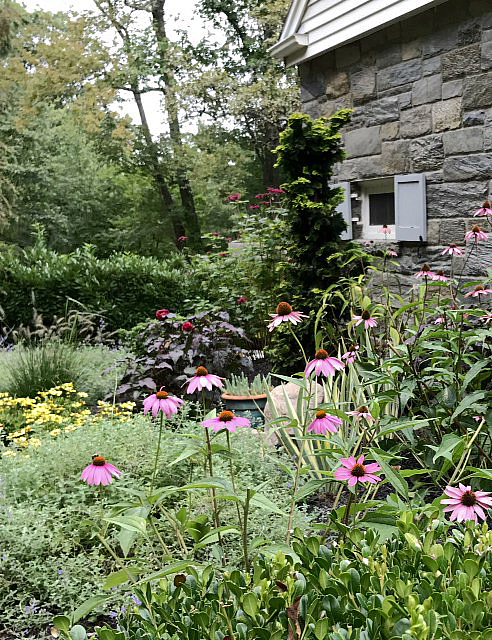 Maria Clemente and Paul Laganella spend much of their spare time working and relaxing in the beautiful gardens they have created at historic Smoke Rise, in northern New Jersey.
"As our first year in our new home is coming to a close, we look back on all of the changes we have made to the gardens and the surprises we received along the way. Spring brought us a flurry of rhododendron, mountain laurel, and dogwoods as well as the great splashes of purple from the iris garden just outside our bedroom and the sea of ajuga facing our porch. Summer continued to bring bursts of great foliage and color as well as an abundance of wildlife including the black bear, bats, butterflies, and bees. Now that fall is here; we are anticipating even more natural beauty as the leaves begin to turn to warmer hues.
Our home was one of the first custom built homes back in the 1940's in historical Smoke Rise in northern New Jersey. We fell in love with it the first moment we saw it and knew that its southern exposure would lend itself to ideal gardening potential. Many of the perennials we planted are cuttings of plants from our previous home. The bee balm, which is one of our favorites, was originally a small cutting from the gardens of the Adirondack cottages we vacation at every year. On the north side of the house, we decided to use pale hues of purples, pinks, and whites with grey-green foliage accents to compliment the grey tones of the slate roof and patios. For the south side of the house, we chose a palette of more vibrant pinks and reds with splashes of yellows."
Attention GPOD'ers–Let's keep the Garden Photo of the Day blooming year round! We would love to see your captivating combinations, your favorite new plant choices or how your garden is looking in the midst of the fall season. Keep the submissions coming. We all thank you for sharing! See details below.
Have a garden you'd like to share? Email 5-10 high-resolution photos (there is no need to reduce photo sizing before sending–simply point, shoot and send the photos our way) and a brief story about your garden to [email protected]. Please include where your location!
Sending photos in separate emails to the GPOD email box is just fine.
Have a mobile phone? Tag your photos on Instagram or Twitter with #FineGardening!
You don't have to be a professional garden photographer – check out our garden photography tips!
Do you receive the GPOD by email yet? Sign up here.
Follow us: @finegardening on Twitter | FineGardeningMagazine on Facebook | @finegardening on Instagram