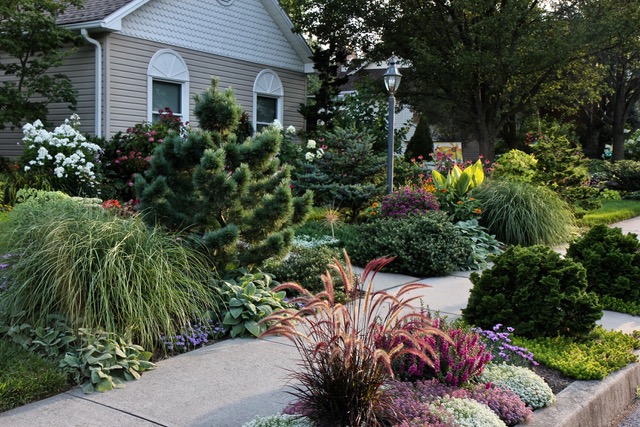 Kevin Kelly's award winning pollinator garden, is chock full of so many delights, we will be featuring his garden in two parts…enjoy!
"Good morning, fellow GPODers. This year has been an awesome gardening year in central PA (zone 6b). We had an early spring, followed by cool weather well into June. Summer has been warm, but not oppressive. Only 2 heat waves in the 90's, but more importantly, we have been getting 1-2 inches of rain per week throughout the summer. I have continued packing my garden in with plants, adding another 8 conifers, 2 Japanese maples, and over 100 new perennials. I now have 152 conifers on the property.
My garden is just over 20 years old. It was a complete blank slate when I began. I am in a suburban development in Harrisburg, with just under 1/2 acre. My garden is a PA Master Gardener Certified Pollinator Garden, and last year I won the Blue Ribbon Award from the PA Hort Society Garden Contest. I stopped using any herbicides or insecticides about 10 years ago, and rely solely on leaf compost as a fertilizer (except for the annuals, where I use fish fertilizer).
I am the designer (for better or worse), digger, weeder, and all else. After all these years, I could never get my wife to be interested in gardening (she just enjoys the views). I just lost 3 trees this spring, 2 Pyrus calleryana 'Cleveland Select', and 1 Prunus subhirtella 'Autumnalis'. All 3 were planted the first year of the garden. I am happy about the loss of the Cleveland Select Pears, as I planted them when I didn't know better. They are coming down next month, and will be replaced by Nyssa sylvatica 'Tupelo Towers' and Heptacodium miconioides. The Cherry will be replaced by Cornus mas. I am excited about the new trees."
Have a garden you'd like to share? Email 5-10 photos and a brief story about your garden to [email protected]. Please include where you are located!
Have a mobile phone? Tag your photos on Instagram or Twitter with #FineGardening!
You don't have to be a professional garden photographer – check out our garden photography tips!
Do you receive the GPOD by email yet? Sign up here.
Follow us: @finegardening on Twitter | FineGardeningMagazine on Facebook | @finegardening on Instagram