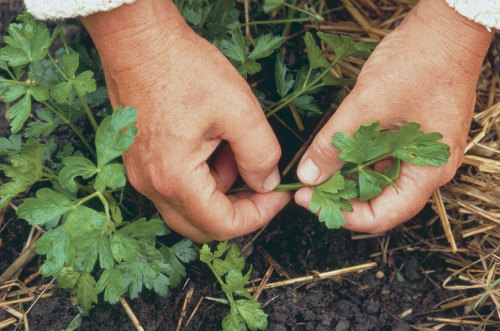 When the leaf stalks are about 6 in., I  pinch a modest amount of greenery from each plant. I harvest more as the plants grow. I use only the leaves and their thin, tender stems. Unless the plant is very young, the main stalk is usually too coarse.
If not used immediately, parsley keeps well in the refrigerator with its stems immersed in a glass of water and the leaves loosely covered with a plastic bag. It can also be rinsed and placed in an airtight container.
Before the first frost, when the plants are luxuriant, I gather a large basket of Italian parsley. In the kitchen, I rinse and dry the leaves in a salad spinner. Then I stuff them into a 1-quart plastic zipper bag and suck the air out with a plastic straw, forming a mat about 3⁄4 in. thick. I quickly complete the seal and pop the bags in the freezer. When I want parsley in a cooked dish, it is easy to cut off a chunk of the frozen leaves and mince it before it thaws.
A handful of parsley thrown into a white bean or potato salad adds a subtle freshness, both in taste and appearance. And adding parsley at the last minute can boost eye appeal in dishes like ratatouille, soups, and stews.
I often rely on two quick parsley fixes. Minced green onion, parsley, butter, and lemon juice will liven up any cooked vegetable. And parsley mixed with chopped shallots, browned in butter or olive oil and gently deglazed with either red or white wine for 15 minutes, will enhance meat and fish dishes.
For a pesto in season all year, try substituting parsley and toasted hazelnuts for the basil and pine nuts in your usual recipe, along with a little bit of lemon juice. Another great topping for pasta is a combination of parsley, pitted kalamata olives, garlic, and Parmesan cheese, finely minced in a food processor.
Long ago my husband introduced me to the best tomato sandwich I've ever eaten: a generous amount of chopped parsley, a few thin slices of mild onion, salt, coarsely ground pepper, mayo, and hefty rounds of dead-ripe tomatoes on your favorite bread. This sandwich's humble ingredients unite to create a soul-satisfying celebration of summer's bounty. It's best eaten in a lawn chair in the shade of a large tree.
This article originally appeared in Kitchen Gardener #5 (October 1996).