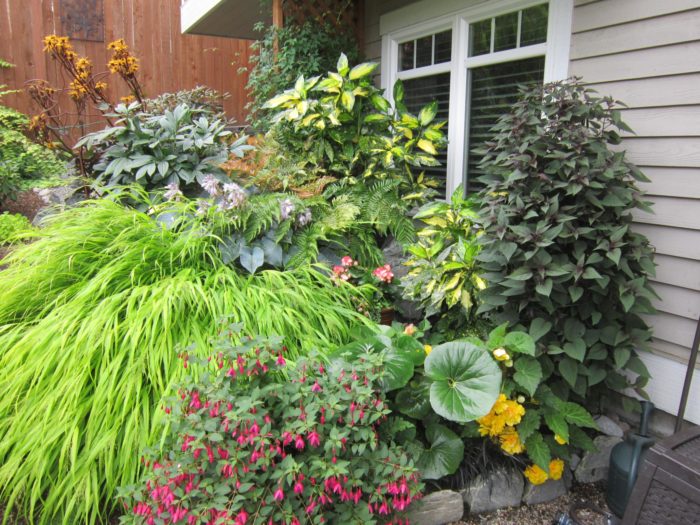 Today's photos are from Maxine Mitchell, who says, "I've been enjoying the pictures of people's gardens and thought I'd submit some of mine. We live in Edmonds, Washington, which is about a half hour north of Seattle, overlooking Puget Sound. We've lived here for four years and I've been able to transform our small, urban backyard from a very plain one to one that is jam-packed with as many perennials as I can possibly fit. My passion is gardening and I hope it shows. These are some before and after pictures.  The latest pictures were taken last summer, but they show you how much things can change in less than four years." WOW, Maxine! We need LOTS more photos for a couple of followup posts. Your garden looks super! That window with the photos and mirrors is so cute! Amazing transformation from an obvious plant lover. Thanks! ….and send more photos….
SEND ME PICS OF YOUR GARDEN, OR A GARDEN YOU'VE VISITED! Email me at [email protected]. Thanks! –Michelle
______________________________________________
Want to get the GPOD delivered to your inbox every morning? CLICK HERE!
Want us to feature YOUR garden, or a garden you've recently visited, in the Garden Photo of the Day? CLICK HERE!
Want to see every post ever published? CLICK HERE!
Want to search the GPOD by STATE? CLICK HERE!
And last but not least, Check out the GPOD Pinterest page, where you can browse all the post in categories…fun! CLICK HERE!