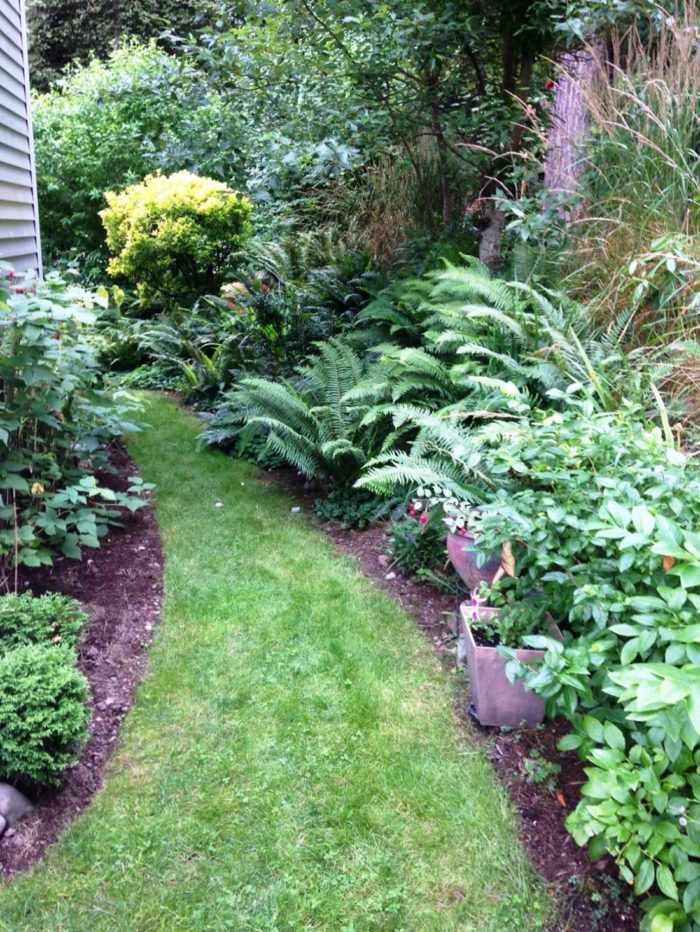 Today's photos are from Kathy and Kevin Schuler in Kirkland, Washington. Kathy says, "Our garden hugs the side of a hill and is surrounded on the south and west side by a forested park. The home sits on a small parcel of land with a diminutive front yard facing north; narrow strips about five feet wide are on the east and west; the back yard is roughly 200 square feet connected to the forested park. The micro-climates are deep shade to all day sun. We live in a house with a backdrop of tall Douglas firs and mature big-leaf maples. My first thought was to create a garden following the theme of the dense woodland understory. Instead, we decided on creating order and repetition with our shrubs and trees. The challenge is to give the eye focal points and a sense of order within the context of soaring conifers and an understory of indian plum and salmonberry…." Continued in the captions!  Kathy, what a great transformation! And so happy to hear via your email that you'll be at the Northwest Flower and Garden Show!
Send me photos of YOUR garden! Email me at [email protected]
Want to get the GPOD delivered to your inbox every morning? CLICK HERE!
Want us to feature YOUR garden, or a garden you've recently visited, in the Garden Photo of the Day? CLICK HERE!
And last but not least, Check out the GPOD Pinterest page, where you can browse all the post in categories…fun! CLICK HERE!