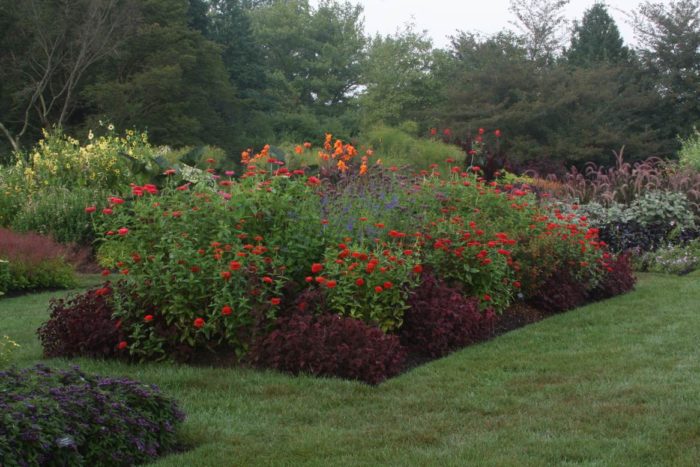 It's Longwood Gardens week at the GPOD! This week, we're celebrating this fabulous public garden in pictures. Longwood, located in Kennett Square, Pennsylvania, is a long-time FG staff favorite, an infinite source of inspiration, gardening know-how, and of course, great photos.
Day 3: In the Idea Garden at Longwood Gardens, this warm season annual  bed is a combination of cool blues and warm reds.  Plants include tall verbena (Verbena bonariensis), 'Kobalt' salvia (Salvia guaranitica 'Kolbalt'), 'Garnet Robe' coleus (Solenostemon scutellarioides 'Garnet Robe'), 'David Verity' cuphea (Cuphea ignea 'David Verity'), 'Marvel Scarlet' zinnia (Zinna 'Marvel Scarlet'), and 'Big Red' zinnia (Zinnia 'Big Red').
Welcome to the Fine Gardening Garden Photo of the Day blog! Every weekday we post a new photo of a great garden, a spectacular plant, a stunning plant combination, or any number of other subjects. Think of it as your morning jolt of green.
Sign up to get new posts delivered to your inbox each morning so you'll always remember to take a look, or add us to your RSS feed. We look forward to sharing our garden travels with you.
If you think you have a photo that we should share on the Garden Photo of the day, email us. Send hi-res images to [email protected] with GPOD in the subject line. We'll only respond if we plan to use your photo.