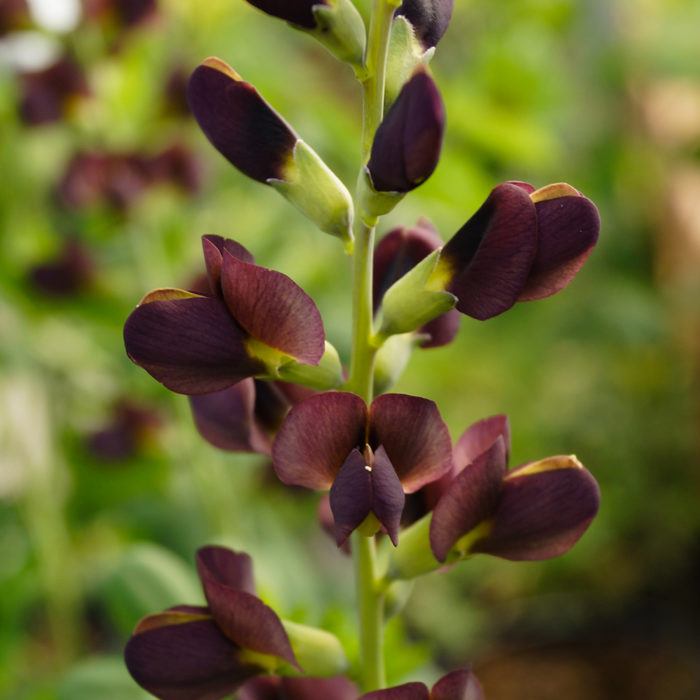 Plants with names that bring to mind chocolate or ice cream flavors always intrigue me, because I have a sweet tooth. But this baptisia has more than just a great name; it has some truly outstanding attributes. 'Dark Chocolate' is a newer member of the Decadence® series of baptisias, bred for longer flower stems that rise out of the foliage. 'Dark Chocolate' has a 25-inch stem, so the lovely pea-shape blossoms can actually be seen. They are a spectacular near-black, charcoal hue and really stand out from a distance. The plant forms an upright and densely branched mound, always appearing full with lovely blue-green foliage that covers the entire plant. 'Dark Chocolate' baptisia could easily be mistaken for a small flowering shrub.
Baptisias in general are known to be tough plants. Many of the ones in my garden are over 20 years old. They are taprooted, which means they don't transplant easily but are extremely drought tolerant once established. You will generally find that experts recommend planting baptisias, including 'Dark Chocolate', in full sun to partial shade. When grown in full sun the plants tend to stand up straight, but in partial shade (which is the best spot in the Deep South) they have to be staked unless you like the Leaning Tower of Pisa look. This plant, along with other baptisias, is a great substitute for the more finicky lupine (Lupinus spp. and cvs., Zones 4–8). Despite its unusual color, 'Dark Chocolate' is still a pollinator magnet. The plant seldom needs fertilizing and grows better in deep rich soils but will tolerate poor soils. Here's another plus: the deer do not seem to browse this plant.
If you do not deadhead in fall, the plant produces an upright cylindrical brown seed head that persists right into the winter. I always liked the sound of the dry pods that rattle on a windy day. Bottom line is that 'Dark Chocolate' is easy to grow, requires little maintenance, and is unlike anything else in the garden, which is something we can all really appreciate.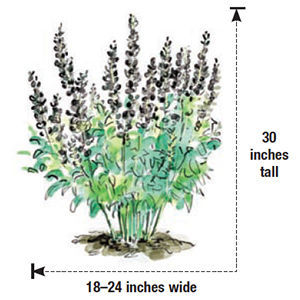 'Dark chocolate' Baptisia (Baptisia 'Dark Chocolate')
Zones: 4–9
Conditions: Full sun to partial shade; fertile, moist, well-drained soil
Native range: North America
---
—Stephanie Cohen has spent most of her life trialing, speaking about, and teaching all things plants. She is the author of several books and lectures extensively around North America.
Photos: Nancy Ondra. Illustrations: Elara Tanguy.
Sources: