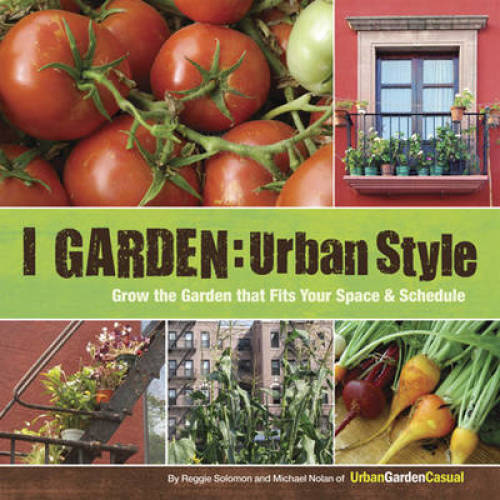 Vegetable gardening in general has enjoyed a monstrous and timely resurgence in this country for several years now. Growing at least some of your own food has always been a healthy, ecological, and financially smart practice. Unfortunately, in the past, growing food has been equated with farms or large expanses of land for which to grow crops.
But, that was then and this is now.
You may have noticed that a large percentage of the population have very little extra space surrounding their homes. Which doesn't exactly scream "garden plot." But that hasn't stopped the practical, the persistent, and the inspiring gardeners of the world like Michael Nolan.
I Garden: Urban Style by Reggie Solomon and Michael Nolan is a down-to-earth and practical guide that somehow pulls off exciting, too. With its fabulously friendly voice, this cheerleader of a book has so many fast and fabulous ideas that I found there was no way to finish the book before I was heading down to the nursery and local hardware store.
The book has profiles of other fabulous gardening personalities that offer up their own practices for grabs. And I have no problem grabbing them. Nolan and Solomon not only discuss smart gardening in urban spaces, but they offer solid gardening advice that anyone with any size garden can use successfully.
From the practical such as figuring out your soil type, to the whimsical; a water garden complete with goldfish — in a claw-foot bathtub! You'll find composting basics (and you know how I dig that), container planting tips, and yes, even the kitchen sink (swear). The photos are beautiful and there's plenty of them.
If none of these reasons have moved you to click over to Amazon, they even made space for recipes for veggies that come straight from your garden to the kitchen. How does Sage in Browned Butter grab you?
If you've never grown a thing in your life, I Garden: Urban Style will have you planting this weekend. If you're seasoned green thumb, it'll inspire you to try something new. Find Michael Nolan at My Earth Garden. If you aren't already reading his blog, you should be.
I Garden: Urban Style by Reggie Solomon & Michael Nolan
Paperback: 160 pages
Publisher: Betterway Books; (December 30, 2010)
ISBN: 978-1440305566
Read more book reviews on VegetableGardener.com…