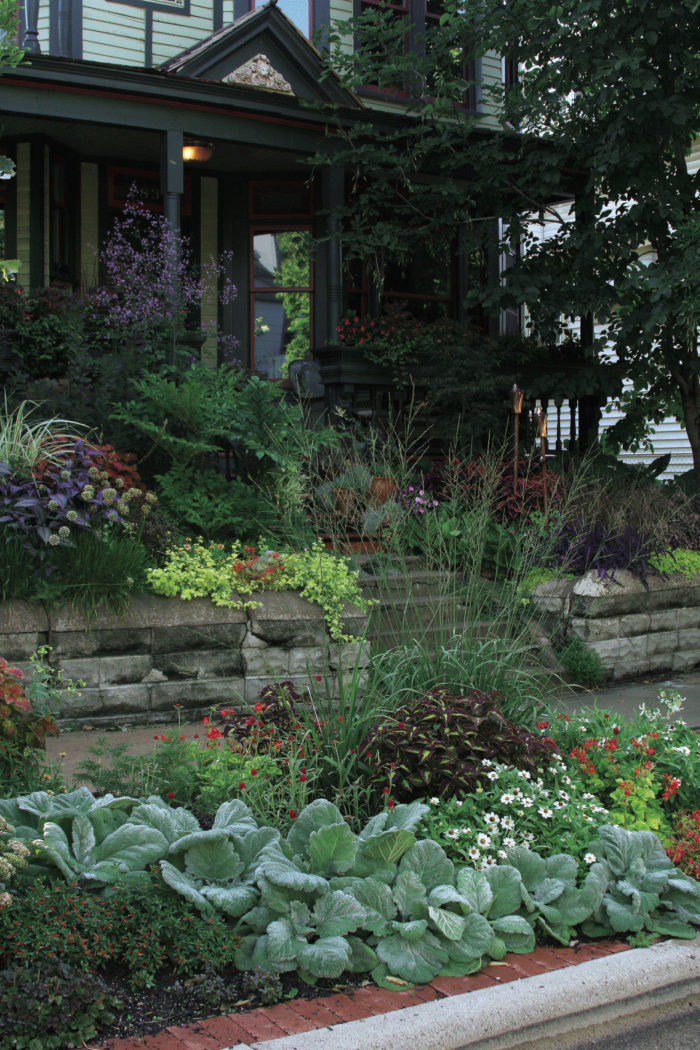 If you've designed your entryway garden well, visitors and passersby will get a good idea of who lives inside. It's like a window to your personality. Do you like warm, bright colors or soothing silvers and grays? Do you prefer the formality of cut flagstones or the casual timelessness of recycled bricks? Is your path welcoming and wide or narrow and mysterious? Each of these decisions makes a subtle statement about the people who live behind the front door.
There are some elements that every entryway garden can benefit from. Evergreens lend permanence and provide winter interest. Thoughtful hardscape connects a house to its garden, and colorful details add charm and cohesiveness. The most important key to a successful entryway, however, is making it an expression of who you are. Here are some examples of successful entryway gardens that serve as a prelude to an enjoyable stay.
Use color to show the way
By coordinating the colors of your house with the objects that lead up to it, you're making a clear statement with your entryway. On the facing page, a red pot and bench match the front stoop. It's a subtle yet effective way to pull an entryway garden together. In the garden at left, the home owner emphasizes the bold color of her house with a welcoming bench of the same hue. The extension of the house color into the garden makes visitors feel as if they've been welcomed inside even before they reach the front door.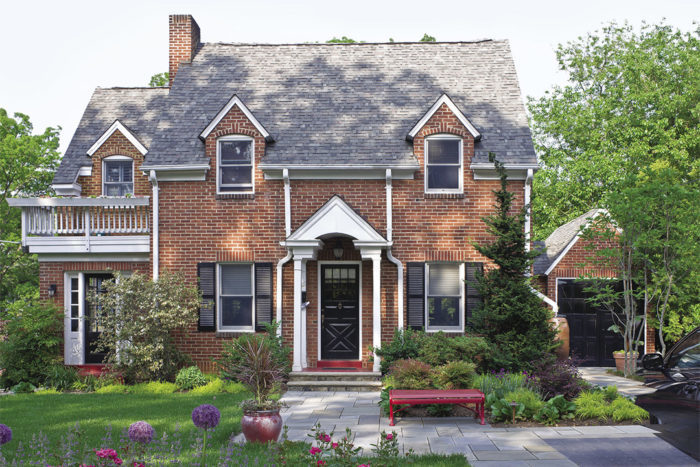 Express your personality
This front garden has almost reached the level of an art installation. It's a gardener's dream and a hint of what's to come inside: the home of an eclectic and expressive, creative person. It definitely won't be a boring stay.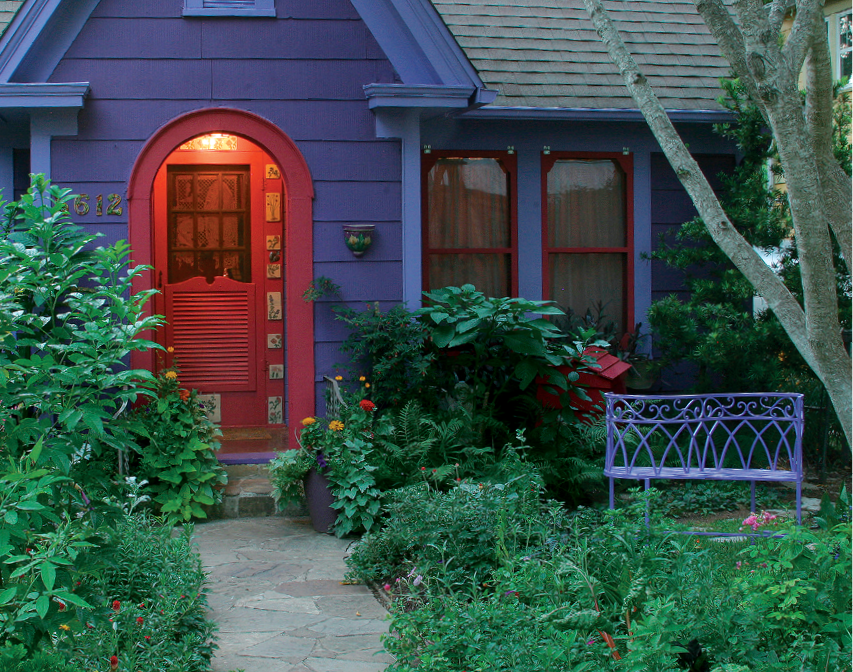 Minimize confusion
Sometimes a house's front door isn't visible from where you park your car. In a case like this, some clear directions are in order. The wide concrete path leaves nothing to the imagination, paving the way for charming and creative details, like the matching red-hot poker and pumpkin, which harmonize with the color of the house. The stepped adobe wall is a visual barrier that signals the end of the path, even though you can't see your destination. With other garden styles, a trellis panel could serve the same purpose.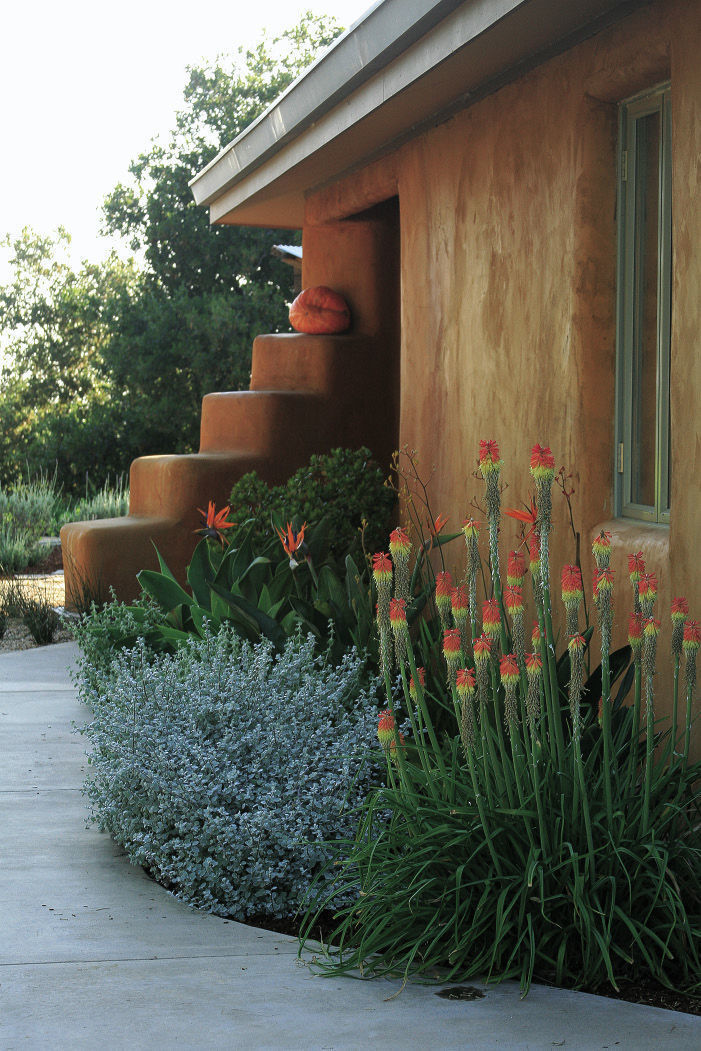 Tame the great outdoors
As you walk the long, straight path to this front door, the garden around you gradually changes from wild and free-form to contained and symmetrical. Rather than presenting an abrupt change from outdoors to indoors, this garden eases the transition.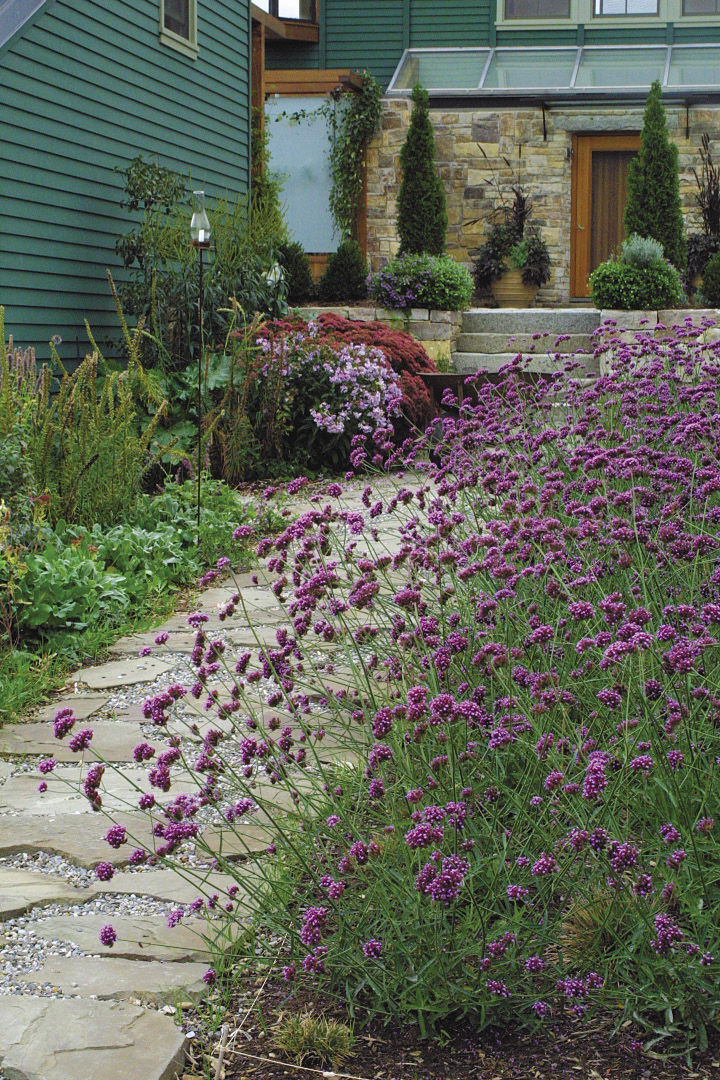 Leave no doubt that you've arrived
If you've ever driven down a street, trying to find an address and having to peer through the darkness at tiny house numbers on porches, you'll appreciate this entryway garden. These home owners have made their house number an integral part of their garden design. Stonework pillars frame both the address and the doorway, inviting you to experience the perfect marriage of house and garden.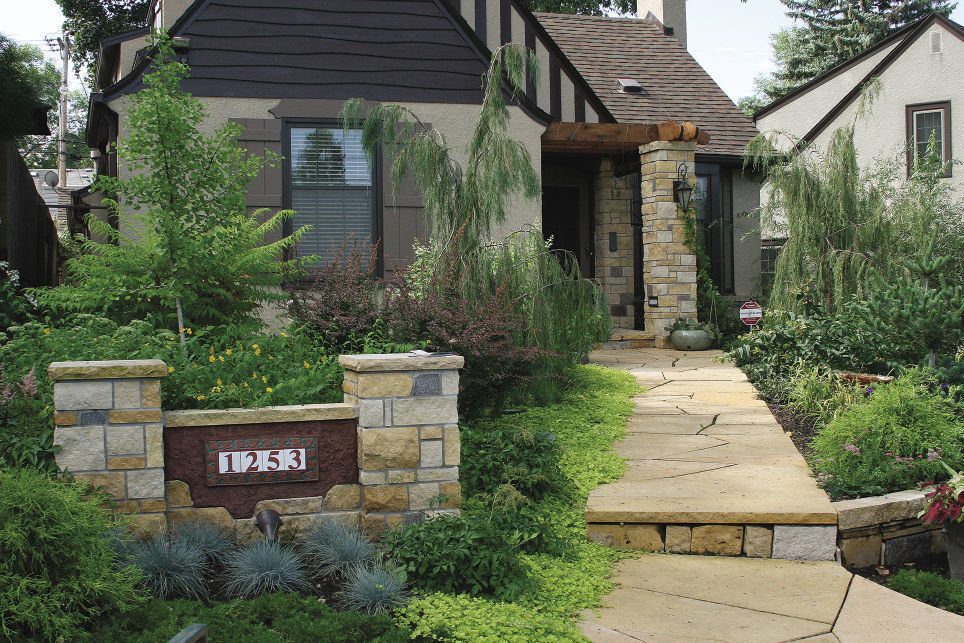 Create a sense of permanence with shrubs
The solid, reassuring presence of topiary standards flanking an entryway (left) lends a calming, timeless feel to this home. Evergreens (right) keep this area of a garden low maintenance yet provide year-round appeal. People, after all, will still come to visit when the garden has gone dormant for the winter. Give them something lively and green to enjoy while waiting for you to answer the door.
Make a big splash
If you love having guests, a colorful, exuberant entryway projects that. This front-yard garden is designed to catch the eye. Rather than fade into the background, it screams, "Come and visit me!"
---
Essential elements of an inviting entryway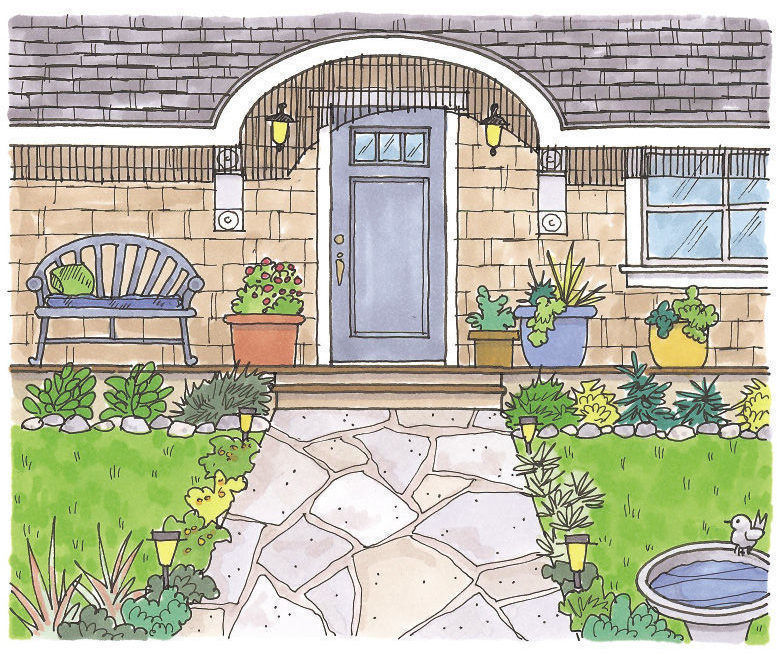 ➊ A clear path. Save the meandering paths for the backyard, where you want to linger and explore. A path to your front door should be obvious, even if it turns here and there. Paths should be wide enough for two people to walk together. This also leaves room for plants to spill over the edges without getting your ankles wet with morning dew.
➋ Color. Rather than having just a swath of green foundation plantings, inject a little color in the form of vibrant flowers or a brightly painted object, like a bench; even the front door is an opportunity to add a splash of color. If you opt for both a colorful bench and a front door, coordinate their colors to tie the bench visually to the house.
➌ Containers and ornaments. Give your guests a preview of your personality, and give yourself some familiar beloved objects to remind you that you're home. Start with a beautiful container or obelisk or, perhaps, a classic fountain or birdbath. These objects also bridge the gap between the house and the garden.
➍ Sufficient nighttime lighting. While you could find your door in the darkness without too much difficulty, it's nearly impossible for your guests. Pathway lighting and an attractive front light near the door make nighttime visitors feel cozy and welcomed. Blazing safety lights, however, are off-putting.
---
Michelle Gervais is an associate editor.
Photos, except where noted: Michelle Gervais, Danielle Sherry, Roger Foley.
Illustration: Martha Garstang Hill