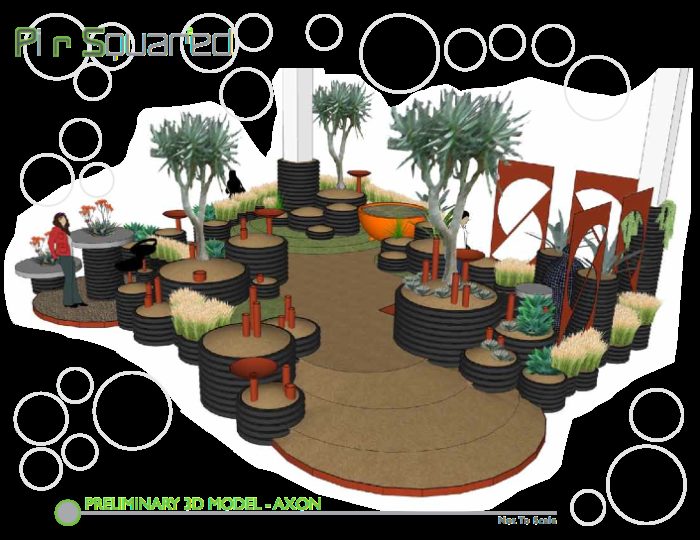 Aside from my new Design Workshop column in Fine Gardening magazine and this blog, I write about gardens for a few Southern California magazines and blogs. Feeling a need to expand my horizons beyond my Santa Barbara borders, I planned a road trip to the San Luis Obispo area (SLO), about 100 miles north of my home.
I studied landscape architecture at Cal Poly SLO in the 80s, but haven't really kept up with the area's garden design scene, so I asked everyone I knew for advice. Just about everybody said, "You've GOT to meet Jeffrey Gordon Smith and see his designs."
Smith (a landscape architect based in the small, beachside town of Los Osos, and executing beautiful projects from the Bay Area to the southernmost reaches of the Golden State) and I hammered out the details for a visit, but a super deluge in December wiped out my plans. Later, as I perused the program at the SF Flower and Garden Show, I noticed that Jeffrey was not only going to be speaking about his new book (Jeffrey Gordon Smith Landscape Architecture), but also constructing an exhibit garden at the show.
I thought he'd be an interesting subject for a pre-show blog post, and phoned him for an interview to find out what visitors to the SFFGS might find inspirational. Our conversation kept detouring into all kinds of topics, and when I got off the phone 45 minutes later, I still wasn't sure what I'd write about. I had asked all the right questions: "What's your big idea?" "How would they be inspired for their own gardens?"
I do know one thing: If you visit his garden at show, you're going to have a fabulous time and walk away with a huge smile on your face. "I'm all about having fun. Why do it if it ain't fun?"
Before we get to the fun stuff, a bit of background: Smith's designs are not about what he calls "the flavor of the month," kiddingly coining the label "Muscany" (Morocco meets Tuscany). "I don't think garden designers should be pushing the past on gardens," referring to the typical cookie-cutter gimmicks some designers reach for, regardless of the context.
His approach is about regionalism, creating gardens that look like they belong in the place where they reside. His website sums it up: "Our designs strive to marry architecture to the site, and to develop a cohesive landscape design that looks and feels as though it belongs in the overall context of its surroundings."
Spend time at Smith's website gallery and you'll find evidence of how his philosophy comes to life, creating elegant, naturalistic spaces for his clients, using forms that mimic the surrounding environment.
Fun Follow Function
But that's not all he has in his bag of tricks. There's a fun-loving side that spills out when Smith and his design studio crew get rolling. A few years ago, he was invited to produce a temporary garden installation for the San Luis Obispo Botanical Garden. "They said, 'Give us something sustainable', so I decided to do some 'upcycling', using material that are already out there, like scrap metal and industrial parts that had already served their purpose."
He gathered up big, black storm-drain pipes, brightly colored O-ring oil gaskets and rusted pipes. "Recycling means breaking stuff back down, and that takes a lot of energy. Upcycling just gives it a second live without a lot of effort."
The garden was a huge hit, so Jeffrey freshened it up and there it still sits.
So when the San Francisco show came around, he thought, "The third time's the charm", and figured out how to expand the idea and bring in a few more playful features. His garden is titled Pi r Squared, referring to the dominant circle theme of the pipes, rings and metal forms that repeat in the garden. Plant material will be restrained, but bold, using grasses and sculptural forms of succulents, like tree aloe.
I'm most excited about seeing the DutchTub, a glass fiber polyester contraption that looks like an escapee from Disneyland's Tea-cup ride. (Jeffrey casually hinted that there might be a second tub set up somewhere, guerilla-fashion, near the show, so bring your bathing suit.)
Another highlight is the Komodo Kamando outdoor refractory grill, a work of art what will make you rethink your next backyard cookout. (Their website has an aptly named page titled Food Porn.)
If you can't make it to the shindig, here's the next best thing: a video simulation of the garden at his website.
If you're at the show on Thursday, start by taking in Pi r Squared, then catch my Design Like A Pro seminar at 10:45, but leave room on your schedule to enjoy Jeffrey's talk, "Regionalism: Design Inspired by the Spirit of the Place," at noon.
So, are you coming to the show? It'll be more fun than a barrel of storm drain pipes in a rapturously warm hot tub. See you there.
San Francisco Flower and Garden Show website…