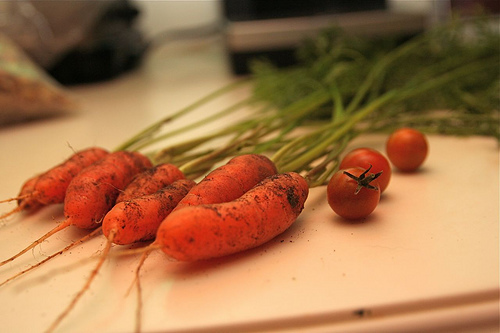 You really should be getting your fall carrots in the garden right now. Carrots are an excellent source of beta-carotene (converted to vitamin A in the body), Vitamins K with traces of C, B, and E. They're a good source for potassium and manganese, as well. Who couldn't use that nutrition for the winter?
I may have a virtue or two but patience isn't one of them. Anyone who knows my gardening strategies knows that I'm always on the look-out for faster and simpler gardening techniques. It's not because I begrudge Mother Nature's gardening blueprints, but one of my prime goals is to fit as much gardening into my life as possible.
Take the carrot, for instance. Everyone knows that to get those long tapered beauties, you need some pretty stellar soil. Good tilth allows carrot roots to become the stuff of rabbits' dreams. Sometimes we don't have the deepest or fluffiest soil to offer our carrots. Yet want to grow our carrots none-the-less. Another drawback is that carrots take a considerable amount of time to mature. Carrot harvest day is decorated on the gardener's calendar like its Christmas.
There's a shortcut here. When purchasing carrot seeds, steer clear of the traditional seeds that promise carrots of considerable length. Go for the stubby ones. That's right – there are carrot varieties that mature in the shape of Easter eggs. Just throw a layer of compost over the top of any kind of soil (I don't care how clay-ish) and you can grow the short or ball-type root crop.
Some brilliant veggie breeder with clay soil (that has a patience level similar to mine) bred some carrot varieties for the rest of us. You could practially grow 'Thumbelina' in the dust on the armoire. By the way, these are the carrots that are perfectly suited to containers and as a plus, they mature faster than their longer cousins for a quicker harvest.
Short or Ball-Type Carrots
Thumbelina – Great color and flavor.
Caroline – Japanese hybrid that stores well.
Nelson – Early variety that grows extremely uniform.
Little Finger – Little gourmet carrot that's perfect for salads.
Oxheart – Excellent crisp and tender heirloom.
Parisienne – French heirloom variety.
Shin Kuroda – Baby Japanese heirloom variety
Parmex – Super sweet and does well in any soil.
Red Cored Chantenay – No need to peel this tasty little guy.
Want to plant some? Read How to Grow Carrots for all the details.