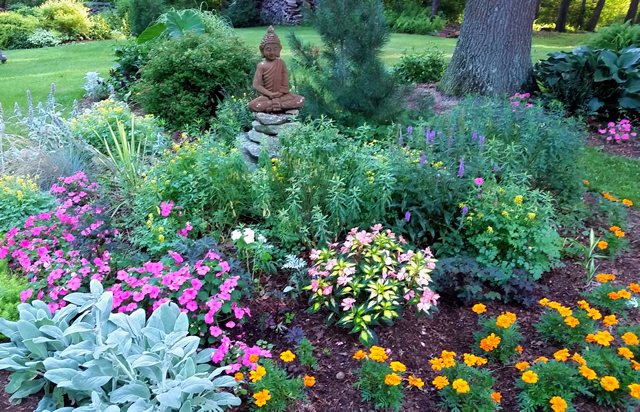 It's hard to believe that Kara Morgan moved into her home with little knowledge of gardening!
"When my husband and I moved into our Redding, Connecticut home in 1999, we had no intention of establishing gardens in the 2.3-acre yard. My gardening knowledge consisted of planting impatiens in pots. But our dear neighbor, affectionately known as "Oma," had a yard full of stunning, well-manicured gardens that burst with color throughout the entire growing season. It didn't take long before I was joining her for tours of her gardens, and learning about the many beautiful plants that were successful in her beds. I became inspired to put a few plants in the ground to see what I could create.
Over the years we have cleared our property of many trees and created several garden beds. I gladly accepted cuttings and plants from Oma's garden, and moved plants around when they failed to be successful in a particular location. Our wooded yard offers mostly part-sun and light shade, therefore, I have filled my beds with all varieties of hostas, ligularias, rubeckia, spirea, coral bells, ferns, astilbe, phlox, and many more plants that provide color and texture. To add interest and whimsy, I have created arbors from twisted mountain laurel branches and used bluestone slabs and river rocks from a family home in the Catskills to make paths and walls. As is probably true of most gardens, mine continues to be a work in progress.
I never expected to find gardening so gratifying and joyful! I look forward to the weekends when I can devote long hours to planting, edging, and creating a landscape that inspires me with its diversity of plants and winding paths. Gardening has become my respite from the busy work week, a sanctuary of peace, and a way to combine my love of the outdoors with my desire to create and nurture."
Have a garden you'd like to share? Email 5-10 photos and a brief story about your garden to [email protected]. Please include where you are located!
Have a mobile phone? Tag your photos on Instagram or Twitter with #FineGardening!
You don't have to be a professional garden photographer – check out our garden photography tips!
Do you receive the GPOD by email yet? Sign up here.