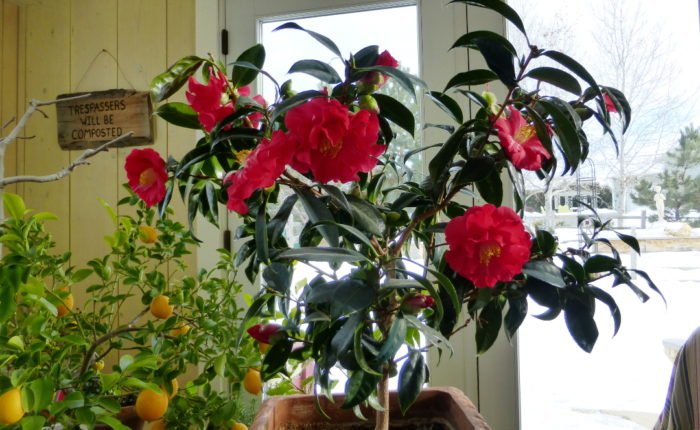 Nina Eadie saw our recent GPOD post with camellias, and had to take a moment to share her experience! She wrote,
I just saw the camellia posting, and I have to disagree that you can't grow camellias in zones colder than 7! In my zone 4-5 Montana garden I have cultivated this little guy in a pot in my greenhouse along with a potted fig (Ficus carica, Zones 8 – 10)  and a potted Meyer lemon (Citrus x meyeri, Zones 9-10).
The greenhouse small (my advice to anyone building a greenhouse is to make it at least twice as big as you think you need!), but it's big enough to give me my gardening 'fix' through our long winters.  There's a lot of storage on top of the soffits, and even a small workspace.
We built the greenhouse on the south side of the garage, so there's enough light to overwinter the camellia, fig, lemon, rosemary and a few other small things that aren't winter hardy here. It also makes a nice sunroom on bright winter days. We're far enough north that it has to be heated (there's a small wall heater on a thermostat), and all the seeds have to started under lights.