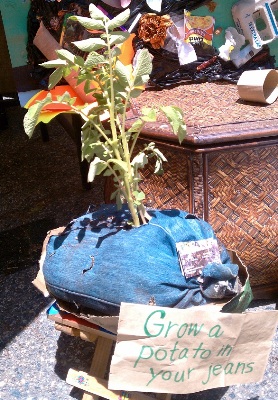 After years of working in the world of business, Cindy Rajhel decided to reprioritize. She stepped off the corporate ladder right into her California garden.
"At 46, with gray hairs coming in and young children, it was time to take that leap and not look back," she says.
Now she fills her days putting a fun spin on gardening and nature topics on her website called Home Grown Fun. Her goal is to get people excited about growing their own food, composting, and visiting out-of-the-ordinary places.
"I love inspiring people to have fun in the garden," she says.
Cindy remembers vegetable gardening as a child and says her grandfather grew the best rhubarb that her grandmother baked into delicious strawberry-rhubarb pies. Those memories came full-circle when she started growing edibles in her own backyard.
Now her two young daughters are following in her footsteps. They've both developed a preference for eating home-grown vegetables, especially those grown in unusual containers.
Growing potatoes in a pair of pants was an experiment that helped her children and their friends see the possibility in recycled materials.
"Instead of throwing away or composting potatoes that sprout in the corner of your cupboard, plant them," Cindy says.
She used a leg from an old pair of jeans to craft the potato-growing sack and then they planted the potatoes and waited. Cindy admits she wasn't sure the experiment would work, but then the potatoes started to grow and blossom.
The plants were watered every day and a few slits in the cloth helped improve drainage. Cindy says they were careful to put the potato pants in a spot that was cool enough for the planter, but sunny enough for the plant.
After two months, the tops started to die and the sack was opened to reveal a handful of healthy potatoes attached to the original planted section. Cindy immediately sliced the potatoes and sprinkled on some seasoned rice vinegar and salt. All the kids enjoyed the crunchy harvest.
"With our new-found confidence, we intend to recycle the tops of my worn out pants to plant more potatoes, but this time much deeper and a bit wider," Cindy says. "We'll also sew the bottom of one of Dad's old shirts and make a 'Tater-T'."
Cindy is already thinking of ways to use this idea to create little potato pants as a school fundraiser or garden project.
"One thing for sure, the next version of our 'hand-me-down' garden will inspire more ideas!"