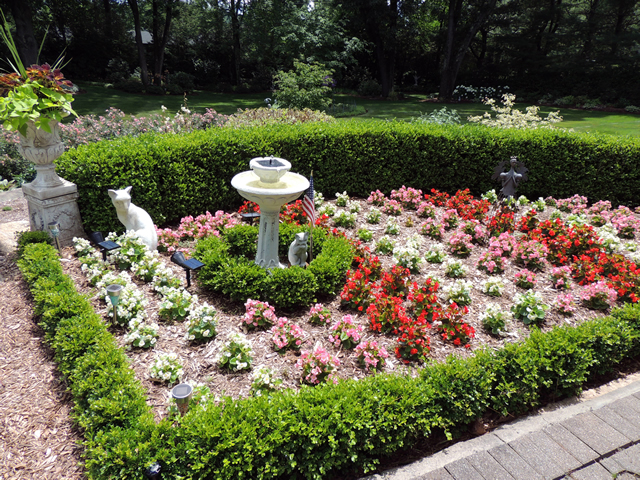 Clare and her husband have worked long and hard, and all their efforts have been worth it.
"My husband and I garden in northeastern New Jersey and we have a one acre property. We are lucky that the house sits towards the front of the property, so the back garden is pretty big. When we moved here in 2003, the back garden was just a downward sloping square of grass. We worked with a local nursery to develop a plan. The plan included creating three level terraces on the slope using local stone, creating perennial flower beds with a long slate path leading down from the patio, carving out beds around the large established trees around the perimeter of the garden and creating a shade garden in the corner that faces northeast, and adding a raised vegetable and cutting flower bed in the sunny southwest-facing part of the garden. In 2005, we hired a contractor to implement the plan and then my husband and I did all of the planting. We both work full-time in NYC, so this project took a number of years spending almost every weekend and every vacation day and day off. It is still a work "in progress", as most gardens are!"
The pictures included are from June and early July in Upper Saddle River, NJ.
Have a garden you'd like to share? Email 5-10 photos and a brief story about your garden to [email protected]. Please include where you are located!
Have a mobile phone? Tag your photos on Instagram or Twitter with #FineGardening!
You don't have to be a professional garden photographer – check out our garden photography tips!
Do you receive the GPOD by email yet? Sign up here.