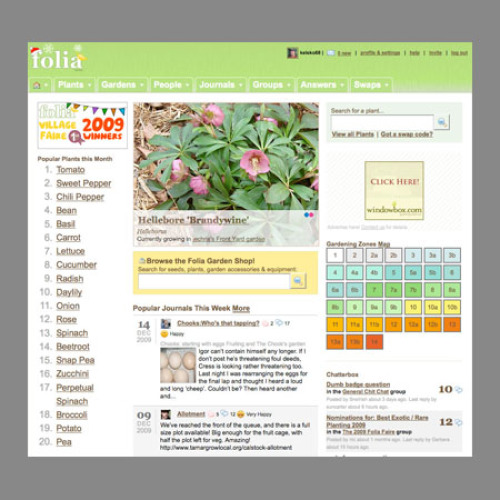 We green thumbs have a multitude of "tools" at our disposal. However, one in particular was eluding me. Have you ever wished you had a digital way of tracking the progress of your garden? Well, a couple of people in the U.K. have solved this in an outstanding way. It's called Folia, it's FREE, and can be found at https://myfolia.com.
From the website, "Folia is a free online social garden tracking app that you can use to track, journal and share the progress of your plants and gardens. Folia has been designed from the ground up to be completely dedicated to the art (and science) of gardening."
Tracking the progress of your plants and gardens is the hallmark of the site. However, Folia goes SO much farther than this. Here's a brief synopsis of how Folia keeps your gardening life organized:
The Overview page indicates what is being sown and harvested in your area, your weather forecast, your tasks and a quick view of your growing timeline.
The Journal page lets you write about and link to as many of your plantings and gardens as you like, as well as logging growing observations about individual plantings. Your local weather is automatically imported into each journal entry, so you can keep a record of weather conditions at the same time. Way cool!
The Plantings page lists all of what you're planting. It can pull from your Seed Stash list or from other sources. If you have posted photos of your plants on flickr, Picasa, Blogger or Photobucket, you can link directly to them. Record where and when you purchased seeds, link to plantings you've grown, and archive seeds you've used. Sweet!
The Wish List page allows you to, well, make a wish list of seeds or plants you're looking for. A "swap matcher" can help you find partners that you can exchange these items with.
The Seed Stash page is your virtual "shoebox" to keep your seeds organized so you know what you have available to plant. In the Swaps section, you can even swap seeds with other gardeners! See in real time who is seed swapping with who!
The Plants and Gardens sections are a great resource of information on plants, zones, identification, and more.
The Groups section allows you to join or start a group about any gardening topic under the sun.
The Gardeners section allows you to find gardeners around the world in the same climate or gardening zones as you are. You can find out who's is growing the exact same plants as you are, and "follow" them.
The Answers section allows you to ask a question, or help other gardeners with their questions.
This is just an outline of the many great features that Folia offers. You can sign up for a completely FREE basic account. However, there are some advanced features that are available with a Supporter account. YOU get to choose the amount you wish to pay, from only US$16. This is pocket change compared to the time you save by using it and being organized.