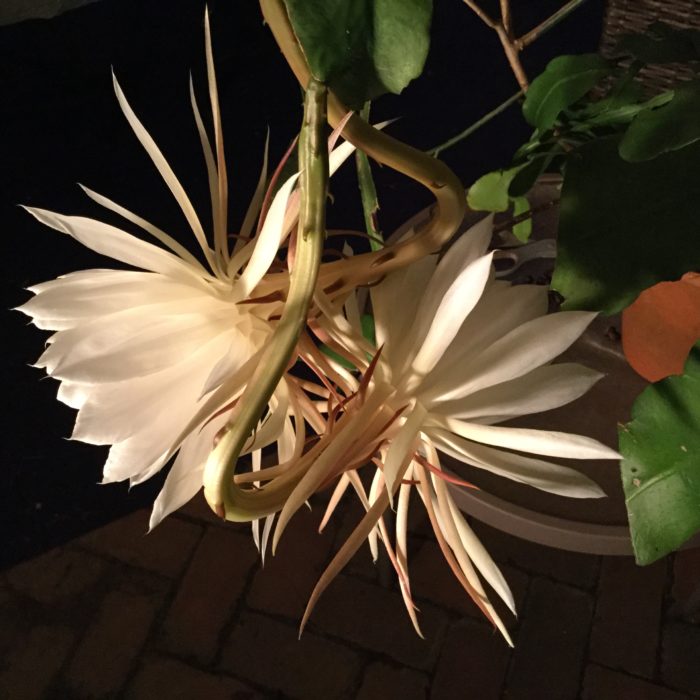 Today Lynn Crawford is sharing a very special plant with us.
Here are some photos of my night-blooming cereus (Epiphyllum oxypetalum, Zones 10–11 or as a houseplant). I have had the plant for numerous years, and it has never bloomed. It is a very unattractive, ungainly looking cactus. I put it outside this summer, back by the shed, only a few steps away from the compost pile. To my surprise about three weeks ago, I noticed that it had two buds coming out of a leaf (very strange). I watched it get larger and eventually brought it inside to watch the process. I have attached some pictures at several stages.
Last week it bloomed! People have been known to have parties to celebrate this "Princess of the Night" event. The night before I had an engagement of dinner and a movie, and I had to have a plant sitter who had my number on speed dial should it have decided to bloom that night.
Nevertheless, it waited until the next night. The process began about 8:00 and continued opening until 10:00–11:00. The fragrance was delightful, and the bloom was spectacular, approximately 8 inches across. The plant only blooms once a year for only one night, and the flower is wilted by the next day. It was certainly worth the wait.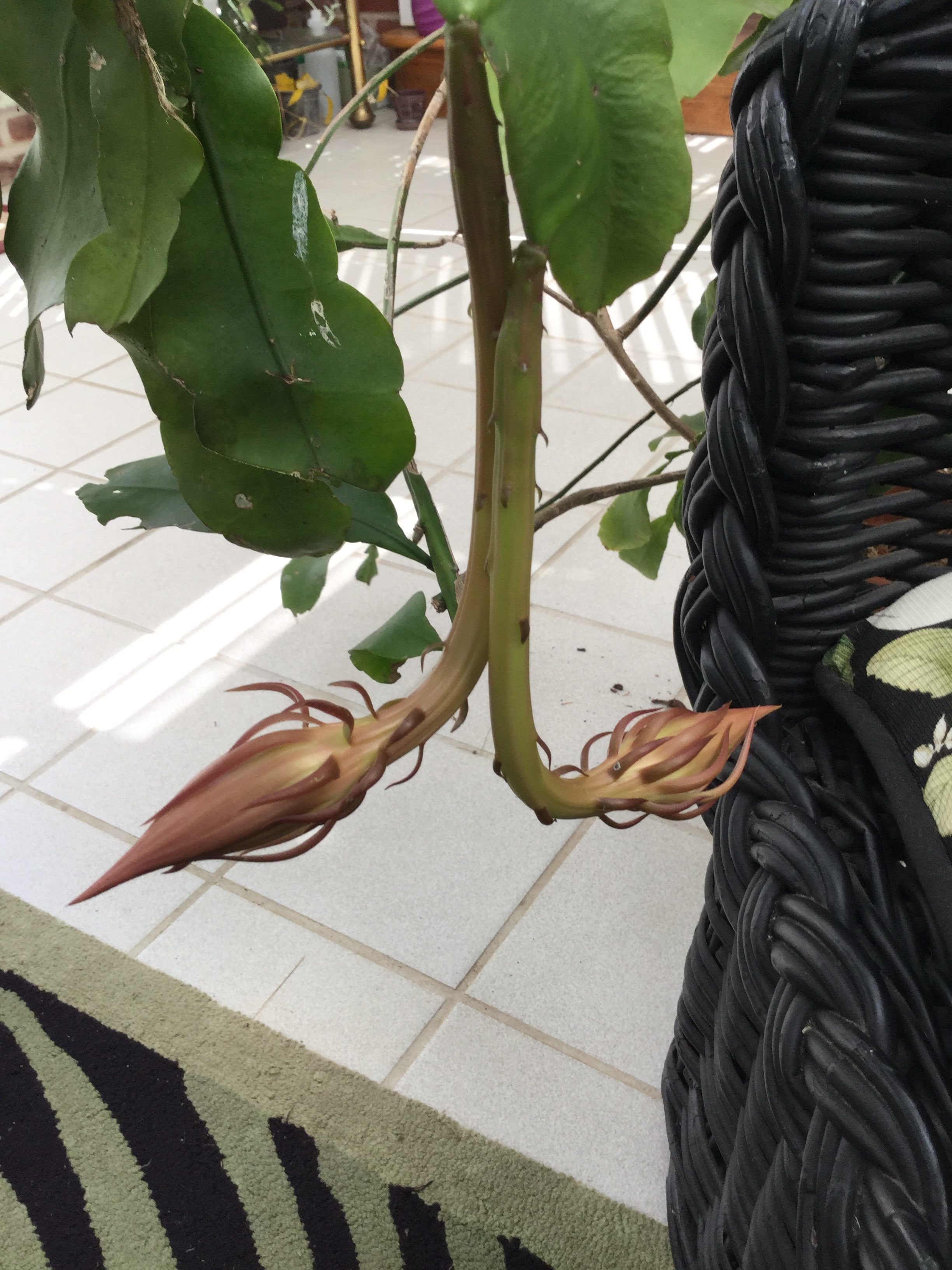 Developing flower buds. Looking promising!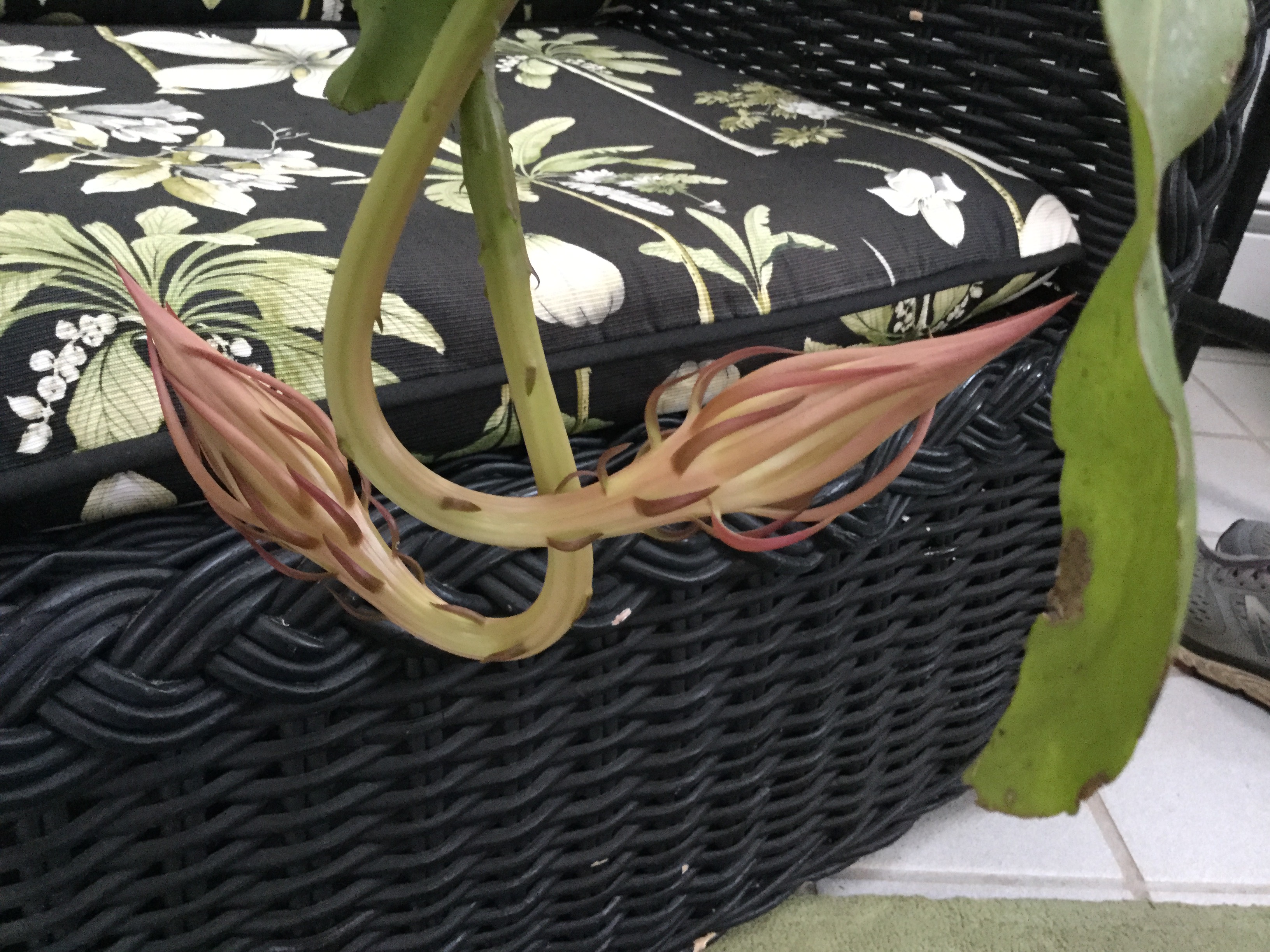 Close-up of the flower buds. They're beautiful even at this stage.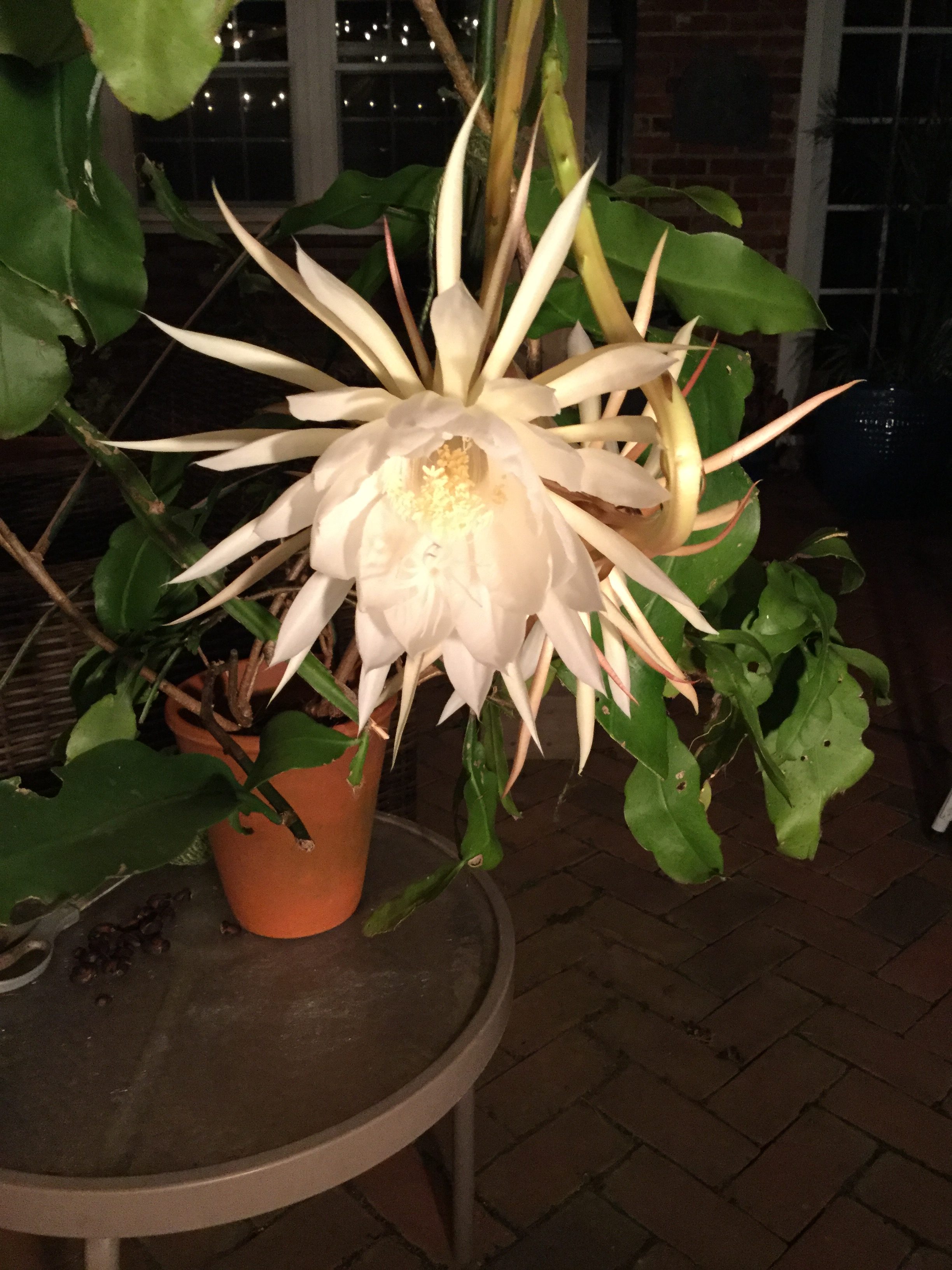 The flower fully open, beginning to spill rich fragrance into the night.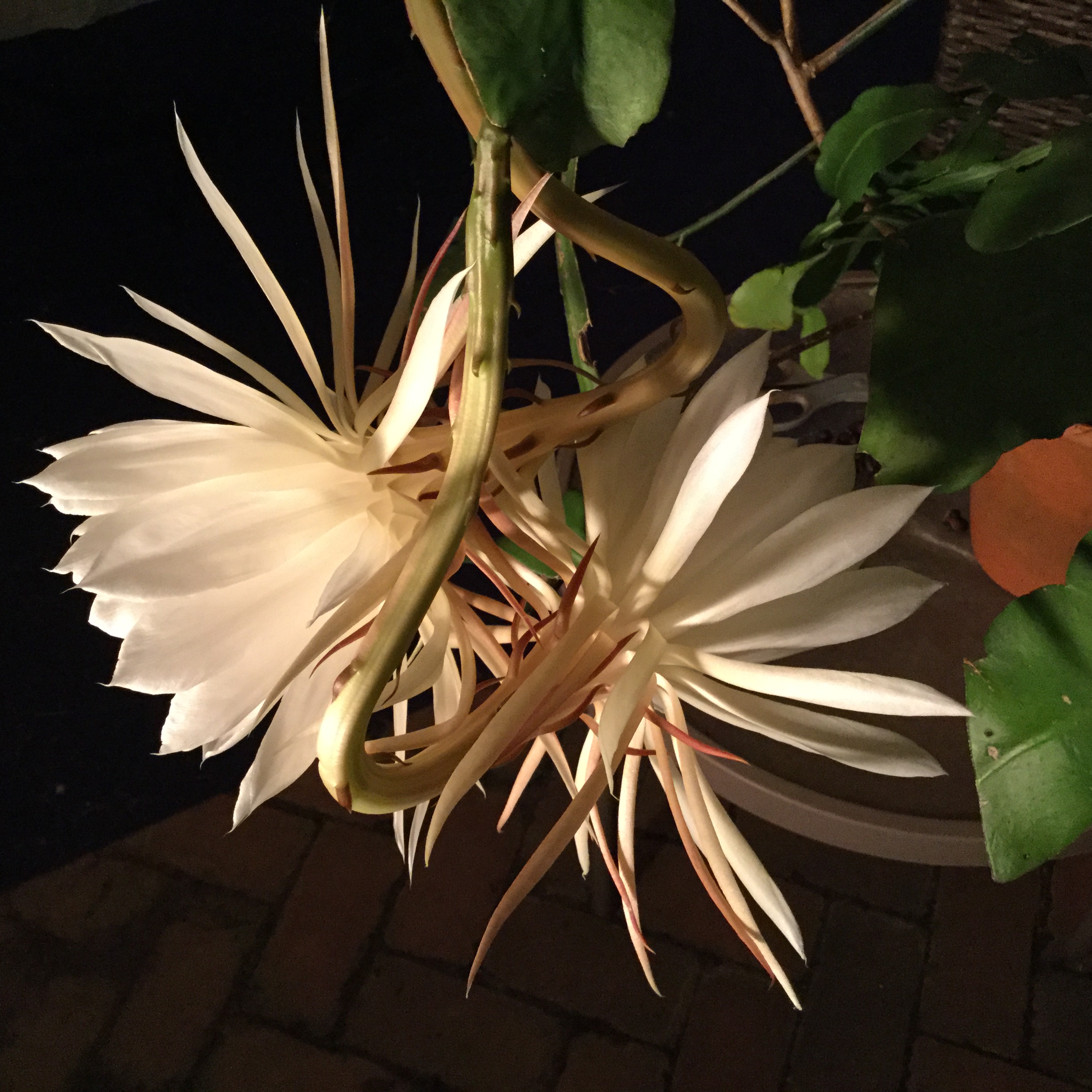 Two flowers twisting together. This beautiful and unusual cactus is native to Mexico and parts of Central and South America. The huge flowers with their powerful fragrance lure in bats to pollinate the blooms.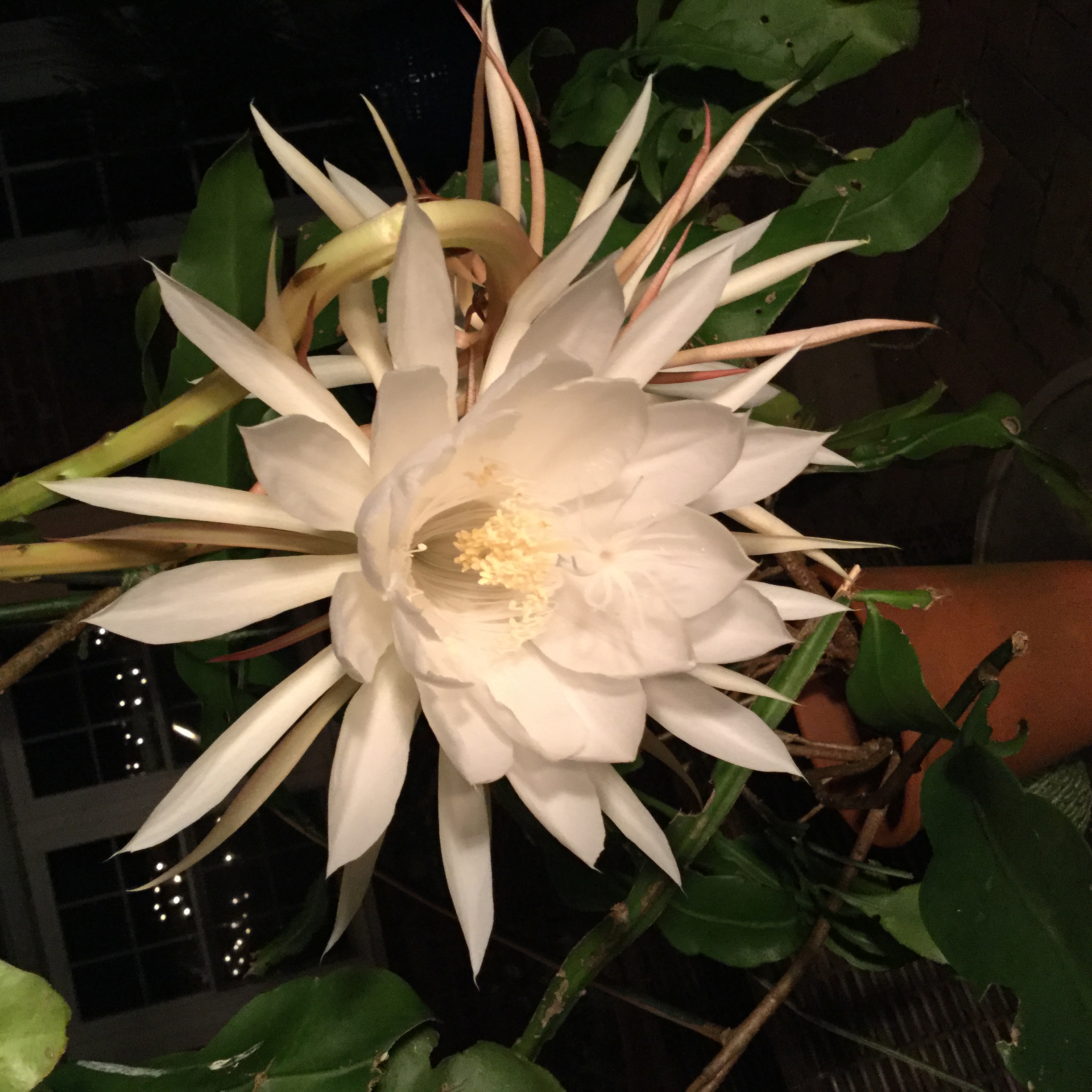 A close-up of the spectacular bloom. Usually we think that a plant that blooms all summer long is the best, but there is a lot to be said for a plant that gives just a brief, but very special, display. The drama of anticipating the one special night that these bloom can give a special excitement to the garden that not much else can replicate.
Have a garden you'd like to share?
Have photos to share? We'd love to see your garden, a particular collection of plants you love, or a wonderful garden you had the chance to visit!
To submit, send 5-10 photos to [email protected] along with some information about the plants in the pictures and where you took the photos. We'd love to hear where you are located, how long you've been gardening, successes you are proud of, failures you learned from, hopes for the future, favorite plants, or funny stories from your garden.
If you want to send photos in separate emails to the GPOD email box that is just fine.
Have a mobile phone? Tag your photos on Facebook, Instagram or Twitter with #FineGardening!
You don't have to be a professional garden photographer – check out our garden photography tips!
Do you receive the GPOD by email yet? Sign up here.