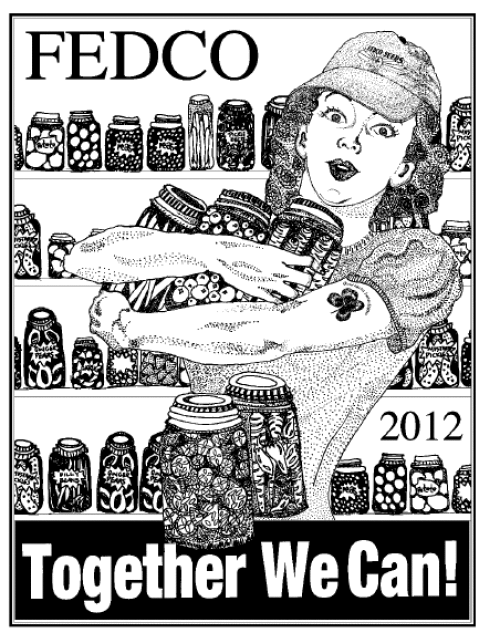 If you still count reading as one of life's pleasures, you are going to enjoy perusing the Fedco Seeds catalog. Unlike most other seed catalogs, which are heavy on the photos and light on the word, Fedco's catalogs are packed with words: informative, witty, and succinct descriptions. You won't find any photos at all, but you will find marvelous line drawings, equally witty, by a bevy of illustrators. You'll also find planting guides, historical asides, literary allusions, some recipes, customer feedback (both positive and negative), and more. It's the perfect choice for the armchair gardener on a chilly evening.
Fedco, based in Waterville, Maine, sells vegetable and flower seeds, fruit trees, berries, fertilizer, gardening equipment, and books. There are three print catalogs: seeds, trees, and bulbs. The company was founded in 1978 as a cooperative and caters mainly to home growers and market gardeners in the Northeast. Much of the seed offered is certified organic. The company maintains high standards, tests for genetically modified contamination, and offers excellent customer service.
I've ordered from Fedco for several years now, and I've never been disappointed. The seeds are inexpensive (for 1/4 ounce, you'll pay less than $2 in most cases), so you can order a whole lot without breaking the budget. For a frugal gardener, it's like being the kid in the candy store.
Fedco's seed packets are small, no-frill envelopes. That's a good thing; you'll use them up in a year or two in the typical garden. Packets are labeled with the variety, year, germination rate, day to reach maturity, and brief planting instructions. For more detailed growing information, you'll need to refer to other sources.
It's a little early for me to get really serious about ordering, so for now, I'll just note some of the catalog highlights. In winter, when the garden is a blank slate (or nearly so), I'm especially drawn to crops I have trouble growing, such as melons and eggplant, and crops I've never tried before. In the melon category, Fedco offers 29 varieties, most of which were grown successfully in Maine. Fedco's eggplant selection is more limited, but tempting, nonetheless. Gardeners seeking something new might consider popcorn (four varieties are offered), Poona Kheera cucumber, Pink Banana squash, Munchener Bier radish, or sea kale, to name just a few of the most intriguing varieties.
The lack of photos? It doesn't bother me one bit. If I really want to see what something looks like, I can generally find a photo of it in another catalog or online.