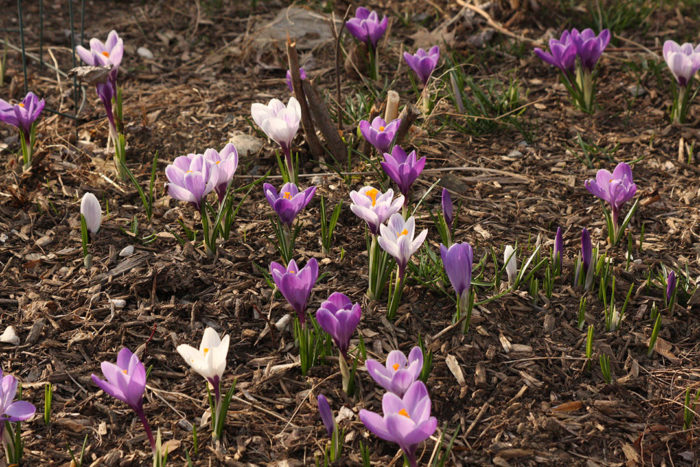 Bulbs and corms that originate in a Mediterranean climate are some of the best-performing but least-known plants for Southern California. There are hundreds of species of incredible bulbs from California, South Africa, Greece, Turkey, and Chile that thrive with very little maintenance and water in California, yet most Californians are more familiar with tulips (Tulipa spp. and cvs., Zones 3–8) and daffodils (Narcissus spp. and cvs., Zones 3–9) than they are with mariposa lilies (Calochortus superbus and cvs., Zones 7–11) and baboon flowers (Babiana spp. and cvs, Zones 8–11).
These bulbs and corms vary in their bloom time, from fall to winter to spring, but almost all of them are planted in fall after a summer dormancy period during the heat. Most Mediterranean climate bulbs thrive in well-drained soil with little to no irrigation. Here are a few of my favorites.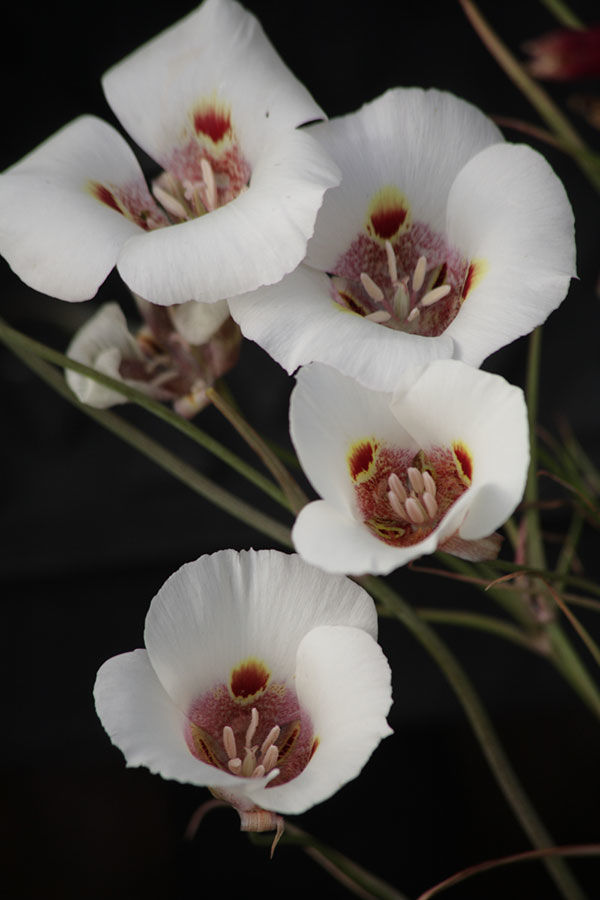 Mariposa lily (Calochortus superbus and cvs., Zones 7–11)
Origin: California
Height: 12 to 24 inches
Spacing: 6 inches
Light: Full sun
Water: No irrigation
Mariposa lily is California's answer to the tulip. This lovely lily is one of the easiest to grow and produces 1- to 2-foot-long flower spikes with multiple white blooms. Expect to see three-petaled cup-shaped flowers with striking patterned interiors bloom in late spring. When planted in late summer or early fall in an area with full sun and no irrigation, mariposa lilies can take one to two years to get established. Supplemental water in the rainy season may be appropriate, but in the summer months bulbs should not be watered. Native bulbs are often a favorite of gophers and ground squirrels, so make sure to plant them in an area free from rodent pests or in a container garden.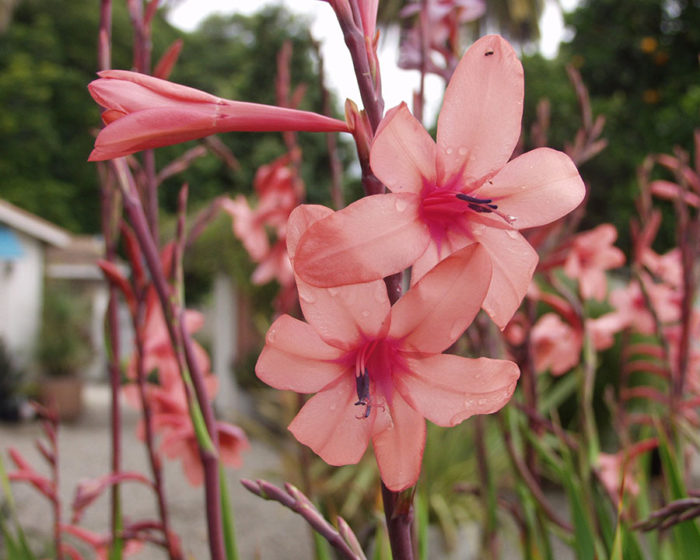 'Flamboyant' Rose bugle lily (Watsonia borbonica 'Flamboyant', Zones 9–10)
Origin: South Africa
Height: 4 to 5 feet
Spacing: 3 feet
Light: Full sun
Watering: Moderate to dry
Rose bugle lilies are similar to gladiolus (Gladiolus spp. and cvs., Zones 5–10) with elegant orange and pink blooms. These easy-to-grow corms thrive so much in our warm climate that they need to be divided and shared with friends every few years. Plant rose bugle lilies in the fall in a sunny spot with good drainage. They can survive moderate water in the summer months. In heavier clay soils, these lilies can still thrive if they remain dry during the summer months. In late spring or early summer, expect to see 3- to 5-foot stems of delicate pink blooms, which like gladiolus can be used indoors as cut flowers. Rose bugle lilies are related to iris (Iris spp. and cvs., Zones 3–9), and their foliage—long strappy leaves—is similar. At the end of the bloom season, you can cut back the spent flowers, but make sure to leave the foliage, which will continue to store energy for the bulbs.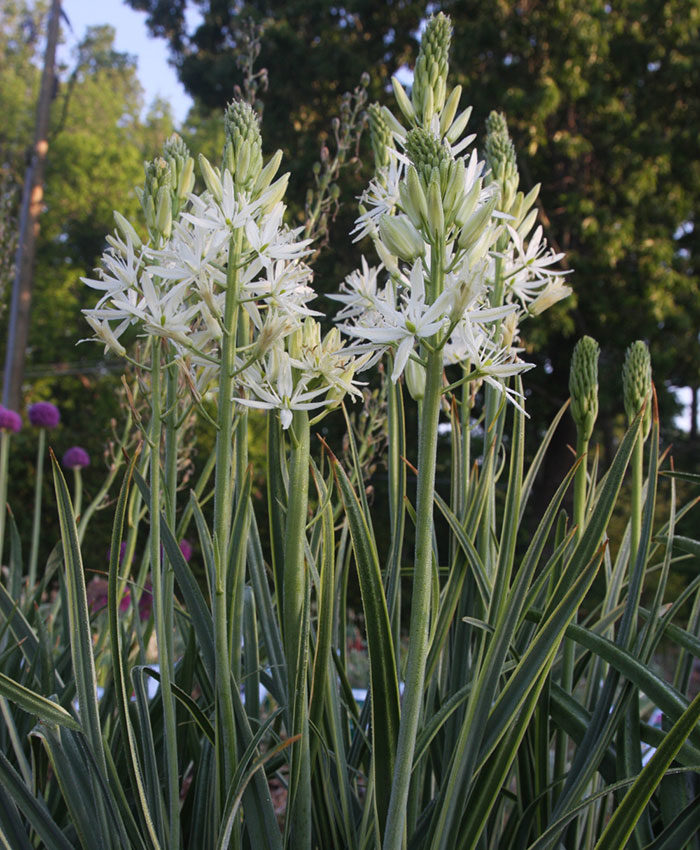 'Sacajawea' camas (Camassia leichtlinii 'Sacajawea', Zones 3–9)
Origin: Western North America
Height: 12 inches
Spacing: 4 to 6 inches
Light: Partial shade
Water: Moderate
Camas are the answer to your dry shade garden. Common in Western meadows, these star-shaped blooms do great in part-shade areas that receive moderate irrigation. I like to plant them in seasonal streams or rainwater swales, which mimic the ponds and meadows of their native habitat. 'Sacajawea' is a white-flowered selection that has variegated foliage to add seasonal color to your garden. Plant in fall for spring blooming, and expect the plants to be established in one to two years. Division is not necessary, as these plants do best if they are left undisturbed. After the bloom season, foliage will go dormant and can be cut back or mulched over. Camas are usually wildlife resistant, although I have seen occasional deer damage to the leaves in very dry years.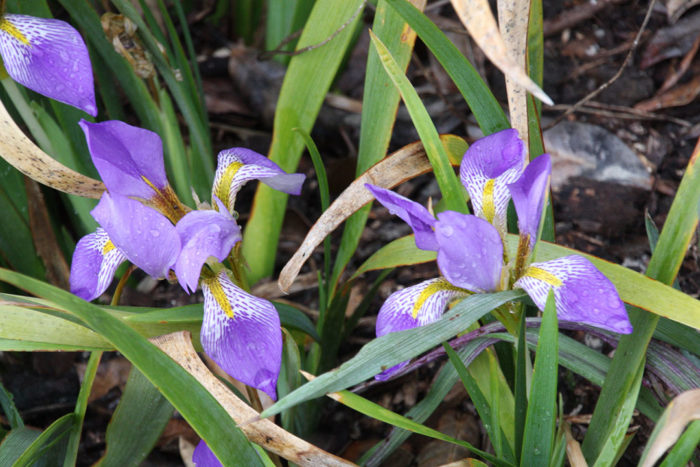 Algerian iris (Iris unguicularis and cvs., Zones 7–9)
Origin: Greece and Turkey
Spacing: 2 feet
Sun: Partial to full shade
Water: Moderate to dry
Do you have dry shade, perhaps under a native oak (Quercus spp. and cvs., Zones 4–10)? Algerian iris is a hard-to-find iris that grows incredibly well in dry shade. Similar in appearance to our native Douglas iris (Iris douglasiana, Zones 8–9), Algerian iris has fragrant blue blooms that appear in winter. This iris should be planted and divided in August and September, and it takes one to three years to begin to bloom. When dividing, you will notice that the corms of this iris are very small in comparison to bearded iris (Iris spp. and cvs., Zones 3–9), and the leaves might die back after being replanted. Don't be discouraged—you will often find new leaves appearing in the winter months after all seems lost. In the summer the green foliage should not be cut back after blooming, but dead leaves can be removed whenever they appear.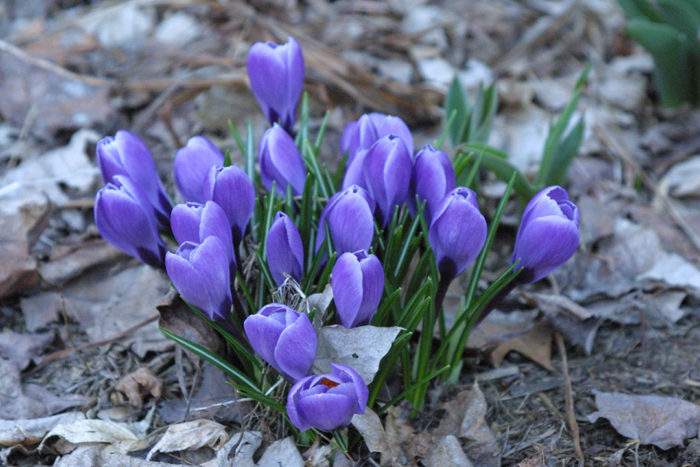 Bieberstein's crocus (Crocus speciosus, Zones 4–9)
Origin: Turkey
Height: 3 to 6 inches
Spacing: 3 to 6 inches
Light: Full sun
Water: Moderate to dry
For most, crocuses bring to mind the first spring bloom right after the snow melts, a sign that spring is around the corner. In snowless Southern California, however, the best crocuses to plant bloom in September, reminding us that the rainy season is just around the corner. Bieberstein's crocus is an heirloom variety that produces masses of short-lived blue flowers, right when you start feeling your garden is going to look brown forever. Plant these tiny bulbs in fall in a sunny spot with a marker, because you won't see them again until they surprise you in September. This fall-blooming crocus will bloom well in a lightly mulched or protected location. I like putting them next to an ornamental rock or stone so that they are easy to find when dormant. They also contrast with the color of the stone. These plants require minimal care; dead leaves can be removed or lightly mulched after the plant goes dormant.
—Rachel Young is the former director of horticulture and garden operations at Descanso Gardens in La Cañada, California.