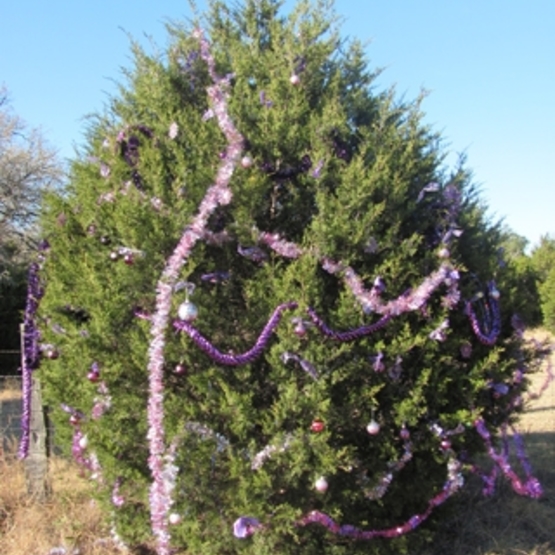 Lots of plants play a role in the drama that is the holiday season, but if there's one plant that gets the title of "holiday horticultural icon," it's undoubtedly the Christmas tree.
This month's Garden Confidential is titled "Tannenbaum." We have two slightly skewed tales of the storied tree: the first is a conversation with writer Pamela Price of the blog Red, White & Grew, and the second, an audio essay by Amanda Thomsen, best known for Kiss My Aster, her blog at FineGardening.com.
This time of year, town squares across the country get decked out with Christmas trees to ring in the holidays. But can a plant to truly define a place? I talk to Price about Ashe juniper (better known as "cedar"), which has done just that. Starting in early winter, male plants of Texas cedar release massive amounts of blue pollen into the air, prompting all manner of allergic reactions from people who didn't even know they had allergies. Doctors call these fits "cedar fever." "It's one of the worst pollens for humans to come into contact with," Price explains. "I interviewed an allergist last year who said allergists in other parts of the country tease her about how prolific the pollen is and how much work she has during the holiday season because of it."
But that's just one aspect of cedar's notoriety. It's also a pioneer species that rapidly colonizes disturbed land, especially ranchland. The first Europeans in Texas who cleared land for ranching saw its population skyrocket. Today, Central Texas residents, Price included, have a love/hate relationship with the cedar–some cut it down wherever they find it while some embrace it as a beloved roadside Christmas tree. Listen to the podcast for more on that.
To wrap up this episode, blogger Amanda Thomsen reads an audio essay titled "The Priceless Fir," a story of a garden center customer who wanted very, very badly to keep his beloved Christmas tree.
Music from this podcast includes Pyotr Ilyich Tchaikovsky's "Dance of the Sugar Plum Fairy" and "Umbrella Pants" by Kevin MacLeod (incompetech.com).