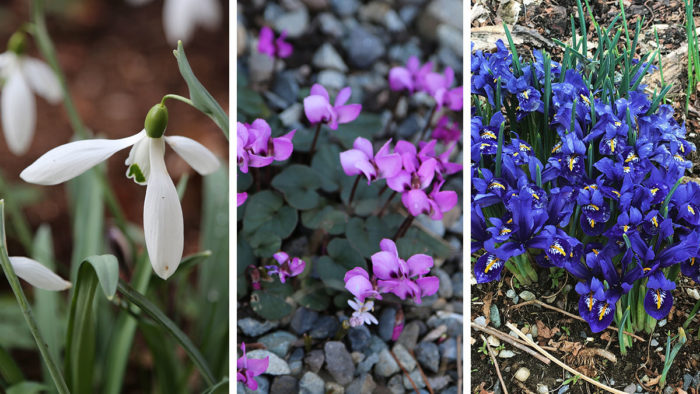 Even though cold winter weather is still hanging around in March, there are sure signs of spring in the garden. Early spring is one of the more exuberant times of year, with amazing colors and unique plant varieties (some often rare) showing up in the garden. These short-lived botanical jewels that dot the gardens are called ephemerals. They not only serve as the harbinger of spring, but they provide us with beautiful colors to entice us out into the garden. They also provide the early insect population with much-needed food after their winter hibernation period and sustain them until spring's riot of flowers. Here are some of my favorites that are starting to bloom now and appearing in your local nurseries and garden centers. Get them when you see them, as they typically have a limited availability.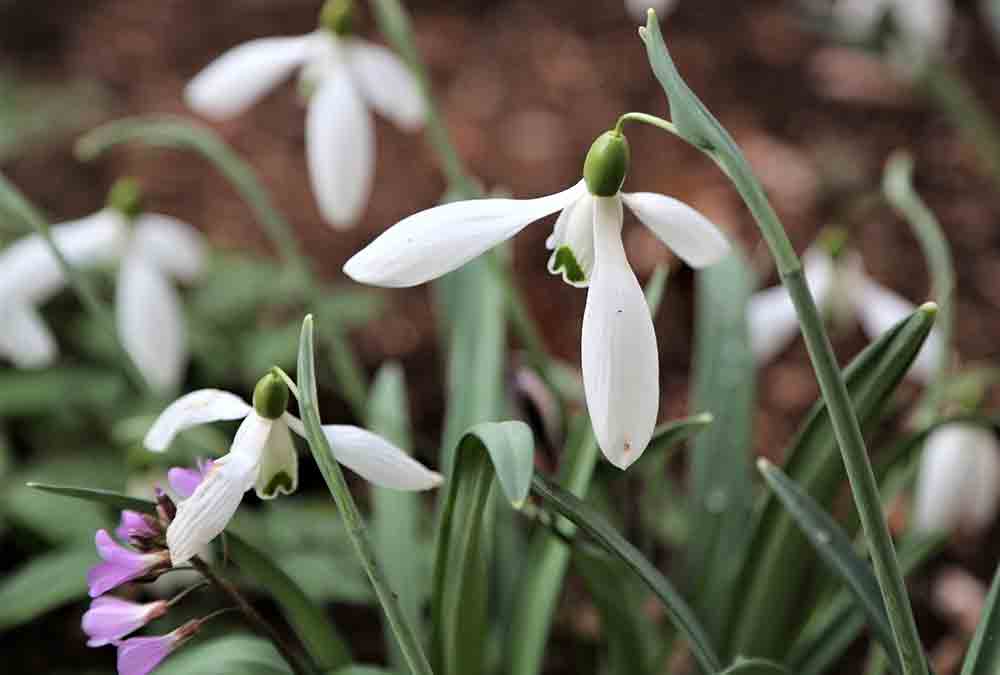 Update your early spring tableau with a new variety of snowdrop, and let it naturalize into a beautiful mass planting
Are you a galanthophile—a lover of snowdrops (Galanthus spp. and cvs., Zones 3–9) and their growing number of available species and cultivars? A quick search on Instagram with the #galanthophile hashtag will send you down the rabbit hole! Many of us know the common snowdrop (Galanthus nivalis, Zones 3–9), which typically grows to 6 inches in height and 3 inches in width, but there is an amazing array of others available at local nurseries and garden centers and in online catalogs. The "long-eared" species of snowdrop, called Elwe's snowdrop or giant snowdrop (G. elwesii, Zones 3–9), is increasingly available due to its larger stature (9 to 11 inches high). Another interesting snowdrop is the double-flowered 'Flore Pleno' (G. nivalis 'Flore Pleno', Zones 3–9) with its tiny petticoat-like flowers. No matter which ones you start collecting, you'll be smitten. The early bees in the Pacific Northwest love them too, creating an interesting scene for onlookers, as sometimes the bees themselves are larger than the flowers!
Snowdrops make a great addition to perennial beds and shaggy meadows lawns. Their neat white caps look wonderful en masse. They will easily naturalize into larger patches as the years pass, creating beautiful swaths in the garden. I love the look of large patches of snowdrops blooming under deciduous trees before larger perennials cover them with their spring growth. You can leave the dying foliage to wither down naturally to help recharge the bulbs and bulk up for next spring's show. I've been told by many nursery owners that they are best transplanted in 'the green," meaning it is best to plant them while the bulbs still have some green leaves left to help settle them in their new garden space. So if your patches are getting too big or you want to increase where they are growing in your garden, it is best to divide and transplant after flowering but before the foliage has completely died down.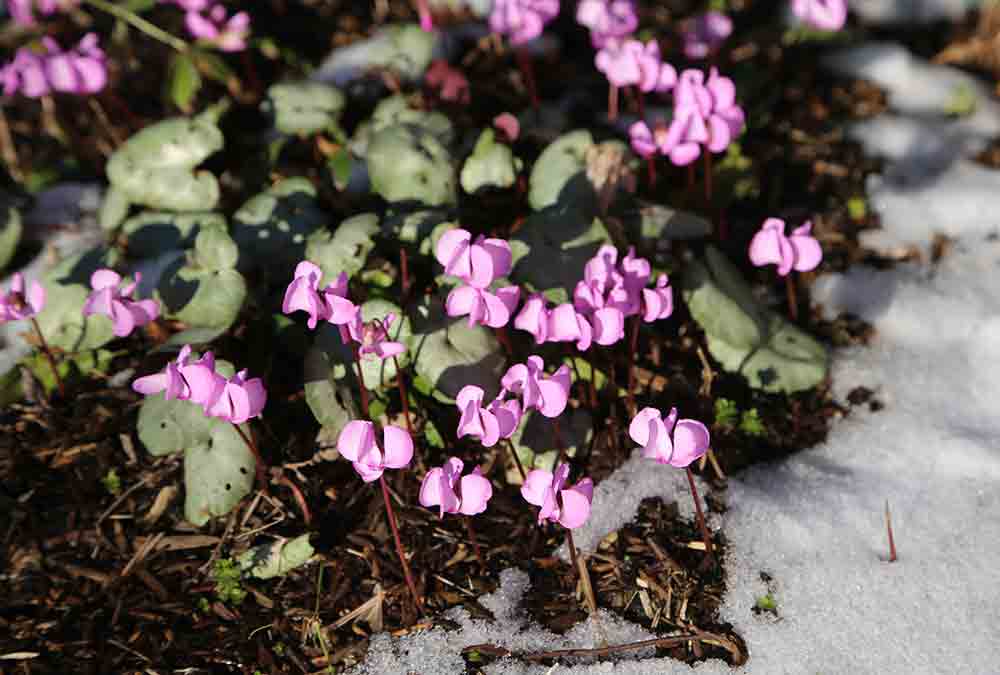 Hardy cyclamen are fast-spreading early bloomers with an abundance of leaf and flower colors to choose from
Hardy cyclamen (Cyclamen coum, Zones 4–9) have bright flowers ranging in color from pure white to pink and magenta, all with dark purple centers. Not only do the flowers look striking, but the foliage is equally beautiful. These cyclamen grow 3 inches tall and 4 inches wide from a large fleshy tuber that resembles a squat potato. Their leaves come in a wide variety of colors and patterns. There are cultivars with silver leaves, green leaves, and leaves with silver and green mixed together. I'm currently growing a clump of hardy cyclamen that have dark green leaves with lovely burgundy undersides, not that anyone but me or the little ants that love their nectar and spread their seeds would notice! This is a beautiful plant that helps the insect community thrive in my garden. They also naturalize freely into larger clumps, often forming large colonies, and may randomly show up in other areas of the garden.
From the straight species (left) to the cultivated 'Katherine Hodgkin' (right), reticulated irises bloom in a variety of bold shades in early spring. Photos: Jason Jorgensen
A swath of reticulated iris with its delicate, fluttery petals looks like a sea of butterflies resting on the lawn
The amazingly tiny but bold-colored reticulated iris (Iris reticulata, Zones 5–9) is one of my favorite spring ephemerals. I recently went on a trip to Israel and saw them growing in the wild on the northern Galilee hillsides. What an amazing sight! The indigo flowers of the straight species are often seen in late winter to early spring. There are many cultivars available, ranging in flower color from white to purple, blue, and yellow. One that I'm growing in my garden now is 'Katherine Hodgkin', with its beautiful pale purple-blue flowers. There is also a pale yellow and white cultivar name 'Katherine's Gold' (I. histrioides 'Katherine's Gold', Zones 5–9) that is relatively new to the trade and is so lovely. I've been wanting to start growing it in my garden but haven't seen it yet on the West Coast. I've seen it on various British gardening websites but cannot wait until it gets here and becomes less expensive. If you see some, pick them up!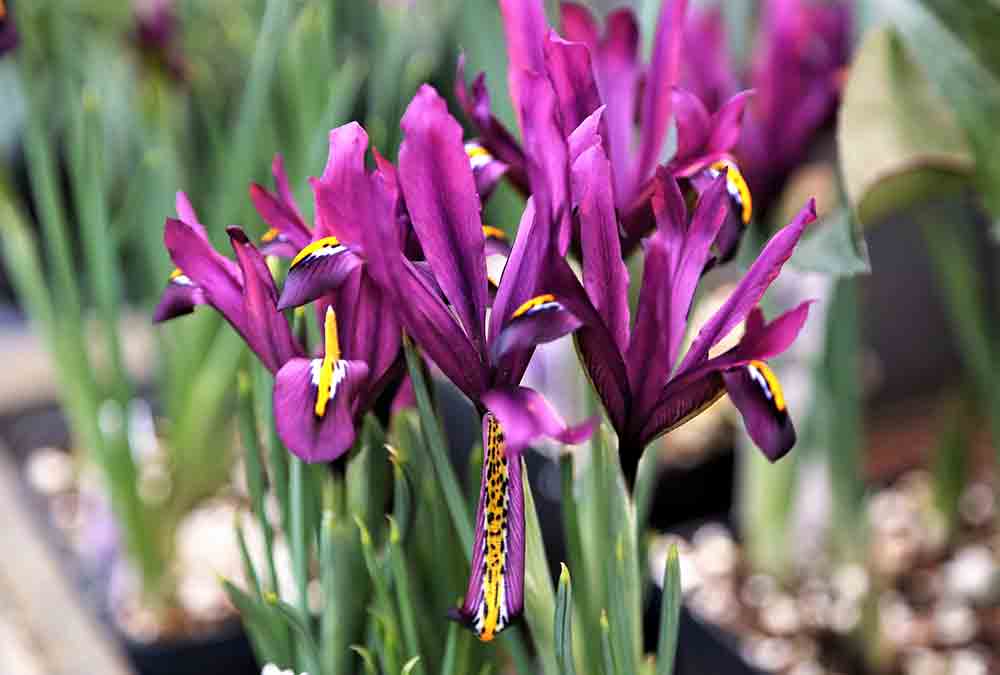 Another interesting cultivar is 'J.S. Dijt', which has lovely, narrow, inky dark purple flowers. This is another show-stopper and would brighten any early spring garden. All reticulated irises are a great addition to sunny borders with good drainage. I've heard some gardeners say the flowers of the reticulated iris look like masses of butterflies in the garden. Even after the flowers pass, the leaves will continue to grow very long. While the flowers reach 5 inches high and 2 inches wide, I've noticed some leaves reaching almost 1 foot long. Be mindful of this foliage in your garden, and let it continue to grow and die off naturally as you would for any other bulb foliage, to recharge the plant for next year's flowers.
I hope you are inspired to include some new plants in your garden or to add to your already growing collection. If you're anything like me, you'll find a home for a few more!
—Jason Jorgensen is a landscape designer in Seattle.