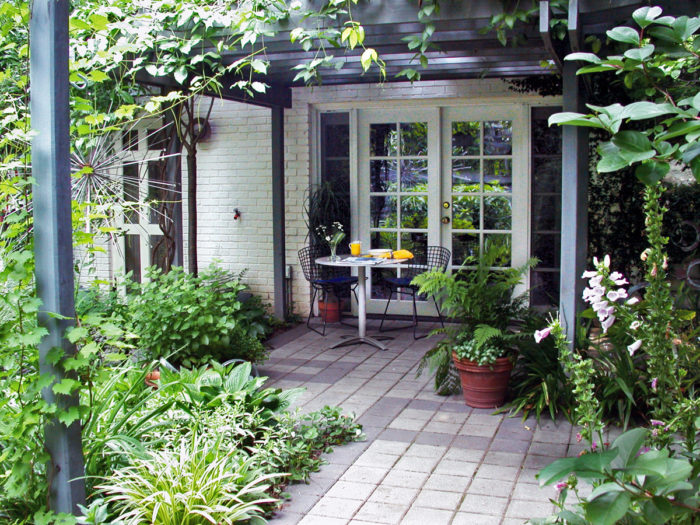 From the lower level of our home near downtown Atlanta, we looked out onto an ugly, sloping pad of broken-up concrete. Beyond that were weeds and a fallen tree stump left over from Hur­ri­cane Opal's visit in 1995. Our small backyard—60 feet wide and 80 feet deep—was also exposed to views of our neighbors' yards and had no attrac­tive area that could be used for outdoor living. To make things worse, the lot is steep. It drops 14 feet to the lowest point at the far right corner.
Our initial goals were to create a private garden space and a pleasing view from the rooms that look out onto the backyard, while providing parking for at least three cars. As a landscape architect, I knew that remaking this space would be an interesting challenge. Since my wife, June, and I both like to garden—and to make the proj­ect affordable—we decided to do most of the work ourselves.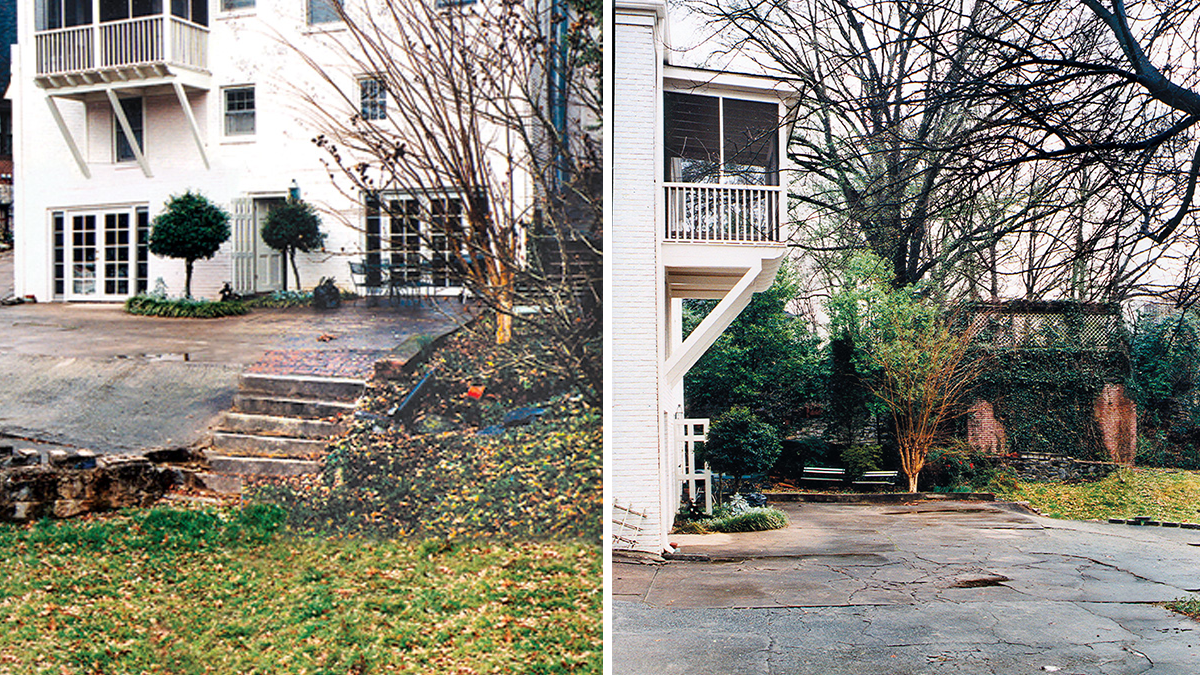 After I measured the site and drew up several alternatives, we chose the most workable design. By diagonally dividing the narrow space, there was enough room for three cars while still keeping the entire width along the back of the house for a garden (site plan, below).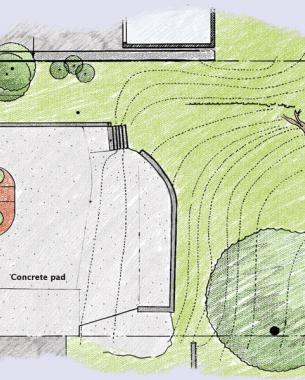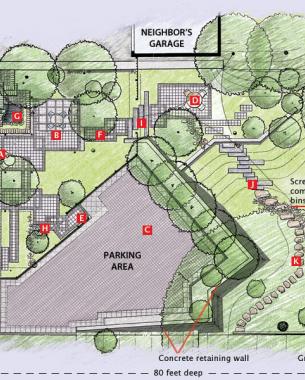 It also became clear that if we wanted to use our sloping backyard for gardens and outdoor living, it would be necessary to build level areas by terracing it. Our original vision for the garden expanded as we rolled up our sleeves and dug in. As we started moving soil to create the first terrace, we realized we would need to move that soil to the next lower level; this process continued until every square inch of the backyard became part of the garden. That was how we gradually created a series of terraced gardens that lead from one area to another and offer a different experience at each level. Visitors are often surprised that our garden covers less than one-tenth of an acre because the sequence of spaces makes it seem so much bigger.
A fence acts as a screen
The highest terrace, which includes separate areas for gardens and parking, was created with a concrete retaining wall—9 feet tall at its highest point and tapering out at both ends. A planting bed serves as a buffer between the edge of the retaining wall and the car park. This phase of the project was too complicated for us to tackle, so we hired a contractor to build the wall and install pavers in the parking area.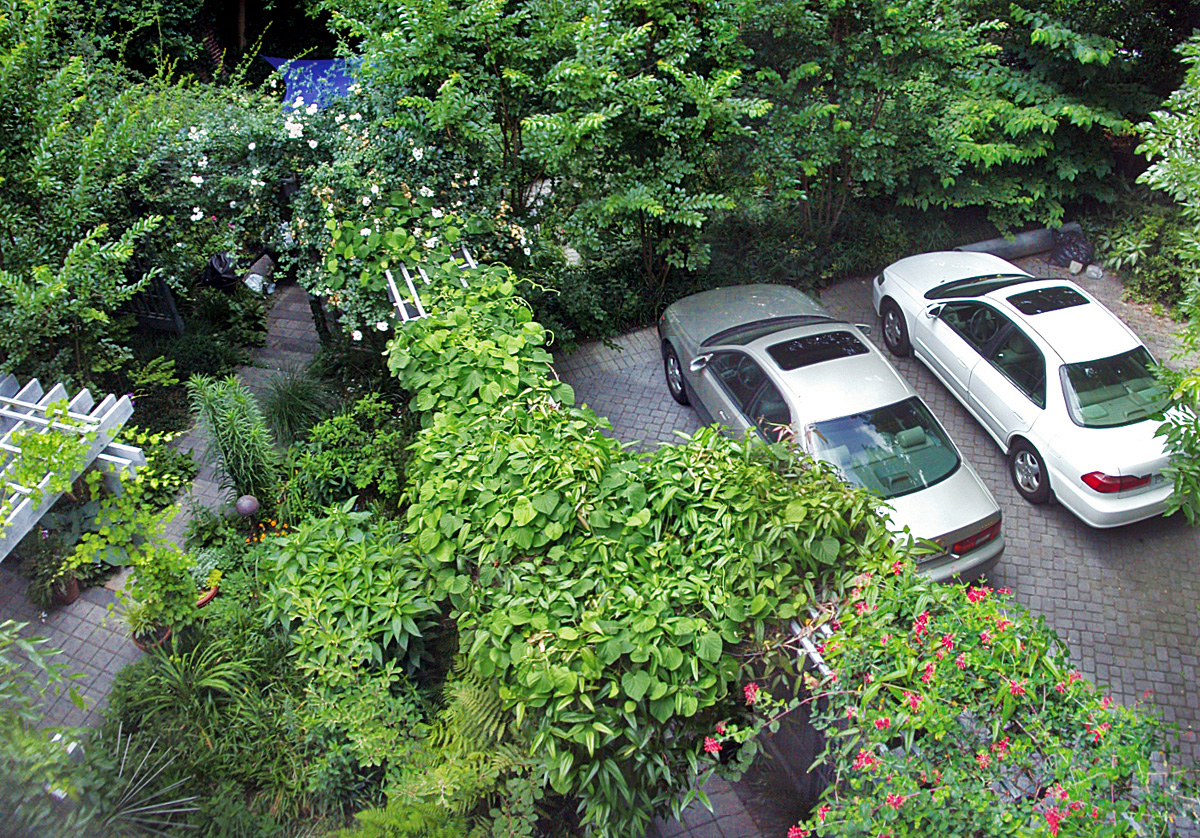 We created privacy for the garden by building a trellised fence along the diagonal dividing line. The fence's staggered alignment creates an arched, hidden entrance to the garden without need for a gate. The fence is constructed with 2×2 wooden pickets spaced 12 inches apart, which makes an effective screen yet looks light and airy. Vines growing on the fence further soften its appearance. I like to design gardens that combine a clear sense of structure in the hard elements, such as the fences and paving, with lush plantings that blur these defining lines.
Connecting terraces offer varied views
To make our garden an extension of our home, we wanted to create spaces that feel like cozy rooms. The main garden level has two connected terraces located in front of our living room's French doors. A small breakfast nook situated outside of one set of French doors overlooks the upper garden area and offers a view to the lower level. A conversation area occupies the larger part of this terrace, and a small pond next to it features water plants, goldfish, and a 4-foot-high waterfall.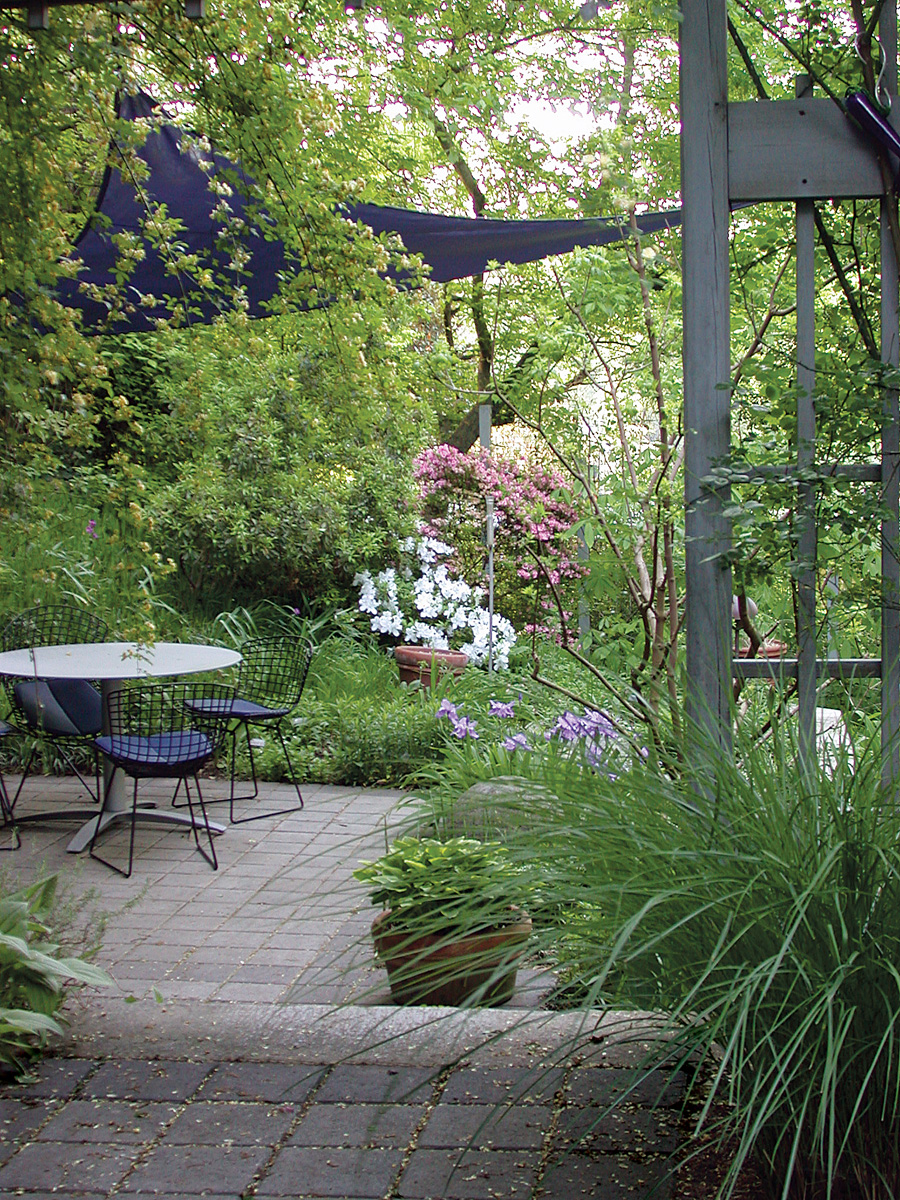 The pond and waterfall take advantage of a previously existing elevation change along the side of the house. Steps lead up to a narrow side-yard garden and then continue to the main level of the house. The materials for the pond, waterfall, and retaining wall are recycled cobblestones, which my wife and I found as we cleared the site. They were once part of another garden wall, and we liked the idea of creating a new use for them. A wooden arbor, covered with vines, provides a ceiling for this area.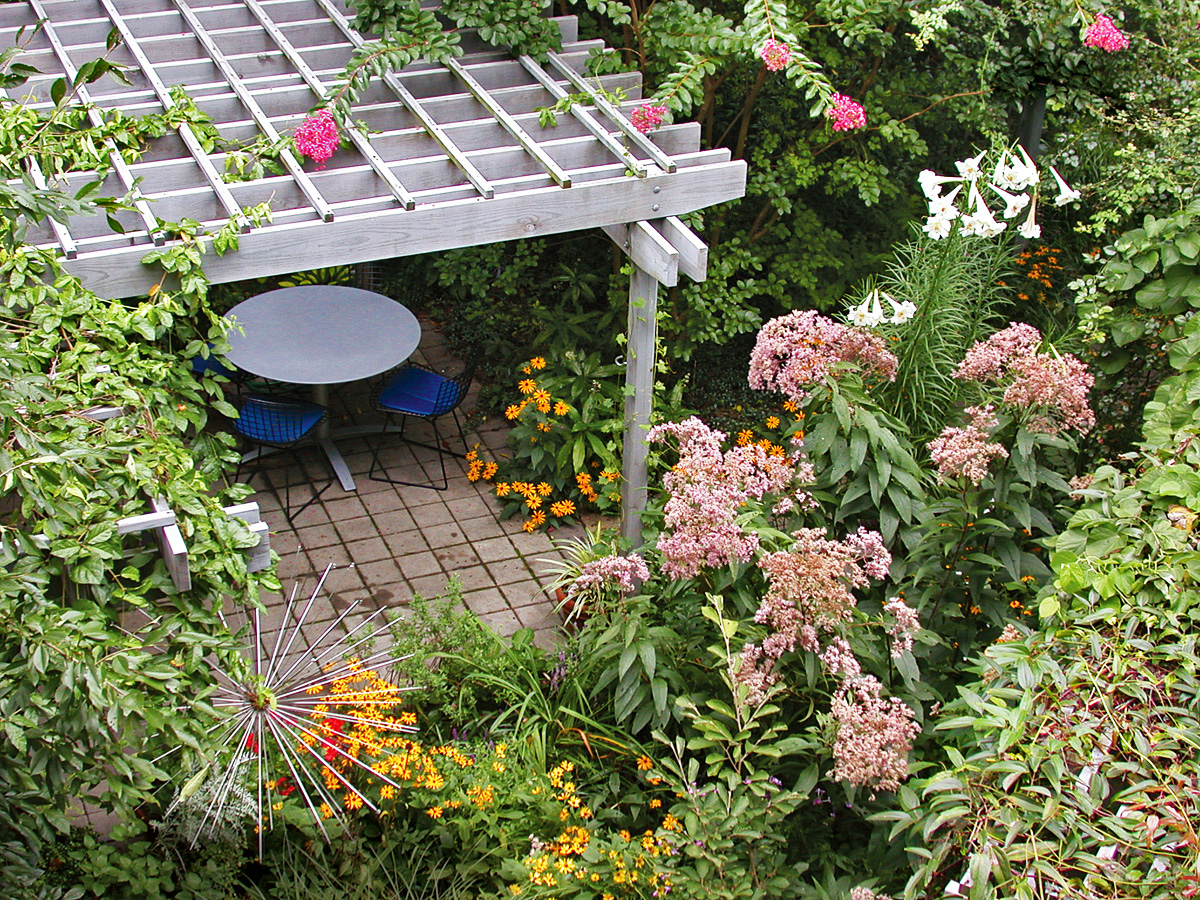 Because of the limited space available, all the paved terraces are rela­tively small—close to the minimum required to accommodate a table with chairs and the necessary circulation space around it. These intimate spaces serve as pleasant garden environments for enjoying morning coffee or entertaining a small group of friends.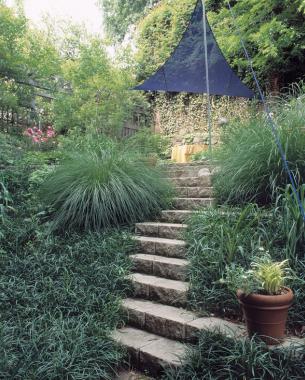 Moving away from the house and past the trellised fence, we arrive at the dining terrace at the next level. It is placed to take advantage of the neighbor's brick garage wall and stone retaining wall as a backdrop. A triangular sail cloth provides a ceiling and some midday shade.
To create the dining terrace, we had to remove a good deal of soil, which we placed in the lowest corner of the sloping site where we built an L-shaped timber re­taining structure—4 feet tall at the corner and tapering to the ground at both ends—to create another level area. Here, we achieved privacy from the neighbors by planting shrubs and evergreen trees and by constructing a green screen—three-dimensional, welded-wire panels with vines growing on them. This lowest area holds three compost bins and also harbors a shade garden with rescued native plants and a few hostas. The path through it starts out as 12 staggered concrete steps and then becomes stepping stones. We built a dry creek through the bottom third to allow excess rainwater to run off without flooding the garden. The stark appearance of the 9-foot-high retaining wall supporting the parking area has become softened since vines have covered most of its face.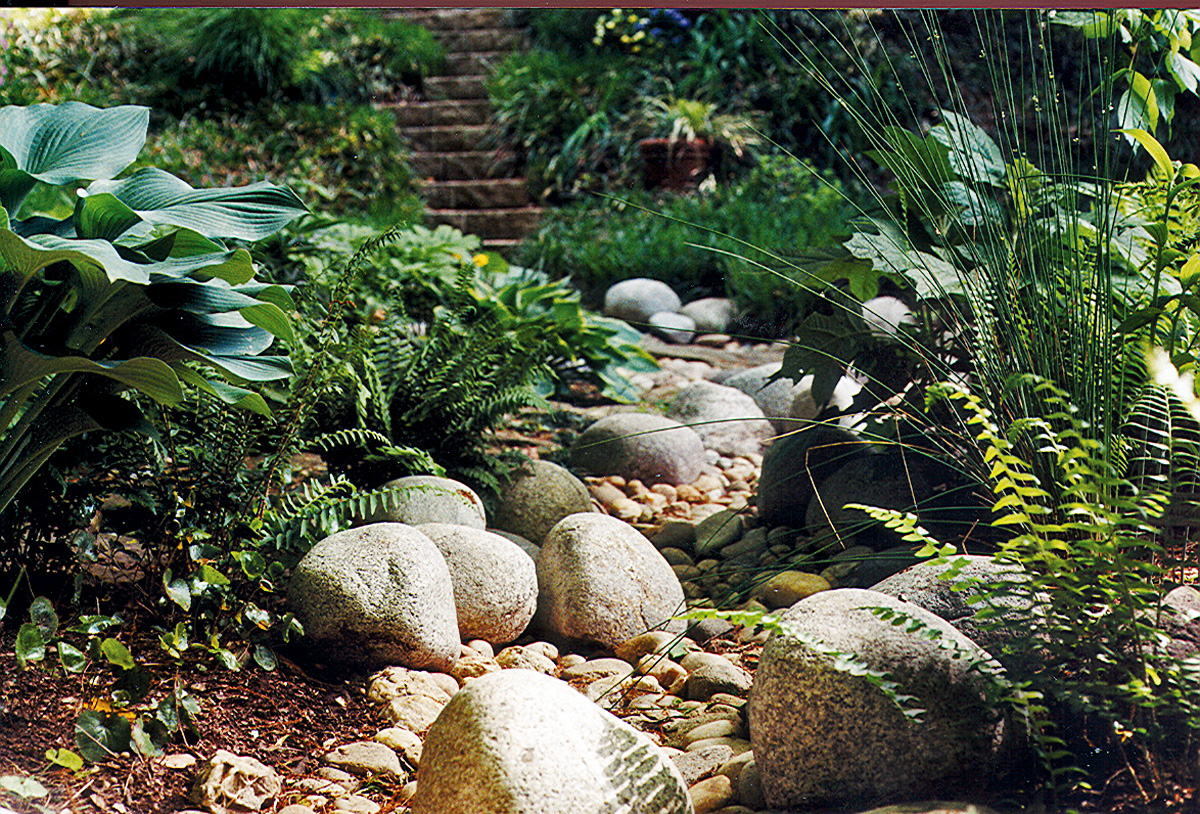 For the terraced area, we chose concrete pavers for reasons of economy, flexibility, and ease of construction since we planned to install them ourselves. We first considered Penn­sylvania bluestone, but it would have been more expensive and would have required a concrete pad. In the parking area, a cobblestone-like pattern visually associates this space with vehicular traffic. In the garden, 8-inch-square pavers in two shades of gray are used to create grid patterns. All the terraces, which take the shape of overlapping rectangles, are outlined by the darker pavers. I wanted the design to have a definite form without appearing stiff, which this design allows.
As a welcome by-product, this design creates paved corners, where I can set garden ornaments or large potted plantings for seasonal color. It also creates corners within the planting areas that are perfectly suited for specimen plants, a sculptural element, or a water feature.
During the two years it took us to build the garden, we often felt overwhelmed. But our dreams and tenacity kept us going. Our experience in transforming our yard convinced us that it's possible to make something beautiful with even the bleakest site; it just takes perseverance.
The making of a mood
Memorable gardens often evoke a distinctive mood. The moods of gardens can range from exuberant to relaxing to contemplative, with countless variations in between. A mood can be established by how the space is arranged, what types of plants or objects are featured, and how the senses are engaged.
When I visited the garden of Hermann and June Weis, I was struck by how they had created a peaceful and fascinating oasis in the middle of a bustling Atlanta neighborhood. Walking through the trellised passage into their garden, I felt both calmed and intrigued. Moving throughout their densely planted, thin slice of land, I noticed that four key elements contributed to this mood: an airy sense of enclosure, soothing water features, cozy spaces, and enchanting plantings.
—Virginia Small
An airy sense of enclosure. The enclosure created by fencing and arbors draped with vining plants such as evergreen clematis (Clematis armandii, Zones 7–9) makes the garden feel secluded and pro­tected. The open weave of the trellising, however, makes the space feel open and informal, rather than "hemmed in." Even the staggered fencing from the driveway to the garden is ingeniously designed so that it is private and a little mysterious.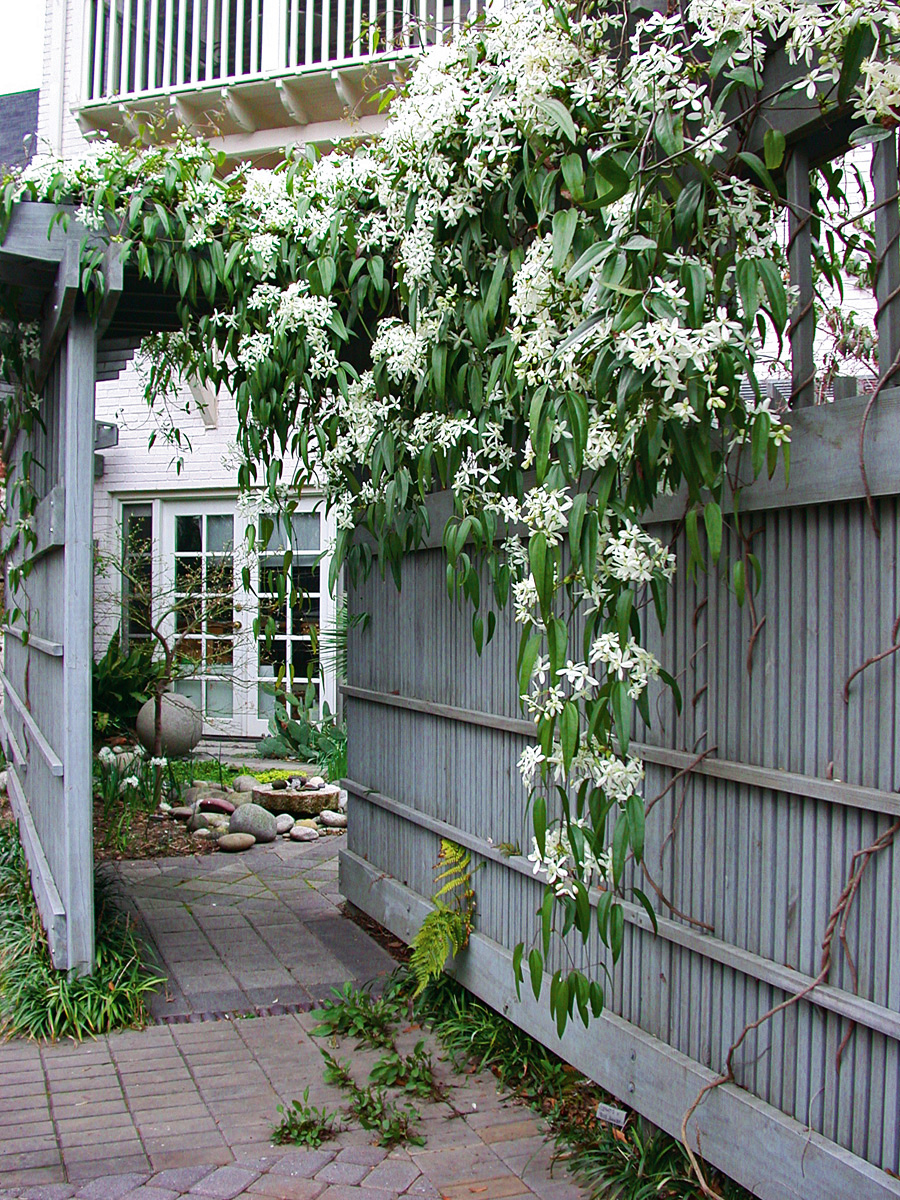 Cozy spaces
The small terraces devoted to conversation areas and dining contribute to a mood of intimacy. This cozy sense of shelter is reinforced by two types of "ceilings": an arbor above the upper terrace and a blue sail cloth that shades the lower terrace used for dining. Without these overhead elements, the garden would feel more exposed and less homey.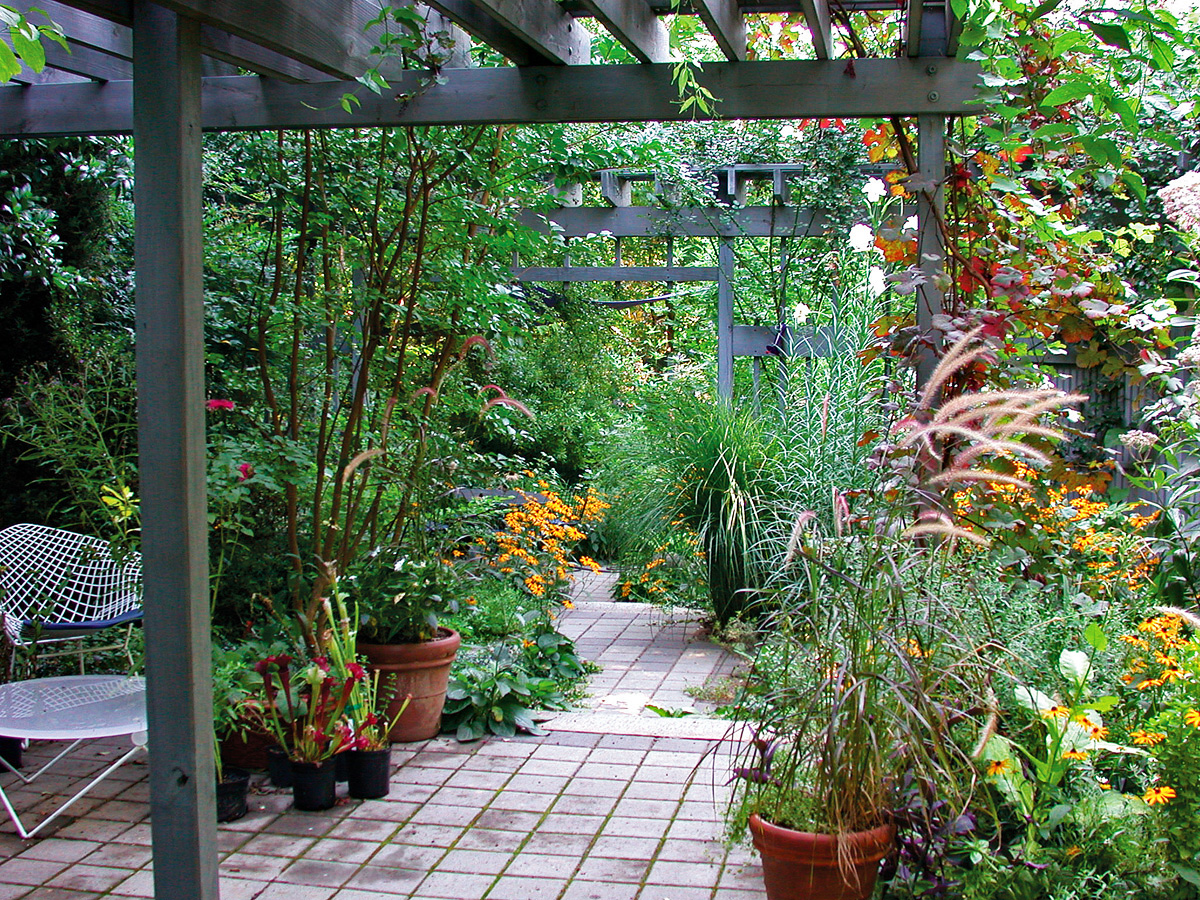 Soothing water features
A millstone fountain at the garden's entrance and a small pond with a 4-foot-high waterfall diminish the city sounds. These watery elements also convey a sense of coolness on hot days. While the sounds of the water are calming, the fact that these features are made from interesting materials adds to their intrigue.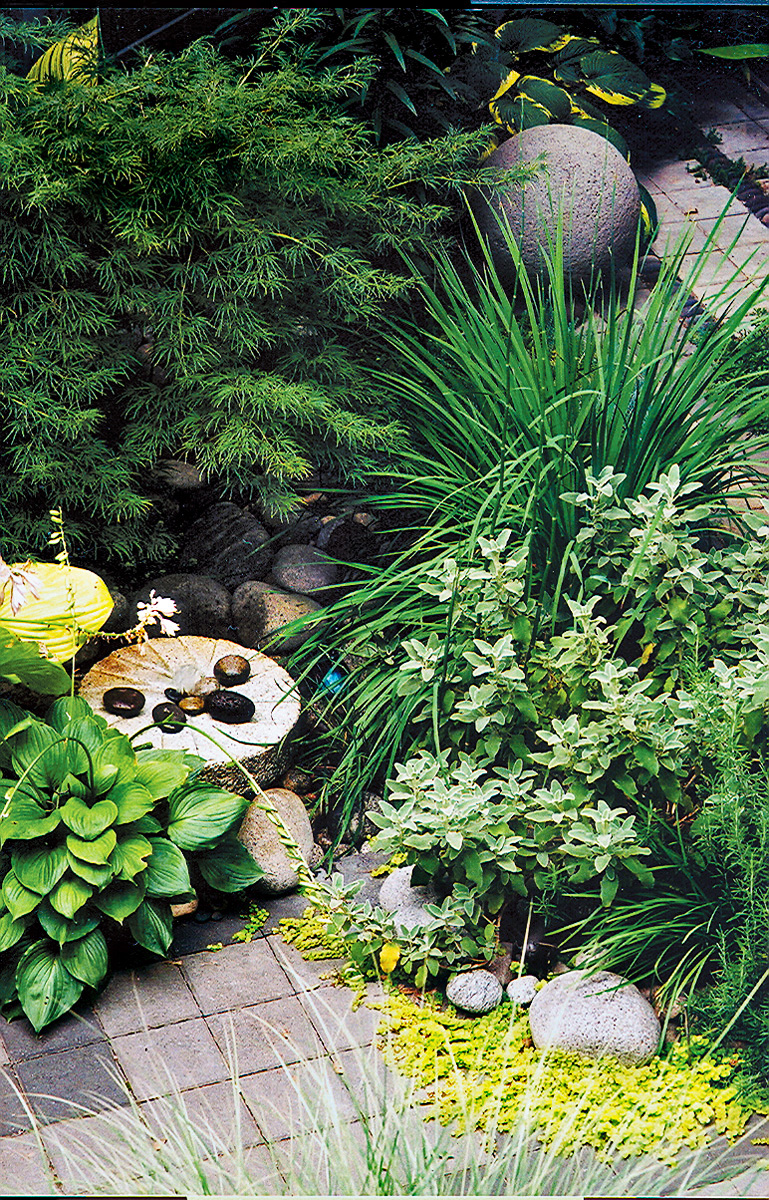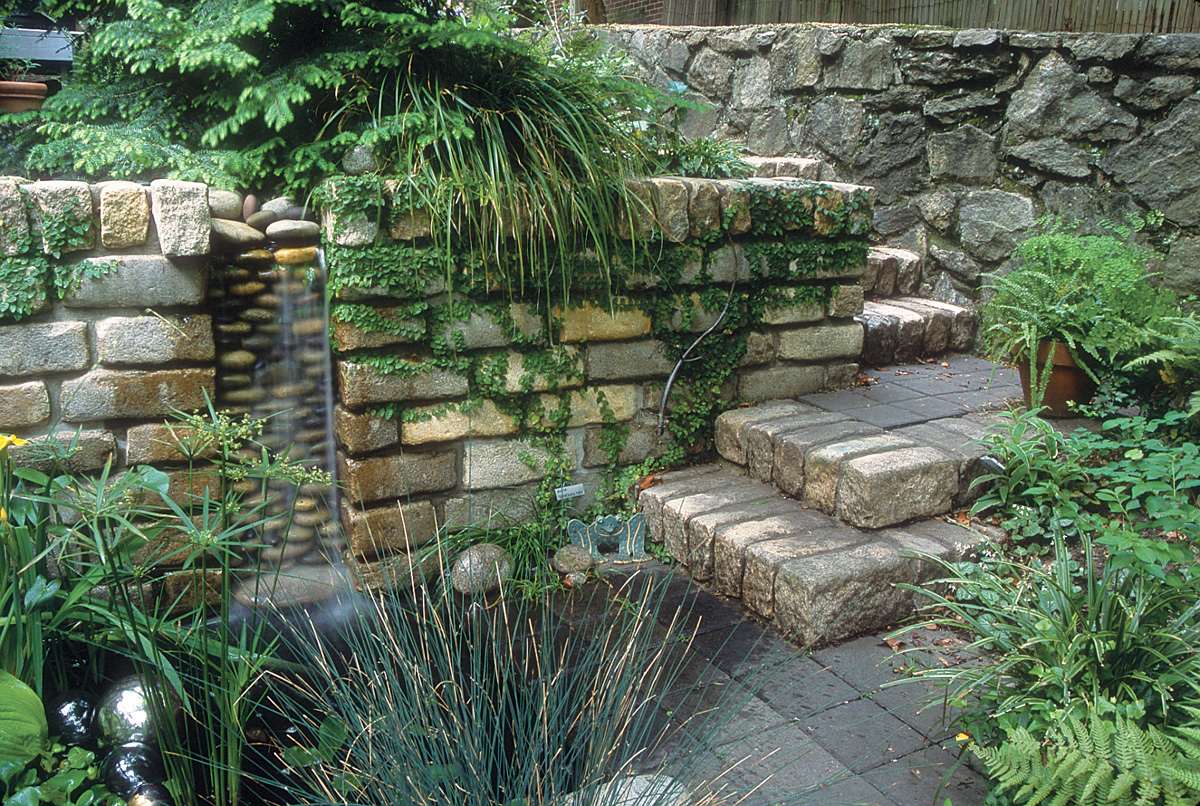 Enchanting plantings
This small space overflows with plants that drape, spill onto walkways, and perfume the air. Plantings such as yellow banksian rose (Rosa banksiae 'Lutea', Zones 8–9) imbue the garden with an air of romance and heighten the feeling that this garden is a personal refuge separate from the city that surrounds it.