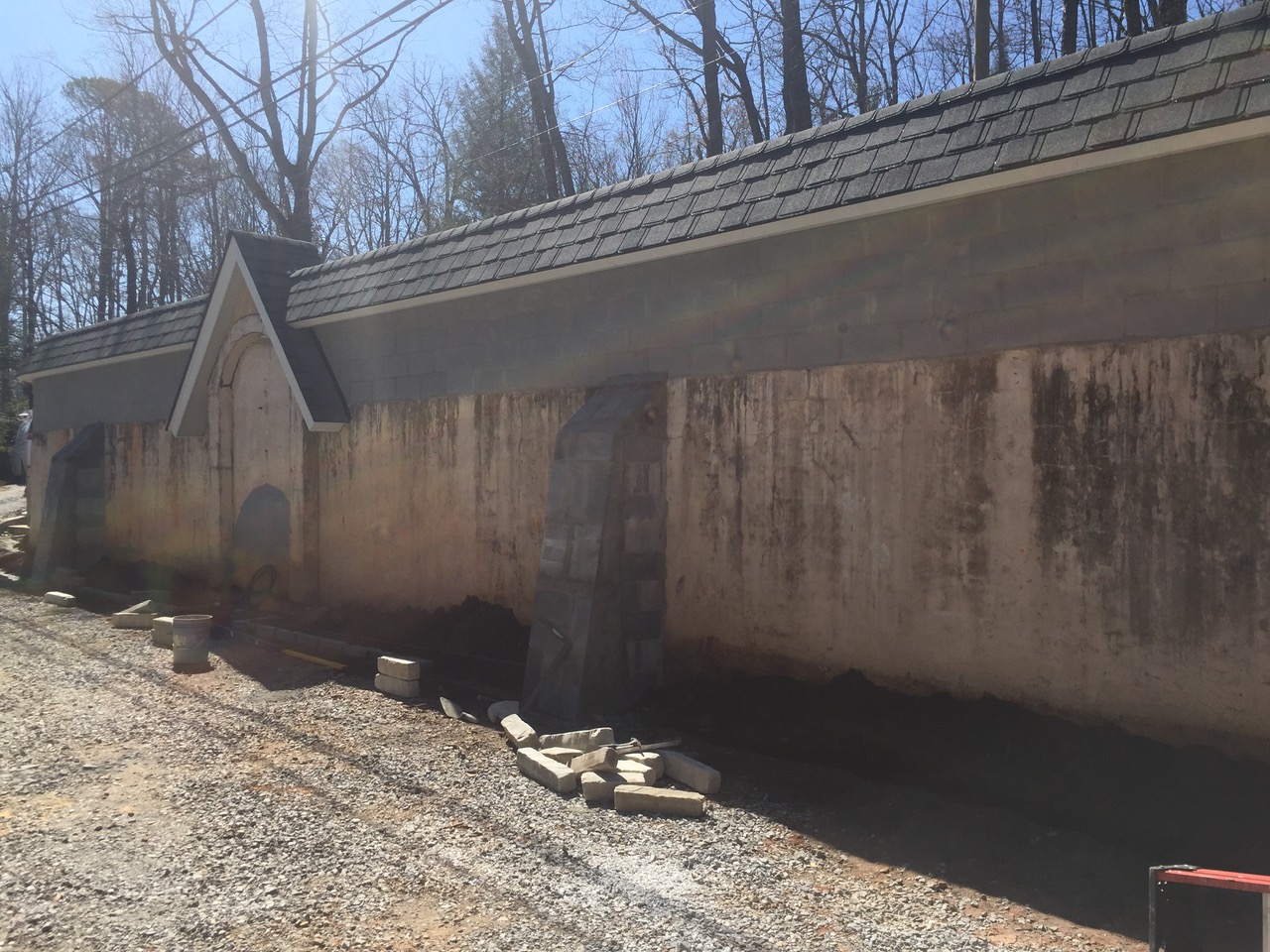 Back when I lived in Los Angeles and ran a rose garden care company, I did some designing of what I called "gardens grown around roses". I always found it to be fun and enjoyed challenging myself to find interesting new ways to incorporate roses into a landscape. When I moved to South Carolina and started my former rose nursery I stopped due to time constraints. Recently I was approached to help with a garden from scratch because the homeowners love roses. This project is just underway but I'm going to blog about it periodically because I hope you will not only learn some things but because it will also inspire you to try some different things with roses!
The space is on a hillside and has several different areas. Some will be slightly formal and some casual and the terrain, light conditions and needs of the space will dictate that. We are starting with the driveway area. The final surface for the driveway isn't down yet so this is the perfect time to make decisions here so we can lay any irrigation lines etc before the final surfacing.
The centerpiece of this area is a long wall.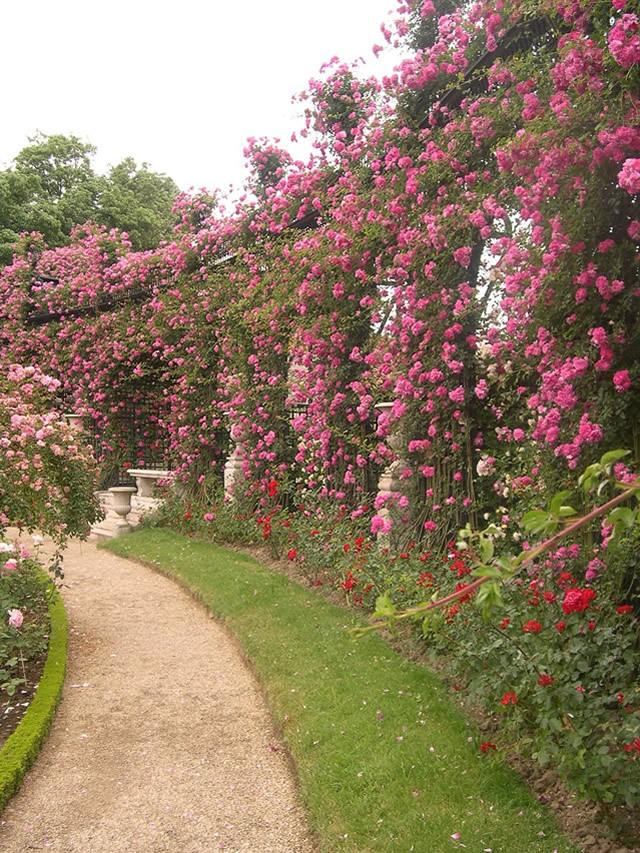 This is going to get a stucco treatment and a water trough will anchor the center. My client had already ordered some espaliered apple trees for this spot so the need was to build climbing roses around that. Since this is a driveway with the practical applications of people getting in and out of cars I want to keep it simple, with good color and a more formal appearance which fits the area.
When I first saw the wall during my first visit I immediately thoughts of the wall of the rose Francois Juranville at a garden south of Paris, France called La Roseraie du Val-de-Marne** also sometimes known as Roseraie de L'Hay.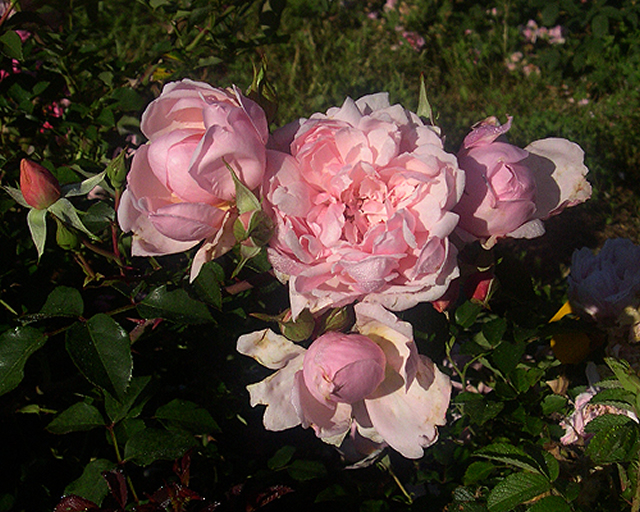 The client prefers pastel colors so we are going to substitute the rambler "Albertine". Same growth habit and size. This is a good example of seeing something you like and then finding a similar rose of different color to fit what you want. Roses are very versatile that way.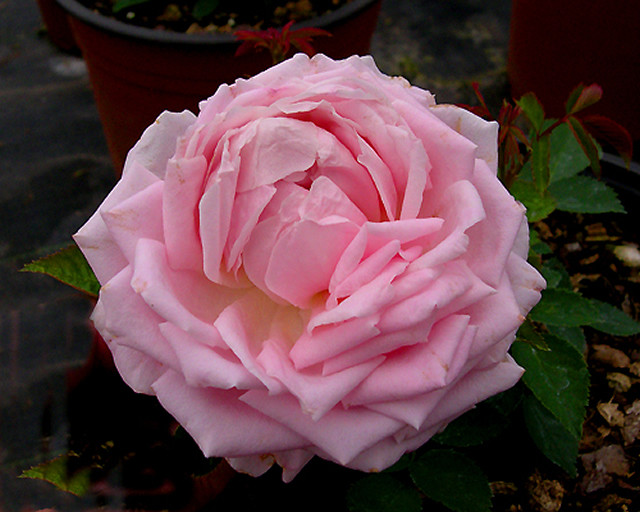 Albertine, like Francois, is a rambling rose. It grows to a great size, which is perfect for framing the sides and top of the wall plus one on either side of the fountain in the middle for a total of 4. However, like pretty much all ramblers it does not bloom all year – instead blooming for around 4 weeks in spring. To carry the bloom forward I'm going to layer two other repeat flowering roses and a clematis into it. The first rose is Climbing Belinda's Dream.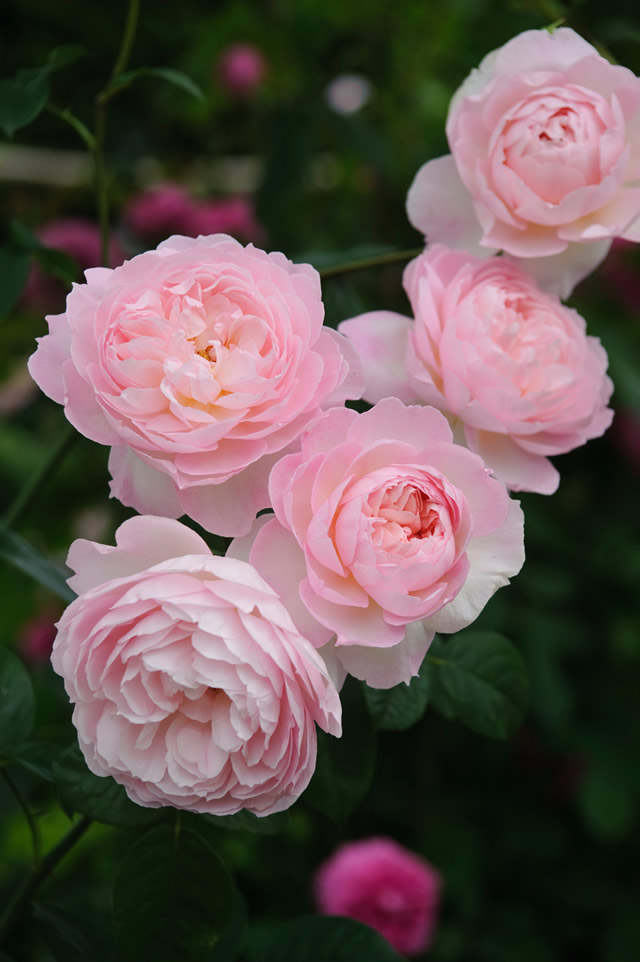 Belinda will grow 12'-15' and bloom all season. The other rose we are going to layer in is the David Austin Rose Gentle Hermione. It will grow to around 5' and cover the base of the other two climbers. Why two more roses?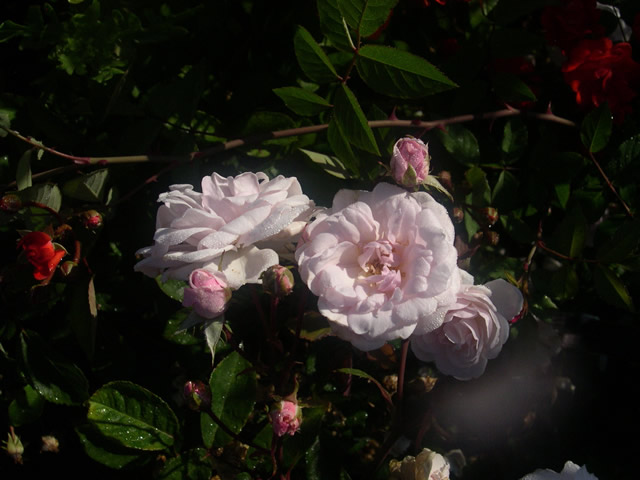 The last two roses bloom all season. While Albertine is bloom all three will bloom at once giving an amazing spring show. The repeat flowering roses will carry that through the rest of the season against the foliage of Albertine.
Besides being layered into Albertine on the edges of the wall, Belinda and Gentle Hermione will be planted between each apple tree and sent straight up. This will frame not only the wall in roses but each apple tree as well.
So why not just use only repeat flowering roses? Because nothing, and I mean nothing, will ever duplicate a spring flowering rambling rose in full bloom. It's a show stopper. Using other repeat flowering roses in harmony with it give that full spring show and an extended bloom season. To add fall interest to the wall in addition to the two repeat flowering roses, I'm going to layer in purple fall blooming clematis. The whole wall will be underplanted with lavender under the apple trees and the Polyantha rose Marie Pavie between the apple trees. This repeating pattern will give a casual simplicity to the area while still retaining the formality the space calls for.
As you can this does not involve a lot of plants but by thinking it through and combining different kinds of roses we can create something beautiful all season long.
More to come as we move along!