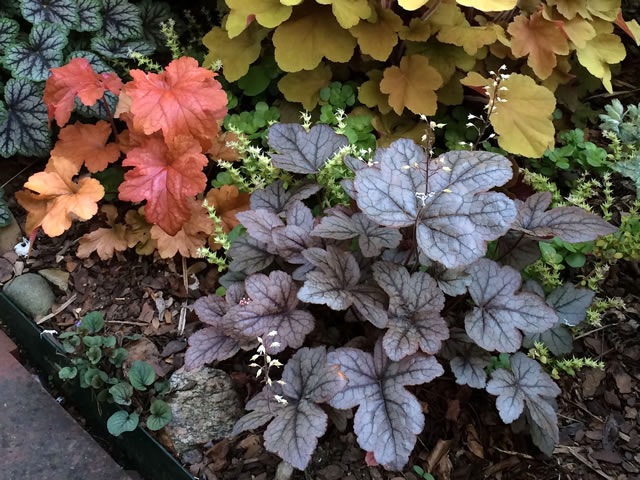 Tim Vojt is pushing coral bells and hybrids today. Great sales pitch!
"As a self-appointed plant PR person, I'm pushing coral bells and hybrids today. I think Heuchera and Heucherella look best this time of year, with fresh, expanding foliage and lush colors and silvering. Some even have really great flowers that humming birds enjoy. I'm a sucker for a riot of color, especially when it comes to foliage and these plants create a great, low tapestry in partial shade. Some look quite very different as the seasons pass, or in different growing conditions and temperature. I put together three photos of the exact same plant, Rio, taken in spring, summer and autumn. (The May photo was before I moved it across the sidewalk to where it lives now.) I must live in the coral bell sweet spot because most are no trouble for me. Occasionally one will up and die or perform in a less than stellar manner. I find them to be very low maintenance. I pull off the flower wands if they are ugly, deadhead when nice flower heads are done blooming to keep them tidy, and periodically divide when they get too woody. Generally I just dig them up, cut them apart and stick pieces back in the ground, whether or not they have roots. Sometimes frost-heaving in late winter is a problem in my zone 6ish garden, which will push a plant clean out of the ground if it is not fully rooted in. If they don't grow well in the ground for you, they do great in a container. You need some."
Have a garden you'd like to share? Please email 5-10 photos and a brief story about your garden to [email protected]. Please include where you are located!
Have a mobile phone? Tag your photos on Instagram or Twitter with #FineGardening!
You don't have to be a professional garden photographer – check out our garden photography tips!
Do you receive the GPOD by email yet? Sign up here.