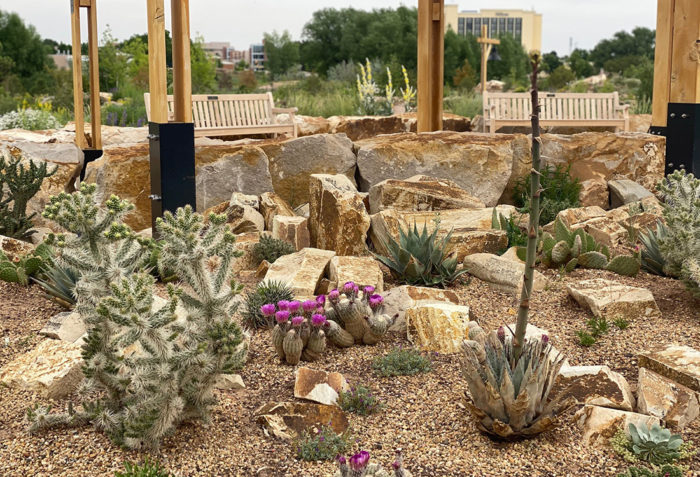 For the last several years, succulents have been all the rage for both the garden and the home. And what's not to love about succulents? They are generally water-wise, have minimal pests, have interesting forms and structures, and are overall easy-care plants. There is a new trend taking shape in the Mountain West: the addition of hardy cacti to gardens. While special care can be required due to their prickly spines, their stunning flowers and interesting sculptural forms more than make up for the occasional poke.
At the Gardens on Spring Creek, where I serve as the executive director, we recently added a cactus garden as part of our new Undaunted Garden, designed and maintained by Lauren Springer, an internationally known landscape designer and plantswoman who calls Fort Collins home. Lauren's plan is for the cactus garden to become the largest public collection of hardy cacti in the United States. Planted just last year, this garden is well on its way to being a showpiece of these amazing plants.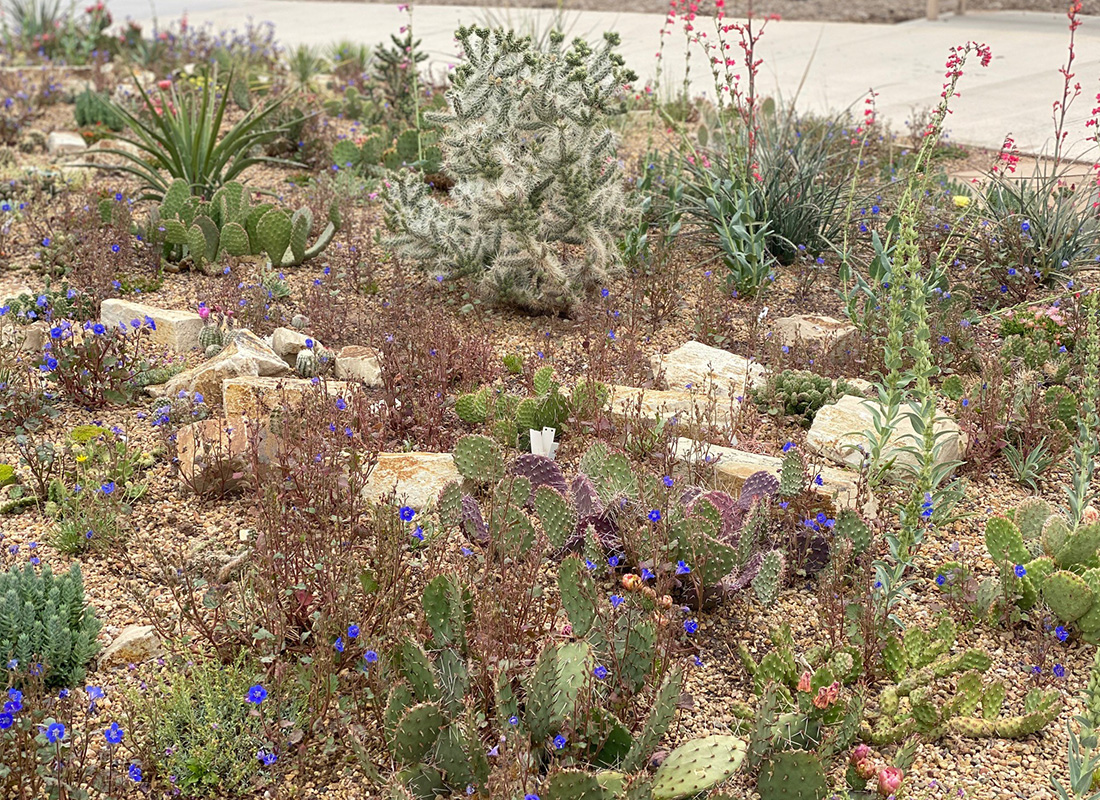 You might be wondering, what is a hardy cactus? It depends on where you live. In this case, "hardy" is defined by the zone you live in, so be sure to know your USDA Hardiness Zone and a plant's specific zone to make sure it will tolerate the coldest winter temperatures in your area.
Cacti prefer well-drained soil, which can be problematic in our heavy clay soils. Planting in berms and adding coarse sand and some compost will help. In our cactus garden, which is on the south-facing slope of a large berm, scoria (small lava rock) was tilled into the soil to help improve drainage even more. It seems to have worked, because the newly planted cacti are thriving.
It should be no surprise that cacti need full sun (hence the south-facing slope referenced above). Depending upon the variety, they may need some additional water in their first year after planting. Once established, less to no water is needed. They also do not require winter watering, generally preferring to be dry during the cold months. Mulch with rock mulch, using a smaller type such as pea gravel to preserve moisture in the soil while keeping plant crowns dry. There are many types of hardy cacti to choose from. Some of my favorites include these.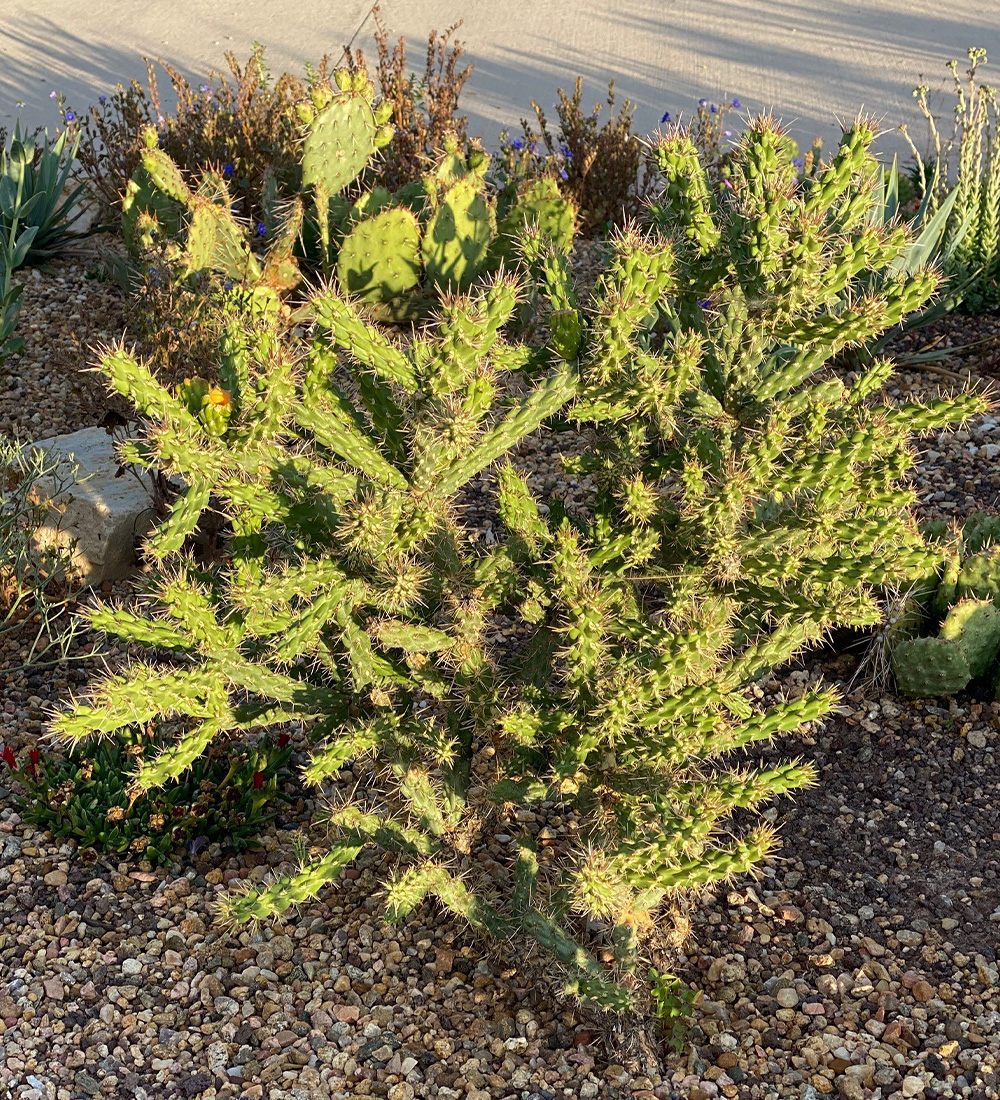 Tree cholla
Cylindropuntia imbricata, Zones 6–11
Chollas are simply stunning, so much so that I bought one at this year's plant sale for my rock garden. Tree cholla has more of a tree-form shape, growing 3 to 5 feet tall and wide. It can grow larger farther south. In spring it is covered with 3-to-4-inch-tall magenta flowers followed by bright yellow fruits. Planting these cacti can be challenging, as they have branches covered in spines about 1 inch long, so use metal tongs, which work wonders. That's a tip I learned from Lauren and our horticulture team at Spring Creek.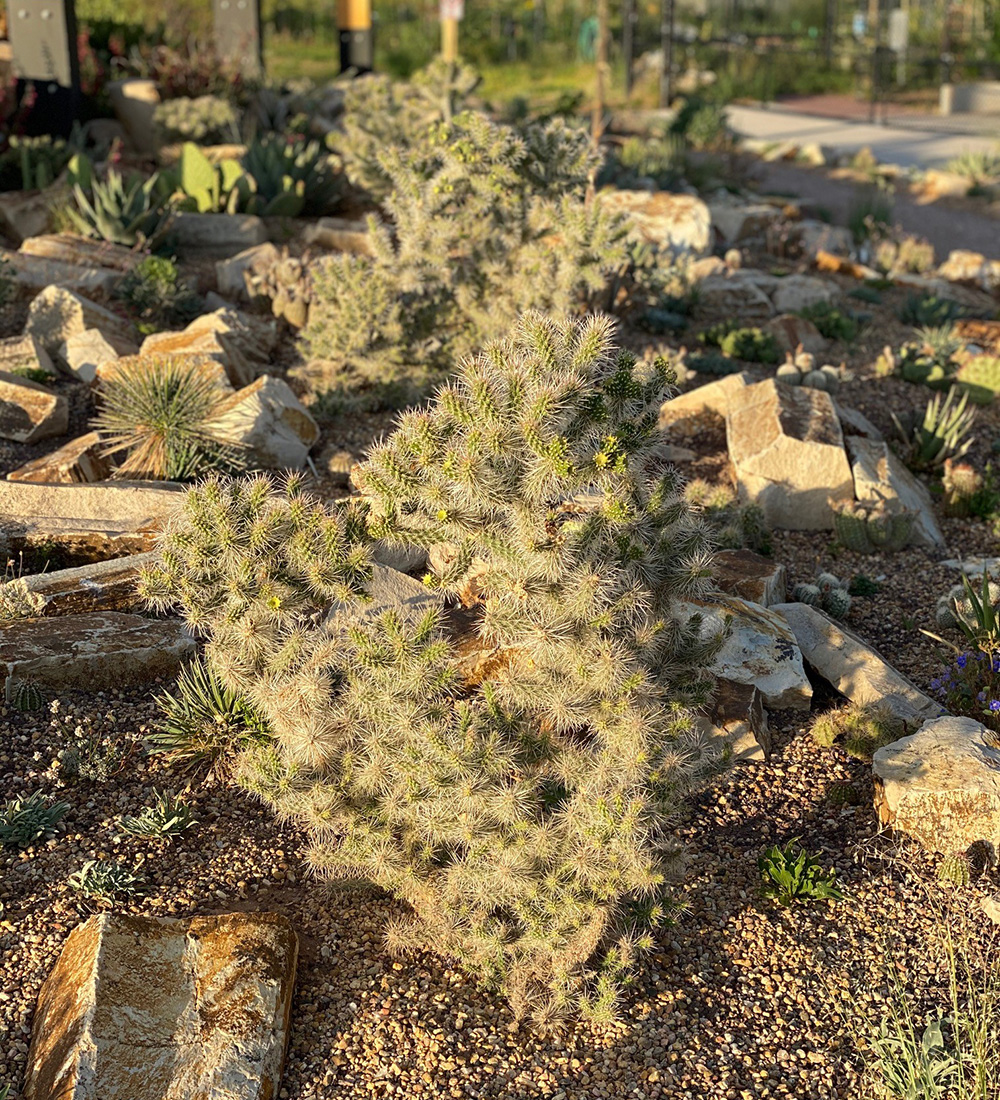 Silver cholla
Cylindropuntia whipplei 'Snow Leopard', Zones 5–10
This cholla is similar to tree cholla except it has yellow flowers. It is hardier (to Zone 5) and is covered in silver spines, which look particularly lovely in the evening when the cactus appears to glow in the setting sun.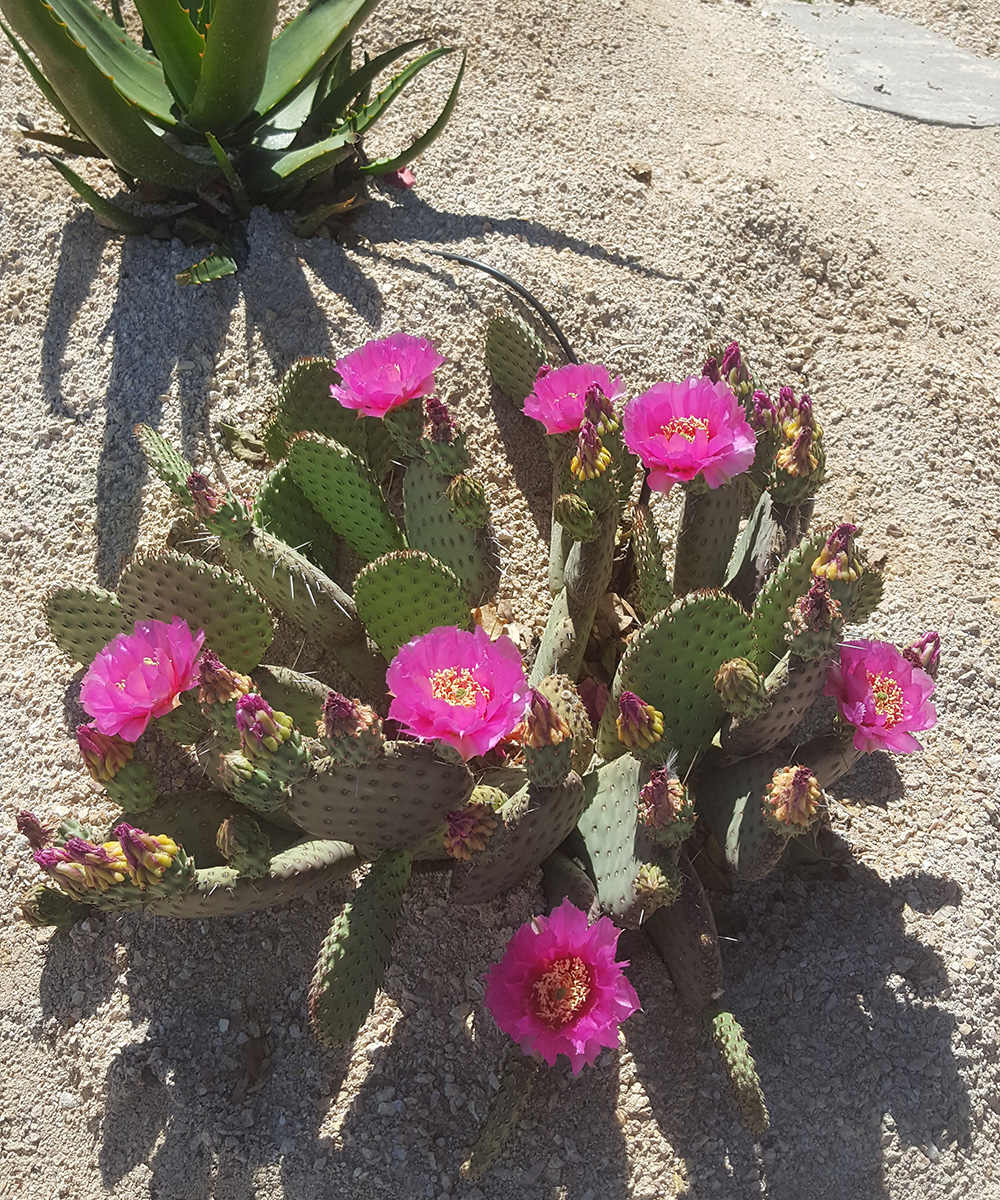 'Coombe's Winter Glow' golden prickly pear
Opuntia aurea 'Coombe's Winter Glow', Zones 5-10
This golden prickly pear has blue-green pads up to 6 inches in diameter that are mostly spineless, although there may be a few spikes along the top edges. This species hybridizes well, and with its spineless pads, has been used to create many new species in the trade. It can get up to 2 feet tall and spreads up to 4 feet across. It is called golden for its bright yellow flowers that bloom in mid- to late spring. While this cultivar has yellow flowers, it hybridizes very easily and its offspring may have pink or apricot flowers.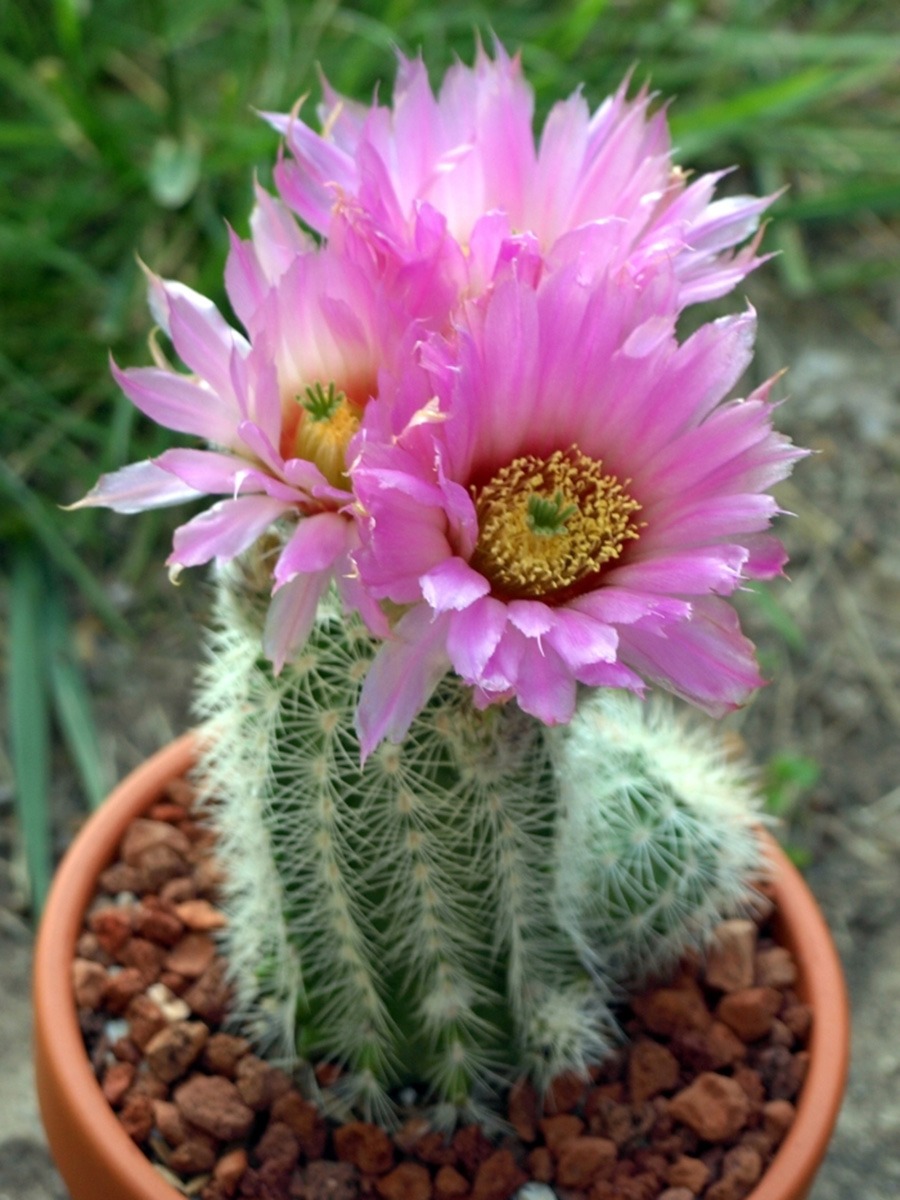 Bailey's hedgehog cactus
Echinocereus reichenbachii ssp. baileyi, Zones 4–10
This hedgehog cactus grows to about 8 inches tall and 3.5 inches in diameter. A clumping cactus, it can have multiple stems from its base. This small cactus packs a punch, with its bright magenta flowers with yellow stamens in mid to late spring. This species has a lovely fragrance.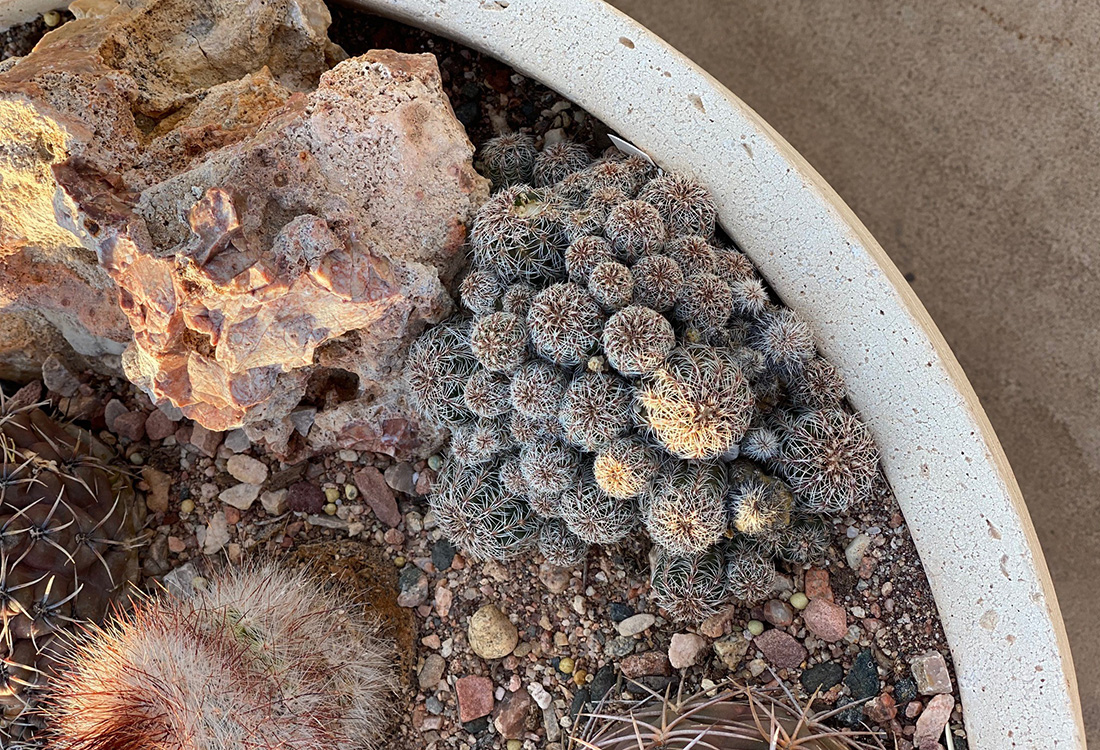 Lee's spiny star cactus
Escobaria leei, Zones 4–9
This diminutive cactus is perfect for troughs or use in containers with other low-water succulents. It's a rare cactus that also clumps with many small heads covered in tiny, tightly woven spines. Its pale pink to coral-colored flowers have yellow centers, and it blooms in late spring.
For more information about and sources of hardy cacti in our region, look to the Colorado Cactus and Succulent Society. And be sure to visit the cacti at the new Undaunted Garden at the Gardens on Spring Creek next time you visit Colorado. It is stunning.
—Michelle Provaznik is executive director of the Gardens on Spring Creek in Fort Collins, Colorado.