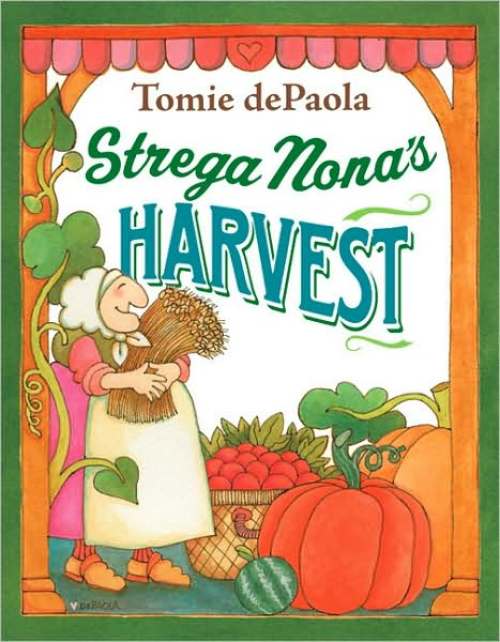 Now that I'm a granny, I've started to revisit the kiddie-lit aisles of the bookstores. A few weeks ago, I was delighted to discover Strega Nona's Harvest, a new book by Tomie dePaola. Strega Nona, which means "grandmother witch" or "old bat" in Italian, is no spring chicken. She made her debut in 1975, just before my own children entered the world, and she's still spry. In this latest account, she plants a garden, harvests, and prepares a feast for everyone in the village.
Organic gardeners will note with approval that Strega Nona gardens the "right" way. She saves her seeds over the winter, fertilizes with compost and manure, and plants according to the phases of the moon. Her vegetable garden is orderly to a fault. With the assistance of the bossy Bambolona and her helper Big Anthony, she plants a big garden and is rewarded with a bountiful harvest.
Big Anthony is a clumsy and somewhat dimwitted villager who has a penchant for doing things his own way. Not one to be micro-managed, he simply tosses some seeds of his own into a "secret" garden alongside Strega Nona's, and it turns into a jumble of ripe vegetables. I won't spoil the surprise by telling you what he does with the magnificent yield (you'll have to read the book for that), but the solution is charming.
Children with a good attention span will be delighted by the colorful illustrations, the village setting, the Italian expressions, and the attention to detail. Consider buying or borrowing this book if you want to introduce your children to gardening. Strega Nona's Harvest might be just the inspiration they need to plant a few seeds come spring.
More about the book and its author

• Video interviews: Author Tomie dePaola talks about Strega Nona's Harvest and more

• Author Web site: www.tomie.com
Read more book reviews on VegetableGardener.com…