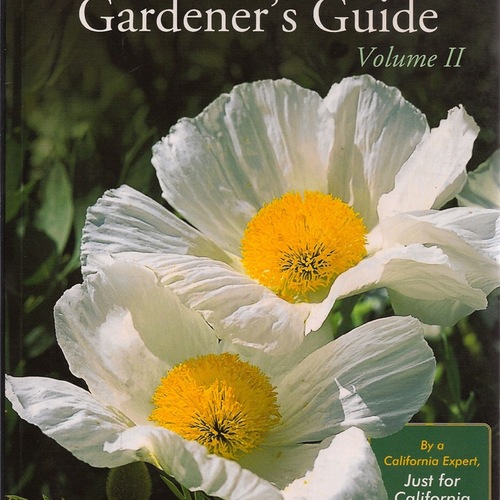 Author's Note: When I started this blog a few years ago, I explained that a lot of what I write about would be West Coast-centric. Well, I'm going to narrow that down a little bit more and target just my fellow Golden State gardeners. We'll be giving away a copy of this book to one lucky California gardener who leaves a comment at the end of this blog. Don't try anything sneaky; we'll know if you're playing fair when we contact the winner for his/her shipping address.
---
I'm sorry. I'm really late. I should have posted this blog before you sent your letter to Santa. But there's a book that needs to be in every California gardener's collection, right next to the big green one I'm not going to mention by name. (Hint: it rhymes with "Unset Cistern Pardon Crook").
Nan Sterman's California Gardener's Guide, Volume II, (Cool Springs Press) fills in much of the info that (okay, you pried it out of me) the Sunset Western Garden Book sometimes leaves me guessing about.
Although Sunset includes more than 8000 plants in their encyclopedia, the specific information about each plant is sometimes inconsistent. I can look up one plant and find out everything I need to know (including its SSN and high school transcripts), while another plant's listing leaves out something critical, like how wide the plant gets at maturity.
Filling In The Gaps
That's why I always happy when a plant I need to know more about is listed in Sterman's book. California Gardener's Guide takes a "less is more" and a "more is more" approach: It lists only 186 plants, but packs each entry with well-researched, vital information that helps me make intelligent plant selection decisions.
The book starts with inspiring and informative introductory chapters explaining California's enviable Mediterranean climate and its affect on the garden. Sterman explains the pronounced differences in growing conditions throughout this diverse state, including easy-to-understand tables showing typical rainfall and high/low temperatures in major five regions.
Sterman's advice about planning, installing, and caring for a garden is steeped in the most fundamental concepts of sustainable landscaping: Know your site and the growing conditions each plant will face; apply the principles of water-efficient gardening; and take the time to intelligently match the right plant to the right place.
Practical and Easy To Use
The book is organized by plant categories: annuals & biennials, bulbs, fruits, ground covers, herbs, shrubs, succulents, trees, and vines. Each listing includes interesting facts, observations, and descriptions. When, Where, and How To Plant explains which regions of California are best suited to each plant, the amount of sun or shade it requires, and soil preference. Growing Tips discusses watering and fertilization, and Care gives insights into the best way to prune, and possible pests that might stop by for a munch.
| | |
| --- | --- |
| | African Daisy (Arctotis Hybrids) Page |
| | My favorite feature is Sterman's spot-on recommendations for Companion Planting and Design, suggesting ways to use each plant (as a hedge, erosion controlling ground cover, windbreak, etc.), as well as other plants that look good with it. |
If the featured plant has a close relative or there are variations on the species, Sterman lists those as well, opening up a greater range of plants to suit your needs.
You even get a state map showing where the plant is hardy, as well as colorful little icons at the bottom of each page indicating water usage, sun preference, whether it attracts butterflies, its wildlife habitat value, and a dozen other useful factoids.
The last chapter, Tips and Techniques for California Gardening, rounds out this marvelous book, explaining soil drainage, mulching, pruning, caring for perennials, and more.
I was going to close by writing, "Add this wonderful reference to your book shelf," but my guess is it's not going to be spending much time there. More likely, it'll be found on your nightstand, or next to your morning bowl of granola, or in the garden conveniently balanced on your wheelbarrow.
Post a comment for a chance to win a copy of California Gardener's Guide, Volume II
To enter the drawing, register for this site (or log in, if you are already a member) and post a comment about this review. One lucky winner will receive a copy of this book.
To be eligible for the drawing, you must be a California resident, and your comment must be posted by February 28.
Find out more about Nan's writing, speaking, garden coaching, design, and TV/radio adventures at Nan Sterman's Plant Soup website.