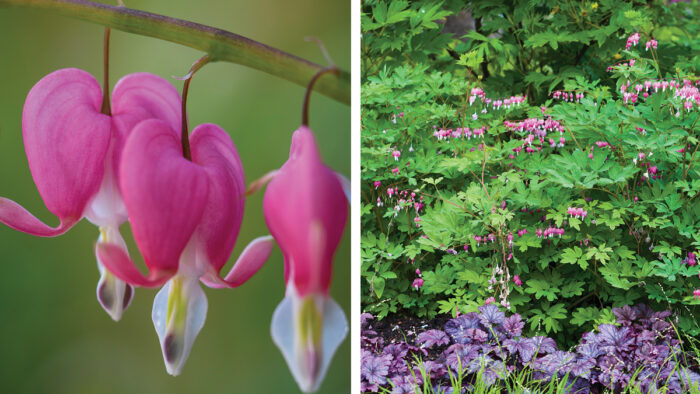 Plant lovers have been swooning over bleeding hearts (Dicentra and Lamprocapnos spp. and cvs.) for centuries, and with good reason. Their exquisite heart-shaped flowers, long bloom times, and attractive ferny foliage serve up huge garden appeal. What's more, they are largely trouble-free. Even deer leave them alone, since they share the same chemical defenses as their close relatives the poppies (Meconopsis and Papaver spp. and cvs., Zones 2–9). Vexed only by occasional slug damage and infrequent leaf diseases, bleeding hearts are true garden gems.
What puts this group of plants over the top, though, is that there are options that will grow in full to partial shade and even sun. Bleeding hearts differ widely in their cultivation needs, depending upon the species and, in the case of cultivars and hybrids, their parentage. Be sure to pay particular attention to this detail when making your selections.
Meet the family
If you are confused or just irked by bleeding heart nomenclature, you are not the only one. Many of us miss the simple days when all bleeding hearts were classified under the genus Dicentra. But things have certainly changed. Here's how to sort through the various monikers you'll find with bleeding hearts.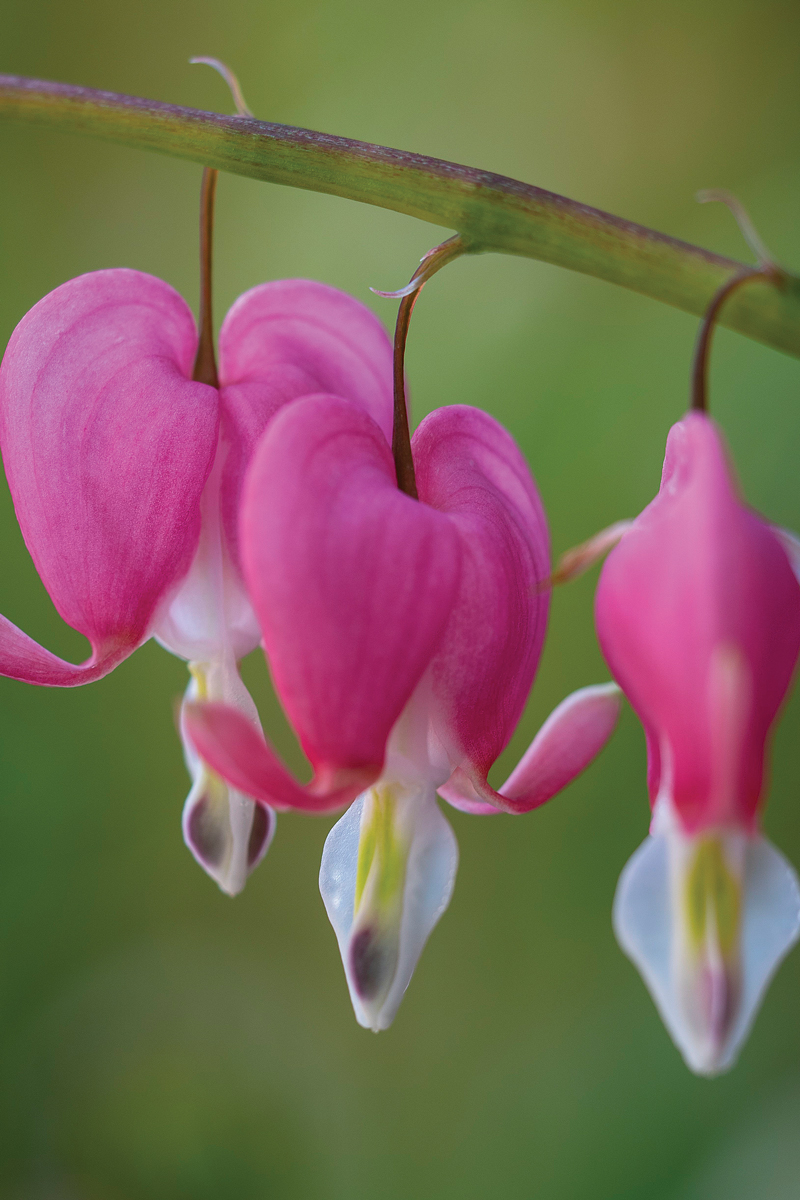 Common bleeding heart (Lamprocapnos spectabilis and cvs., Zones 3–9), formerly known as Dicentra spectabilis, is probably the most frequently encountered name update. The change has been met with a good deal of resistance, and you'll still find many plant labels and catalogs with the previous name, even though the change was first published back in 1997. Despite the moniker modification, this species is the same beloved stalwart.
The genus Dicentra still exists, and it now contains eight species. Seven are from North America, and one is from East Asia. The most garden-worthy species are fringed bleeding heart (D. eximia and cvs., Zones 3–9) and western bleeding heart (D. formosa and cvs., Zones 4–8). Though similar in appearance, the former is from Appalachia and the latter from western North America. This difference means that fringed bleeding heart is a little easier to grow in areas with warmer summers and colder winters. By contrast, western bleeding heart is a little easier to grow in areas with milder climates.
The other species built for gardens is Komakusa bleeding heart (D. peregrina and cvs., Zones 3–7) from East Asia, which shares similarities with the two aforementioned North American species. In recent years, the three species have been used to create a range of hybrid cultivars. Komakusa is the most attractive of the three, but, being a plant of extreme alpine habitats, it is difficult to cultivate. Much of the recent breeding work has aimed to combine the particularly desirable flowers and foliage of this Asian species with the greater heat tolerance and ease of cultivation of the two American species. All of this is to say that bleeding hearts offer a broad palette of plants suitable for a variety of garden situations.
Dazzling common bleeding hearts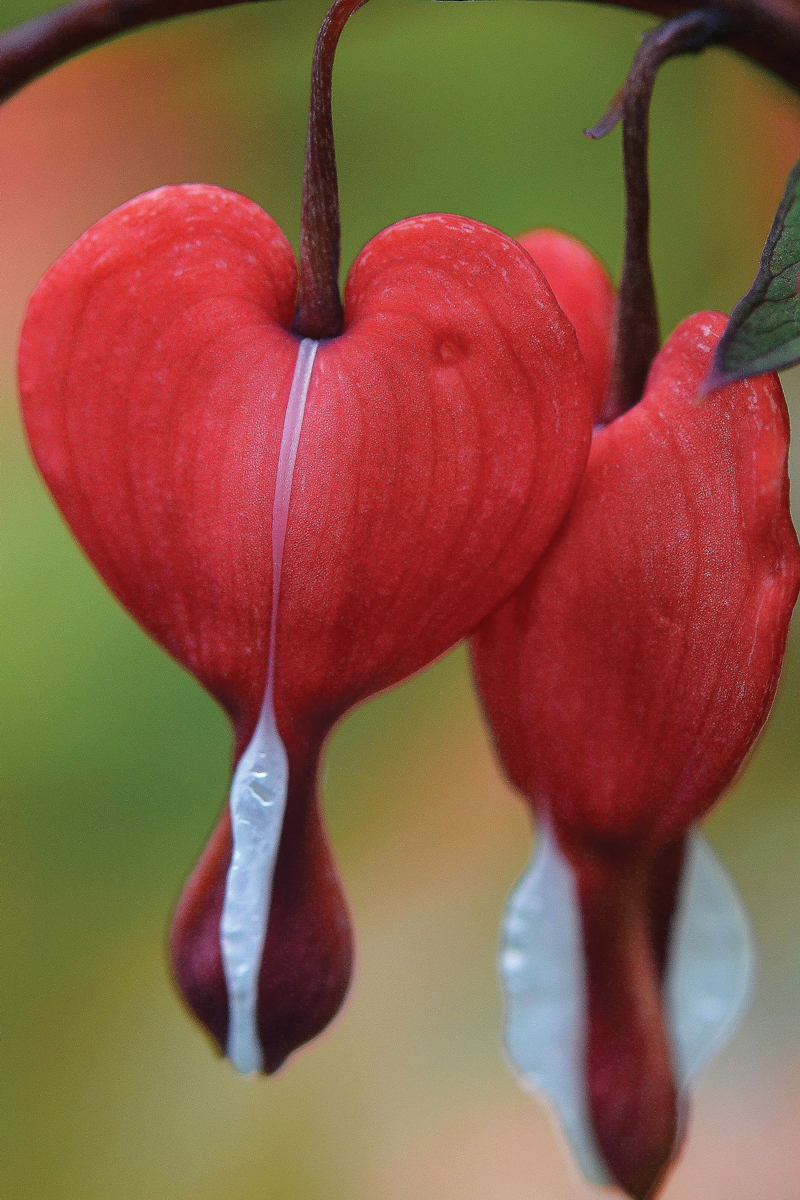 1. 'Hordival' (L. spectabilis 'Hordival', Zones 3–8), which is widely sold under the trademark name Valentine®, differs from the typical clear pink species by having pinkish red flowers and slightly darker foliage. It has an overall stature of 30 inches tall and wide.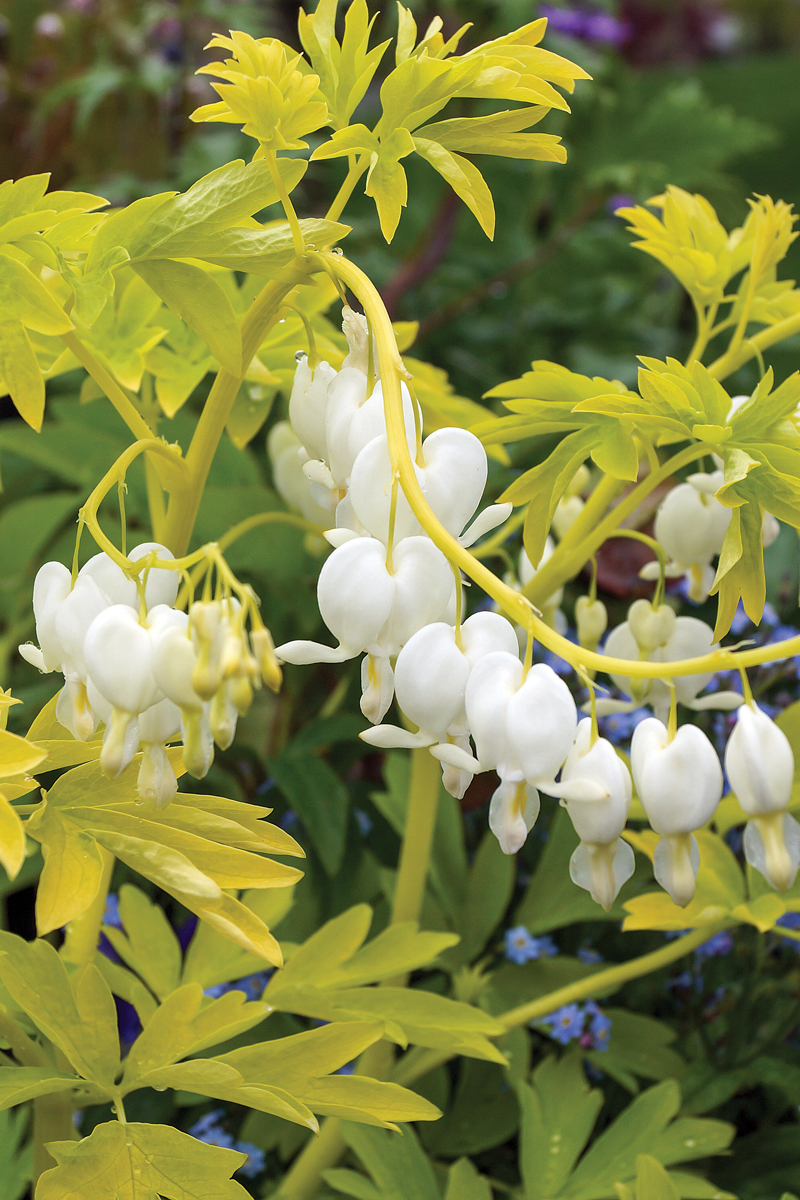 2. White Gold® (L. spectabilis 'Tndicwg', Zones 4–8) is an exquisite plant that features white flowers above golden leaves. It originated in 2010 as a chance mutant seedling in a private garden. At 24 inches tall and up 24 to 36 inches wide, it is an excellent choice for the midborder.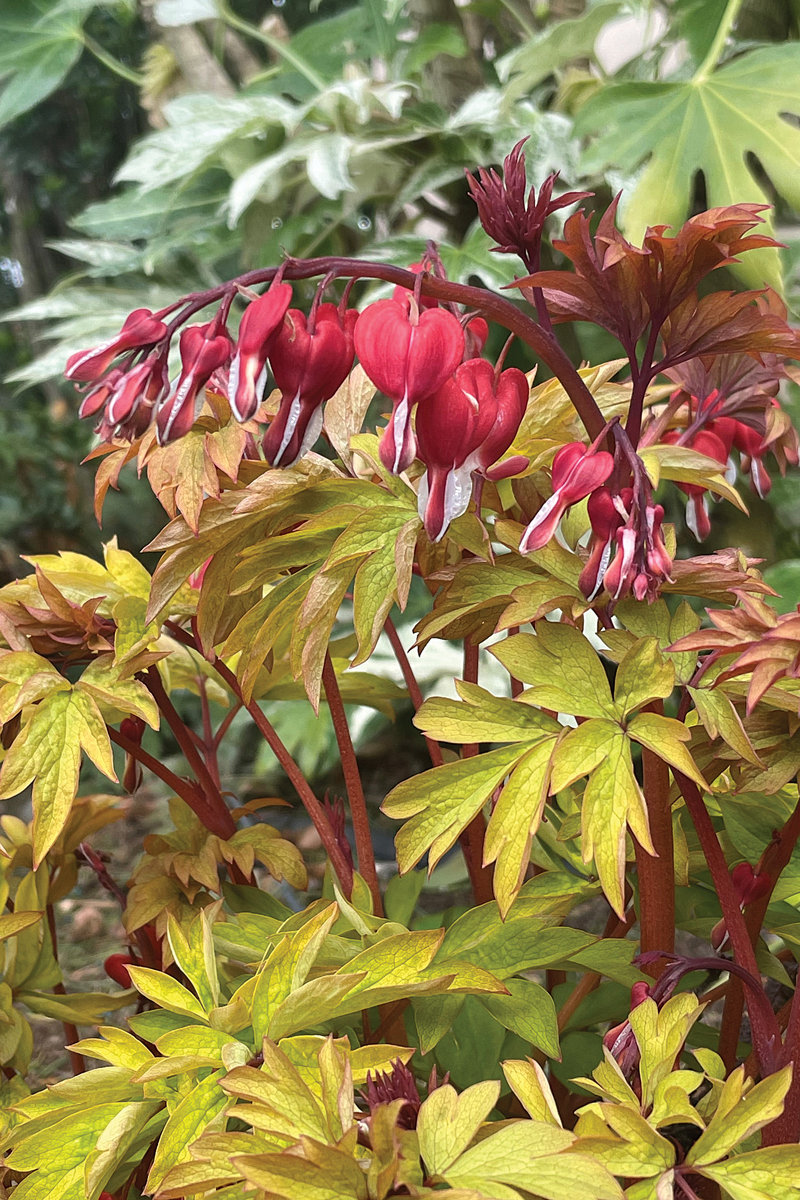 3. 'Ruby Gold' (L. spectabilis 'Ruby Gold', Zones 4–8) is a stunning cultivar with pinkish red flowers, red-tinted stems, and golden leaves. The color combo is pleasing, and at 24 inches tall and up to 24 to 36 inches wide, 'Ruby Gold' is an ideal plant to liven up a shady garden spot.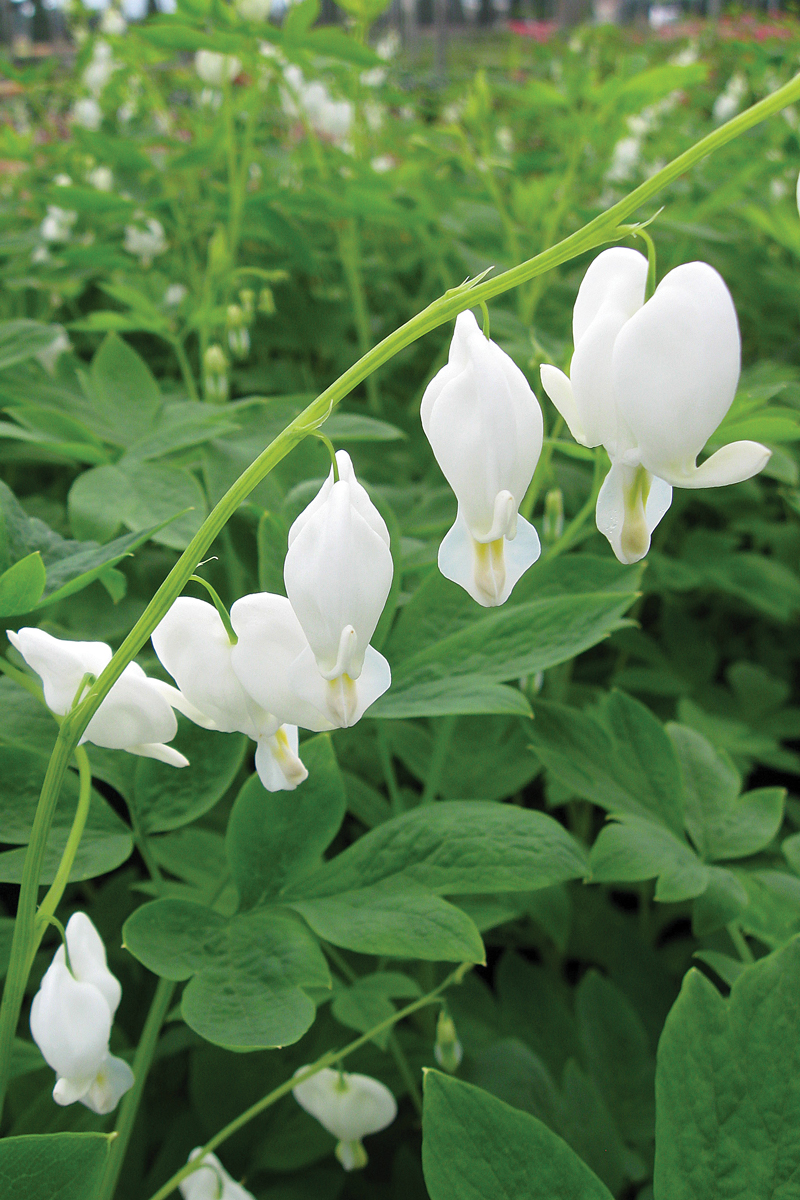 4. 'Alba' (L. spectabilis 'Alba', Zones 3–9) is another excellent option. It grows up to 36 inches tall and 30 inches wide. With its lacy green leaves and pure white flowers, it adds an elegant accent to mixed plantings.
Common bleeding heart is anything but ordinary
Without a doubt, the best-known bleeding heart is the common bleeding heart—due to its unique flower structure. When examined closely, the flowers are fascinating. If you turn one upside down and give the base a gentle squeeze, you will see why one of the common names for this plant is also "lady in the bath"!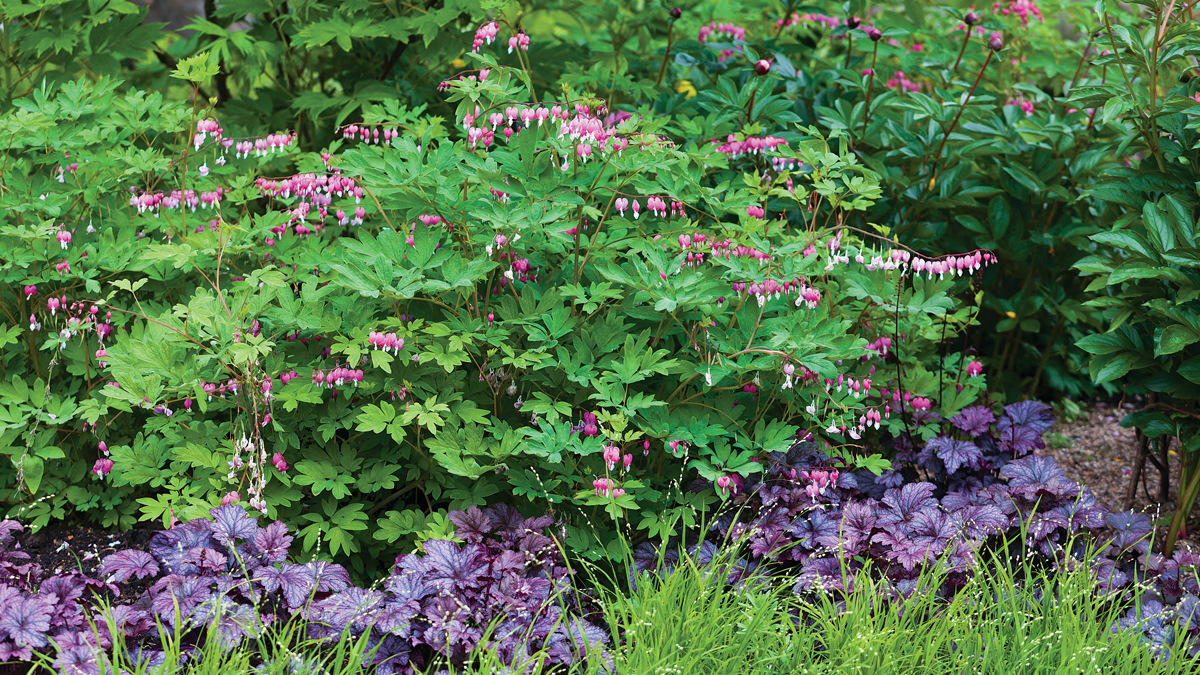 Common bleeding heart blooms in mid to late spring and is available in a range of colors from pink, to pinkish red, to white. It is a versatile plant that will enhance both a formal border and a more informal cottage garden or naturalistic-style garden that has moist, well-drained soil and a sheltered site that is protected from wind. In warmer climates, common bleeding heart should be provided with a moderate amount of shade; even then, plants will typically go dormant around midsummer. Watering can delay dormancy, but it's simpler to plant common bleeding heart among other shade plants, such as brunnera (Brunnera macro­phylla and cvs., Zones 3–7) and ferns, whose expanding foliage will fill in the gap.
Common bleeding heart is rarely troubled by pests or diseases, but if an unseasonably warm period occurs during early spring and then is followed by freezing temperatures, the newly emerging growth can get frosted, destroying the season's flowers. When frost threatens, protect plants with a few evergreen branches.
Propagation can be done via fresh seed or by careful division of the rhizomes in spring. However, plants are best left alone to form large clumps, since they are slow to reestablish following either division or transplanting. 
Hybrids that offer variety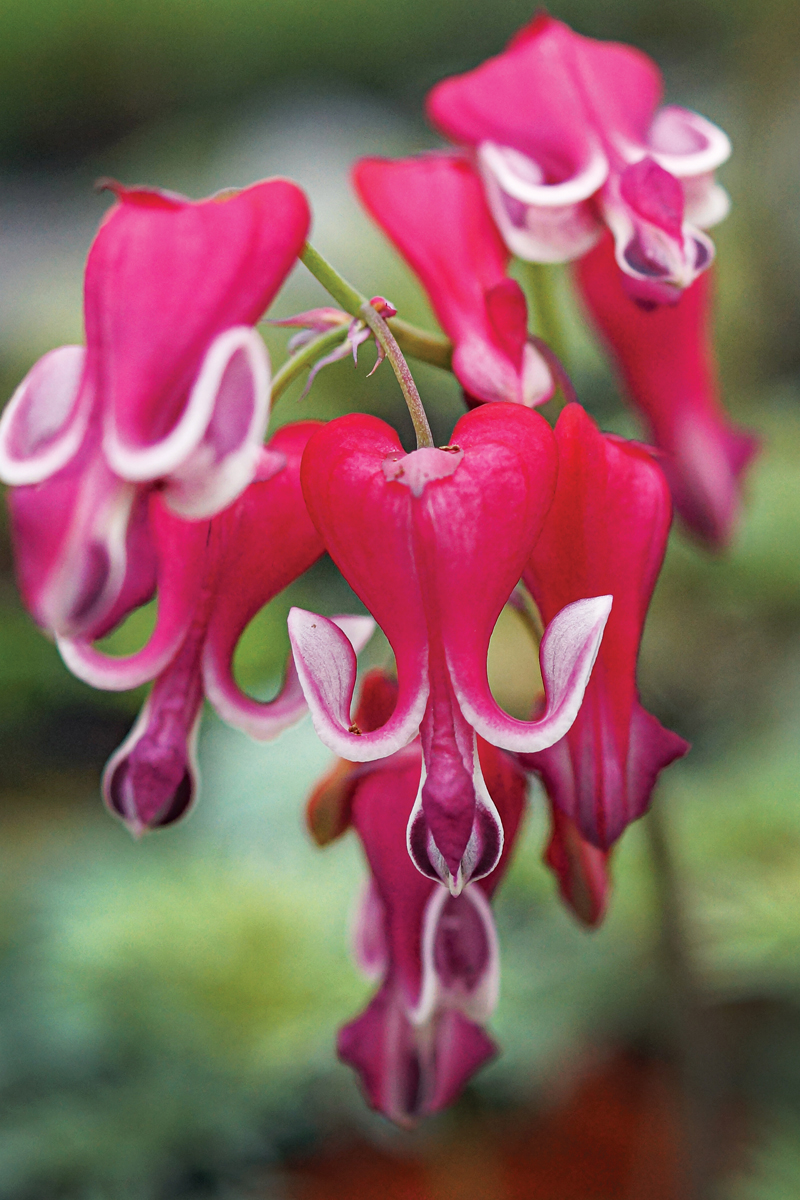 1. 'Fire Island' (D. 'Fire Island', Zones 4–8) is a hybrid cross between D. peregrina and D. eximia. It produces vivid red flowers above blue-green foliage in summer. As a rock garden plant, it stands at 12 to 15 inches tall and 18 to 24 inches wide, and it requires well-drained soil in a sunny site free of competition. It is relatively vigorous and tolerant of warmer temps.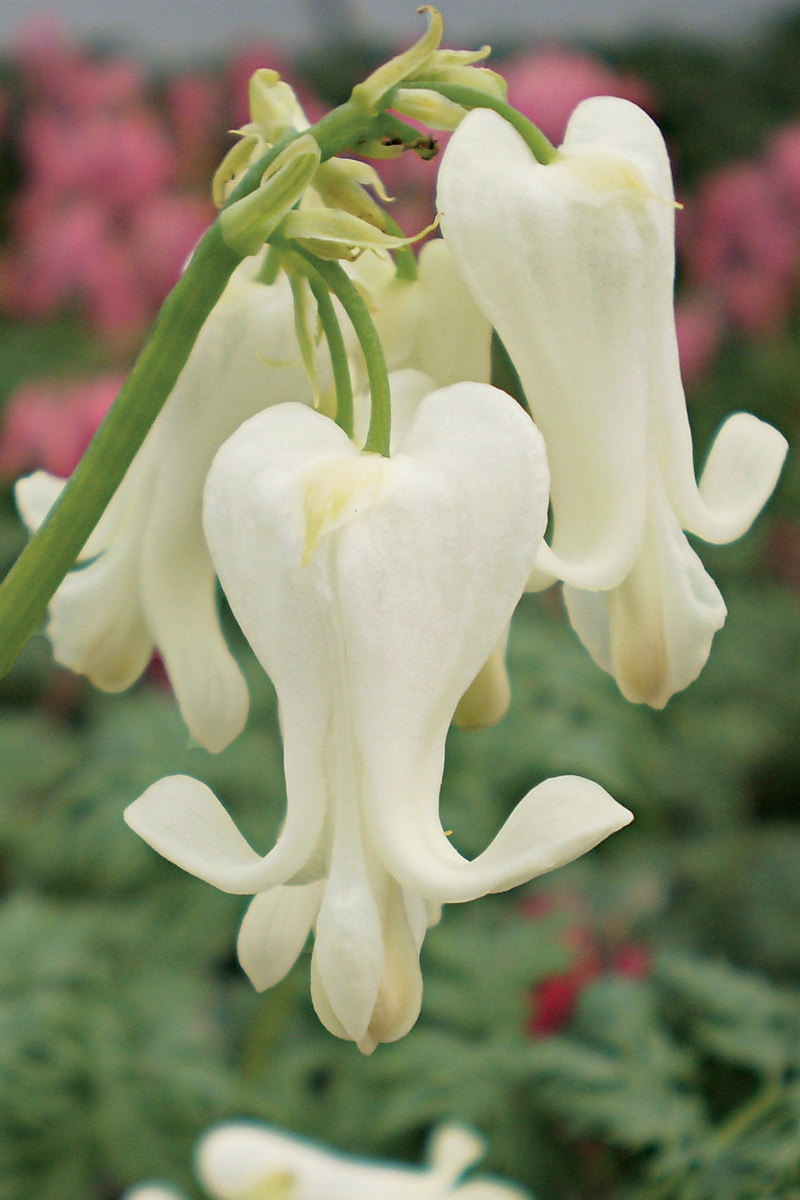 2. 'Ivory Hearts' (D. 'Ivory Hearts', Zones 3–8) is a beautiful white-flowered hybrid between D. peregrina and D. eximia with a diminutive form reaching 12 to 15 inches tall and wide. It is best grown in a sunny rock garden and prefers cooler climates.
3. 'Langtrees' (D. 'Langtrees', Zones 3–9) is another white bloomer that is similar in size but lacks the refined elegance of 'Ivory Hearts'. However, it is more vigorous and, hence, is a more versatile garden plant. Although it will pause blooming during summer heat and drought, 'Langtrees' is robust enough to plant in a lightly shaded border, as well as in a rock garden.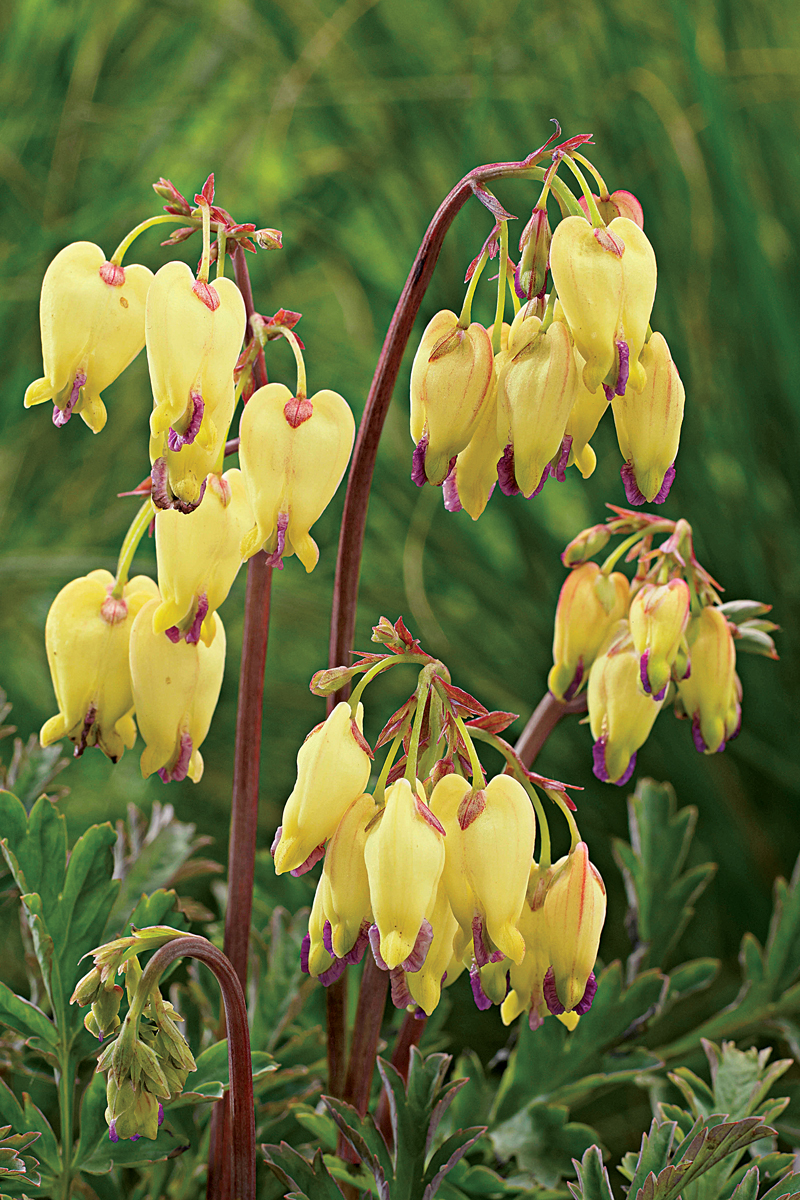 4. 'Sulphur Hearts' (D. 'Sulphur Hearts', Zones 3–8), as its name suggests, has yellow flowers. It also has beautiful blue-gray foliage and an overall size of 12 to 18 inches tall and wide. As a hybrid between D. peregrina and D. formosa subsp. oregana, it is a choice rock-garden plant that demands a cool climate.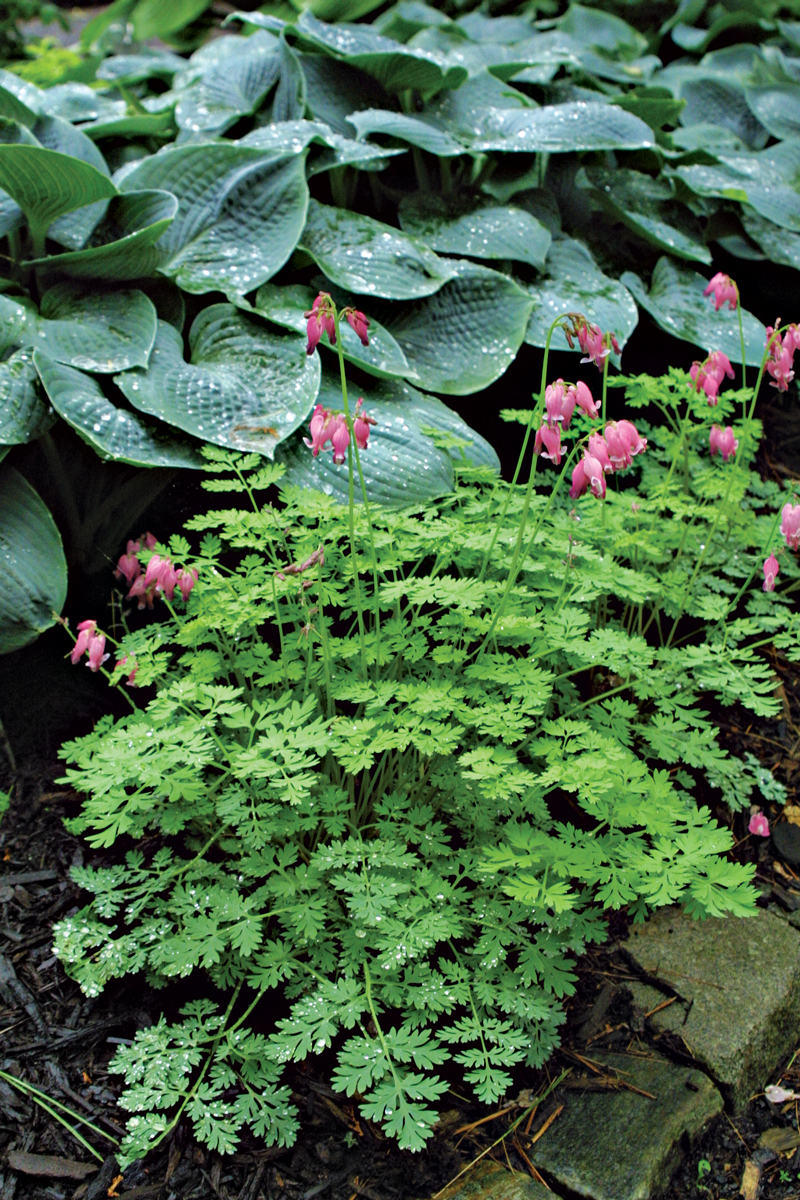 5. 'King of Hearts' (D. 'King of Hearts', Zones 3–8) is a 12-inch-tall-and-wide cultivar that combines rose pink flowers with blue-green foliage from midspring to early fall. It is a hybrid between D. peregrina, D. eximia, and D. formosa subsp. oregana, which makes it ideal for shady rock gardens and other shady sites free of competition.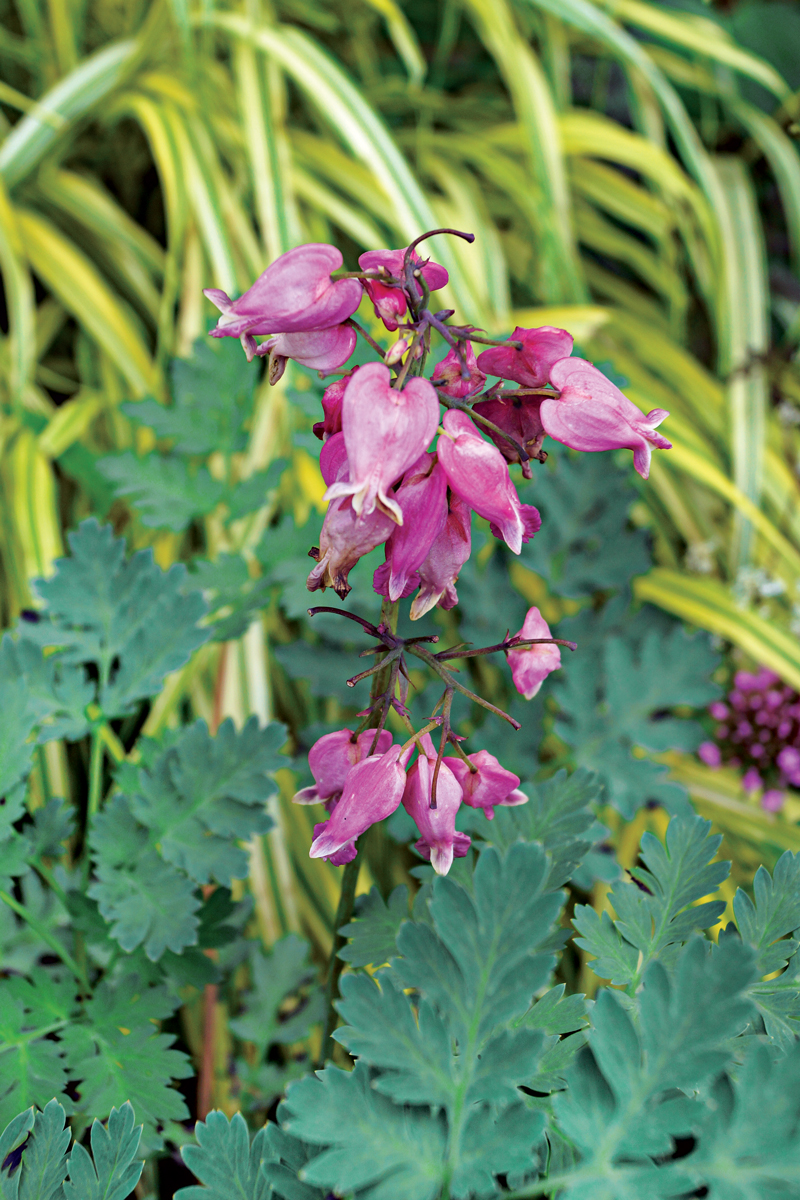 6. 'Luxuriant' (D. 'Luxuriant', Zones 3–9) is a classic that is a likely hybrid between D. eximia and D. formosa. At 12 to 18 inches tall and wide, it has dark pink flowers, blue-green foliage, and the clumping habit of D. eximia. The flowers peak in spring, but additional blooms will appear into fall. It performs well in average soil and is tolerant of warm summer temperatures, making it a dependable border plant, even in more southern regions.
Look to these cultivars and hybrids for a wider range of options
With eight species within the Dicentra ­genus, there are a number of options to choose from when you are seeking the right plant for your conditions and tastes—especially when it comes to cultivars and hybrids. Those with dominant parentage from Komakusa bleeding heart or Oregon bleeding heart (Dicentra formosa ­subsp. oregana, Zones 4–8) typically demand cool summer temperatures, brighter conditions, and good drainage. Those with dominant parentage from fringed bleeding heart or Pacific bleeding heart (D. formosa subsp. formosa, Zones 4–8) tend to be easier to please under average shade garden conditions and are more tolerant of warmer climates.
Many of the bleeding heart hybrids will bloom from midspring through summer and into early fall. However, in areas with hot, dry summers, many Komakusa bleeding heart hybrids will languish following their initial spring flowering and only rebloom in fall. Deadheading can help to promote the production of additional summer blooms, but with so many cultivars to choose from, it's better to pick those suited to your garden.
Few pests and diseases attack these bleeding hearts. The occasional slug, snail, or bout of mildew are the only problems to watch out for. Propagate this lot by division of the rhizomes in spring.
---
| Sources |
Breck's Bulbs, Guilford, IN; 513-354-1511; brecks.com
Dancing Oaks Nursery and Gardens Monmouth, OR; 503-838-6058; dancingoaks.com
Fieldstone Gardens, Vassalboro, ME; 207-923-3836; fieldstonegardens.com
Great Garden Plants, Grand Haven, MI; 877-447-4769; greatgardenplants.com
White Flower Farm, Litchfield, CT; 800-503-9624; whiteflowerfarm.com
---
Mark Tebbitt is a professor of botany at California University of Pennsylvania and an author of Bleeding Hearts, Corydalis, and Their Relatives.