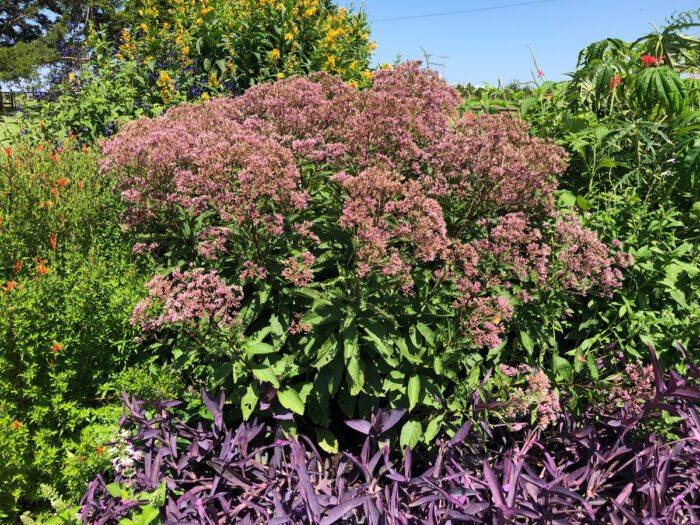 When it comes to butterfly gardening, I'm a big believer in native wildflowers. Butterflies and wildflowers evolved together, depending on one another for survival. I also prefer natives because they are adapted to our climate, making them easier to cultivate than some nonnatives. Here are a few wildflower natives and nativars that are always a big draw for butterflies in the Southern Plains.
Swamp milkweed is a powerhouse host and nectar plant with spectacular purple-pink flowers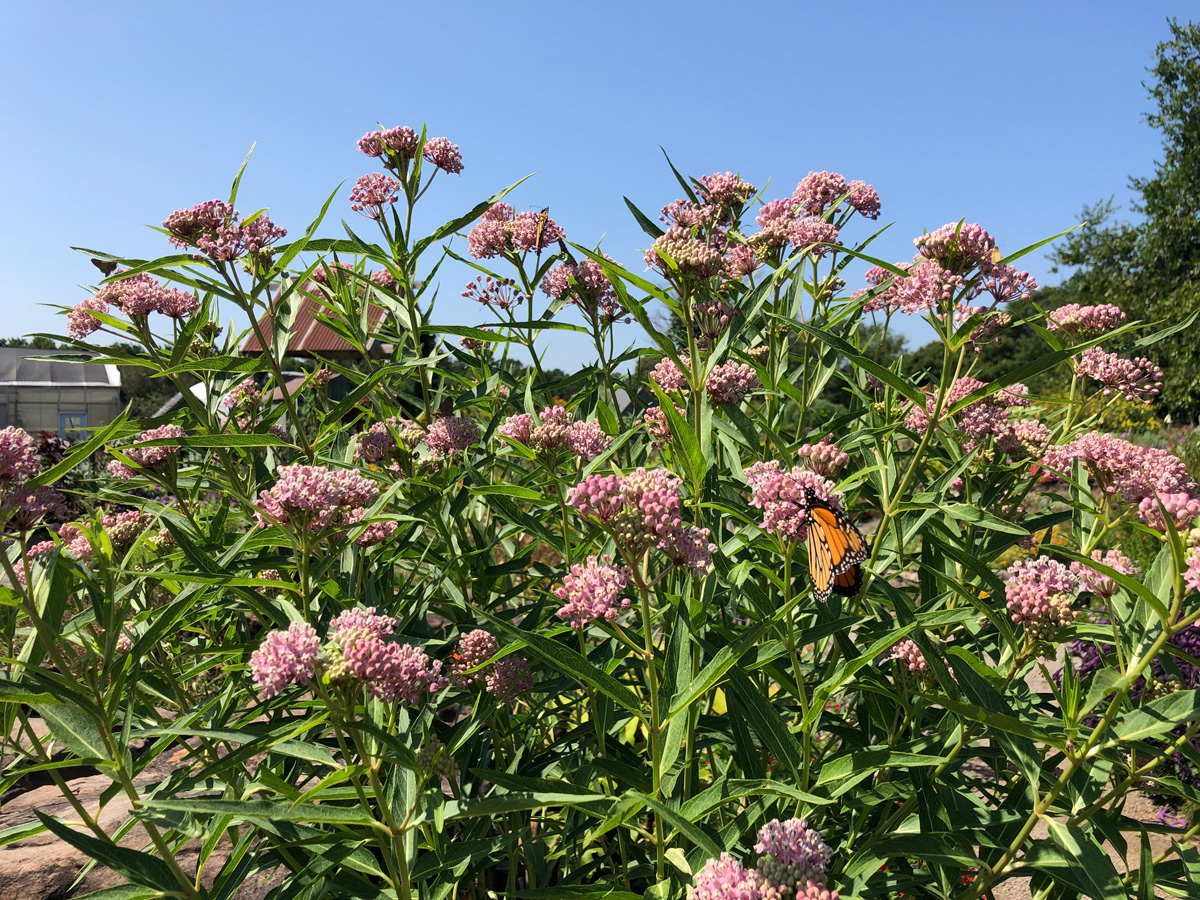 An incredibly showy member of the milkweed genus (Asclepias spp. and cvs., Zones 3–9), swamp milkweed (A. incarnata, Zones 3–9) produces lovely pink flowers that are adored by butterflies, bees, and other pollinators. It is simply covered with monarch butterflies in late summer as they begin their journey south. Like its relatives, swamp milkweed is an important host plant for monarch caterpillars.
As the name suggests, this species likes wet soil, but it also adapts to well-drained garden soil and even clay soil. This plant makes quite a statement in sunny gardens, reaching a mature size of up to 5 feet tall and 3 feet wide. The long-lasting blooms open in June through September, attracting monarch and queen butterflies as well as swallowtails and ruddy daggerwings.
Gregg's mistflower is a spreading ground cover with a unique relationship to queen butterflies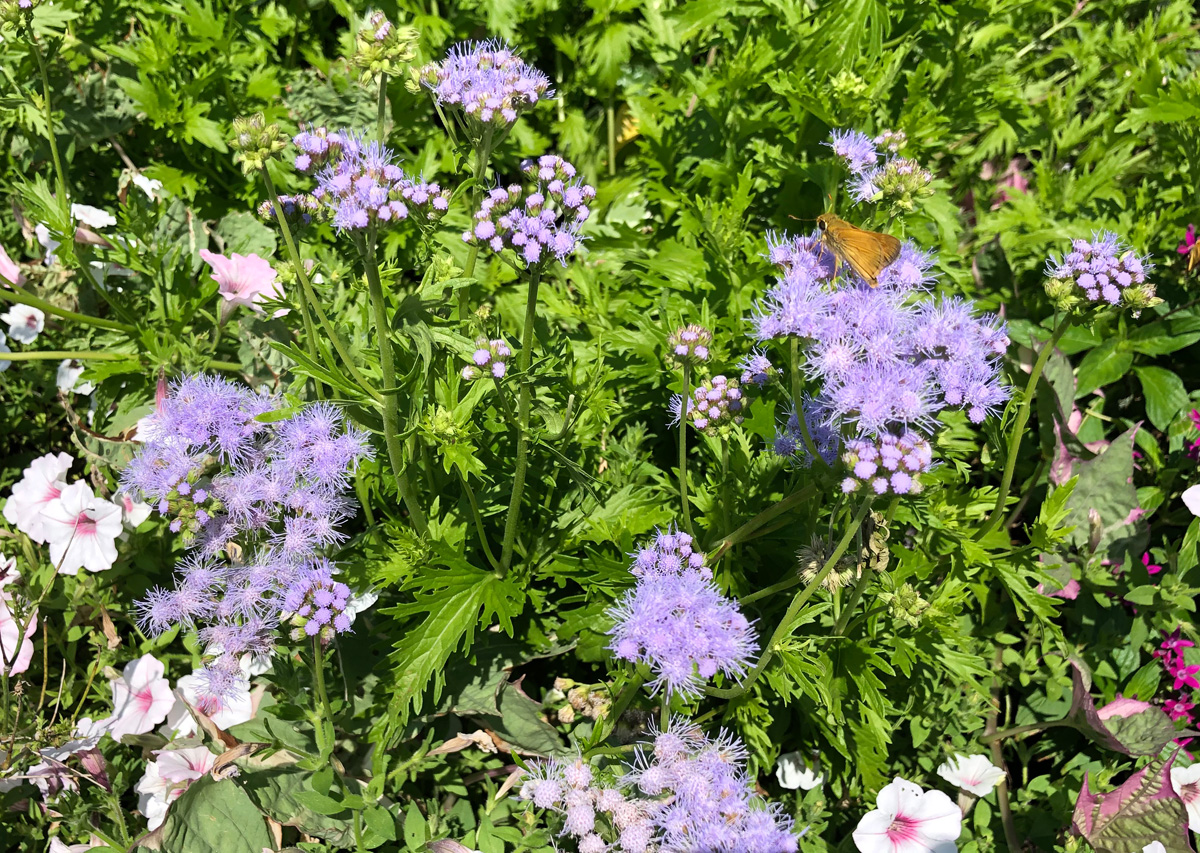 Sometimes called Texas ageratum, Gregg's mistflower (Conoclinium greggii, Zones 7–10) is a low-growing spreader native to western Texas, New Mexico, Arizona, and northern Mexico. It makes a great drought-tolerant ground cover that is covered with lavender-blue blooms from July through October. The fuzzy blooms are highly attractive to queen butterflies.
My friend Steve Owens at Bustani Plant Farm in Stillwater, Oklahoma, told me about the unique relationship between male queen butterflies and Gregg's mistflower. The males utilize a compound (called intermedine) found in the flowers to attract mates. During mating, a male passes some of the compound to a female, which in turn protects her eggs from predators. What a gift!
Gregg's mistflower also attracts large numbers of migrating monarch butterflies, as well as skippers, common buckeyes, hairstreaks, red admirals, and sulphur butterflies. Plants tolerate partial shade but bloom best in full sun. Gregg's mistflower grows 1 to 2 feet tall and wide and tolerates poor, gravelly soils.
Joe Pye weed grows to an impressive size, with big lacy flowers to match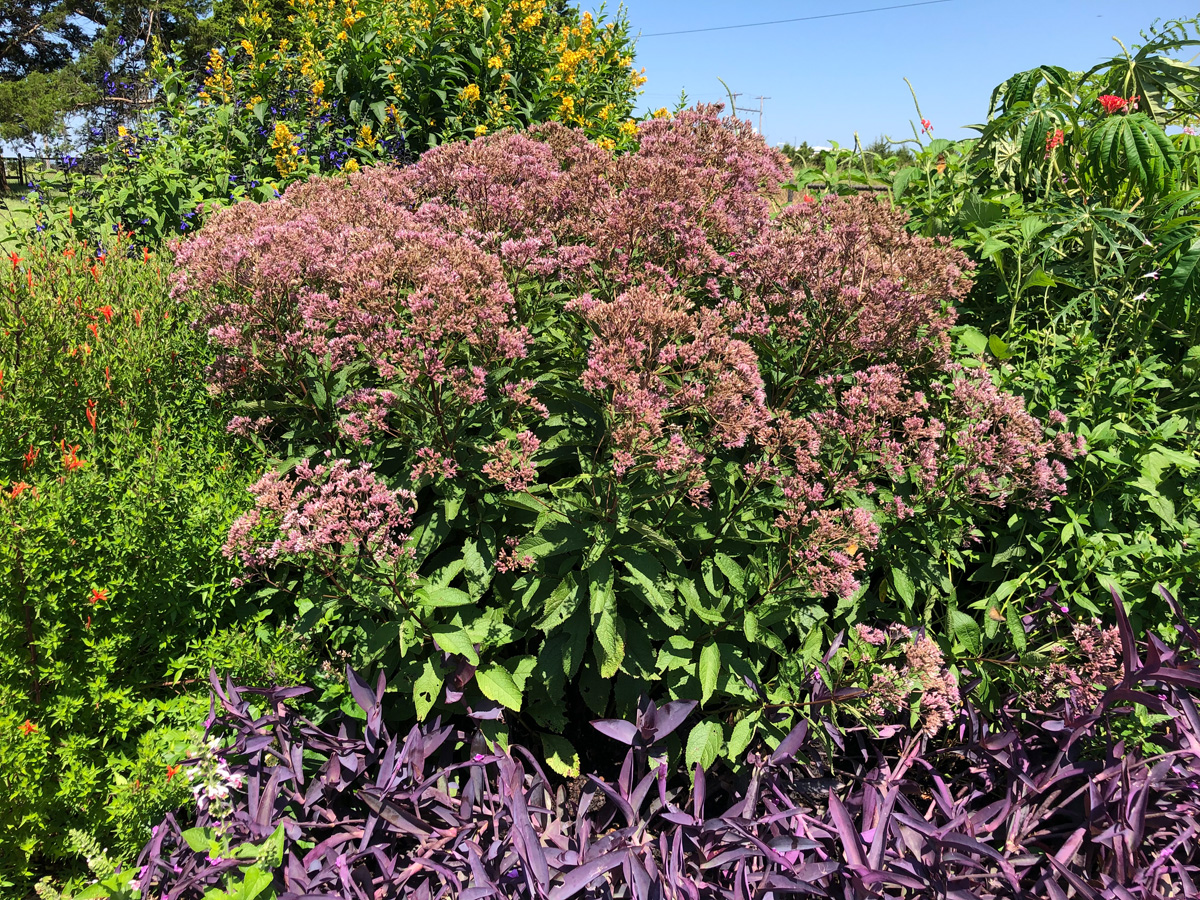 Why do so many wildflowers have the word "weed" in their name? There is nothing weedy about Joe Pye weed (Eupatorium and Eutrochium spp. and cvs., Zones 3–9). The hybrid pictured here is called 'Phantom' (Eupatorium 'Phantom', Zones 4–8) and is a more compact form, reaching 2 to 4 feet tall and 2 feet wide. Rose-pink blooms cover plants from July through August, attracting scores of butterflies, including Eastern black, tiger, and zebra swallowtails. Also watch for hairstreak, pearly crescentspot, red admiral, viceroy, and queen butterflies, as well as a variety of skippers.
Joe Pye weed also attracts a diversity of native bees. I like to leave flower stalks standing through the fall and winter months, allowing birds to dine on the abundant seeds. Joe Pye weed prefers well-drained soil, though it tolerates clay and wet soils. Plant in full sun to partial shade.
Ironweed is a regional native tolerant of both rocky and moist soils
Native to a relatively small area in Arkansas and Oklahoma, ironweed (Vernonia lettermanii, Zones 4–9) can be found along rocky flood plains and rock outcrops. In the garden, you are most likely to encounter the variety 'Iron Butterfly' (pictured here), which was selected for its compact habit (with a mature height of 2 to 3 feet tall and 2 feet wide) and incredible blooming power.
Frilly, purple flowers cover plants from July through August, attracting butterflies large and small, from fluttering skippers to swallowtails. Cloudless giant sulphur, pearly crescentspot, and buckeye butterflies regularly visit ironweed. You'll also spot a trio of look-a-likes: viceroy, monarch, and queen butterflies.
Goldenrods provide fall food to migrating butterflies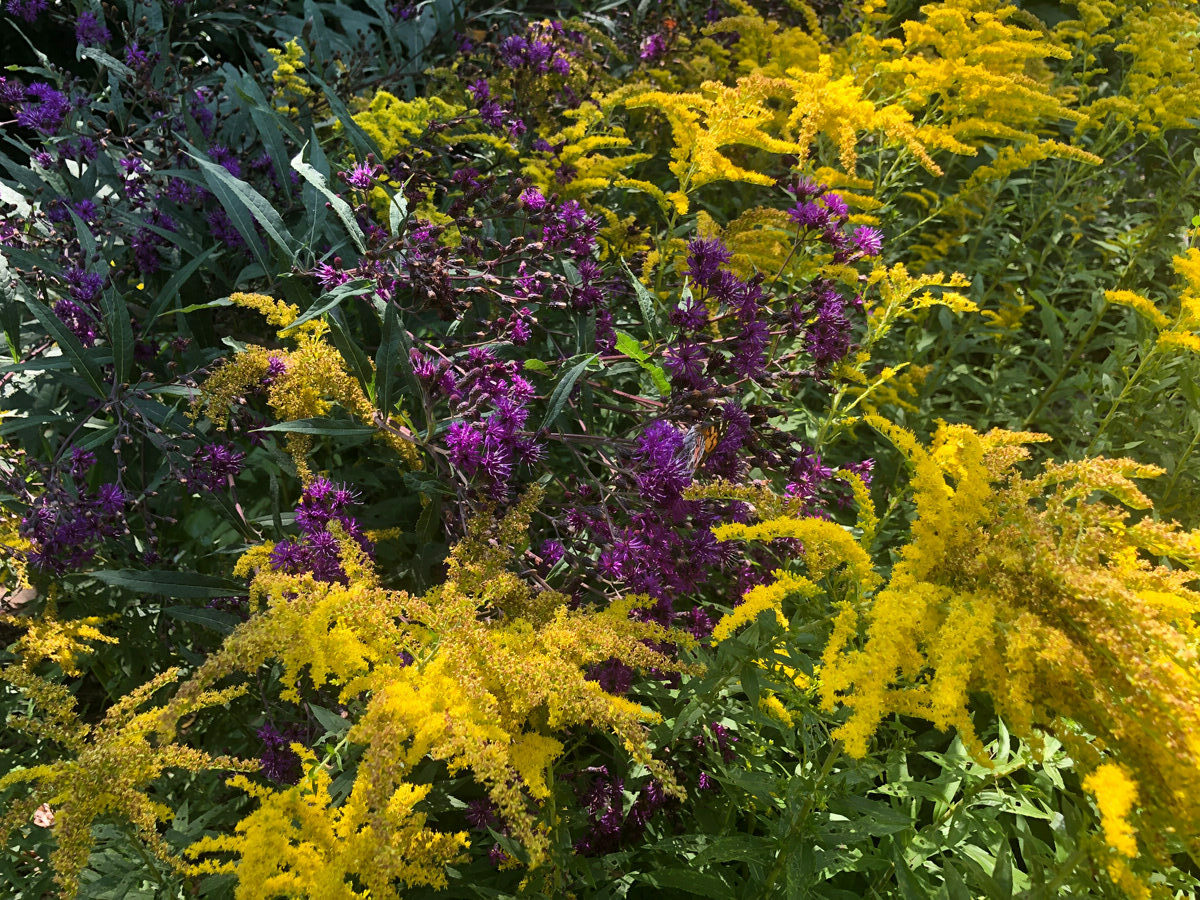 I love the combination of purple and yellow, which I find quite common in the autumn landscape. Take, for example, the  'Iron Butterfly' ironweed and 'Peter Pan' goldenrod (Solidago virgaurea 'Peter Pan', Zones 3–8) in the above picture. This goldenrod species happens to be of European origin, though there are plenty of fabulous American species if you prefer to stick to natives (for a list of native goldenrods, look here). 'Peter Pan' grows 2 to 3 feet tall and wide and performs well under full sun in dry to average soil.
Goldenrods (Solidago spp. and cvs., Zones 3–9) attract a diversity of beneficial insects, from garden predators to pollinators. Among the butterflies, watch for orange sulphur, dogface butterfly, and the lovely marine blue butterfly. Two hairstreaks, the great purple hairstreak and the gray, commonly seek out goldenrod nectar. You'll also find western pygmy blues, pearly crescentspots, viceroys, and a variety of skippers.
More information on plants to support butterflies
—Kim Toscano is a horticulturist, entomologist, garden designer, writer, and graphic designer. She previously hosted Oklahoma Gardening, a weekly PBS television program produced by the Oklahoma Cooperative Extension Service.