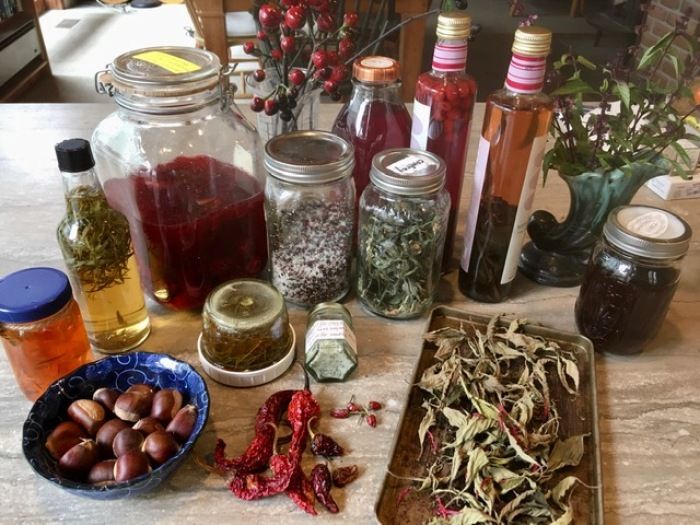 It's that time of year–fall-colored leaves are brilliant on the trees as well as covering the earth, the garden is winding down–days and nights are getting cooler. We are supposed to be relaxing a bit and turning inward, however it is challenging because we have so many projects and all of the garden bounty to do something with! Here's what's going on in my garden and kitchen…
It is a joyous and creative time of year and I celebrate the fruits of the earth. This is the first time that I can remember in all my gardening years that I am harvesting tomatoes, chiles, herbs and flowers in late October–it is nearly November and often by now we have had many hard frosts in my zone 7 region. This means that I have marigolds, zinnias and nasturtiums to decorate my Day of the Dead and Samhain table. I love having these colorful blooms to adorn the house this time of year.
I have a box of green tomatoes that I need to wrap in newspaper. Chiles have been drying and I have a large bag in the fridge that I need to make salsa and fermented chiles with. I have many herbs drying–hanging from rafters and drying in the oven with just the light on.
I have been making vinegars–both tarragon and savory vinegars are annual favorites that I make every year. I made a ruby red opal basil vinegar and a bright orange nasturtium and tarragon vinegar too. And then I did a wineberry and apple cider vinegar for making a shrub and another with wineberries in white wine vinegar with a vanilla bean which makes an exceptional condiment that makes my salivary glands secrete just thinking about it.
I've also infused anise hyssop (celebrating herb of the year 2019) in vinegar, although my anise hyssop-infused vodka is wicked good. In preparation for Rubus, Herb of the Year 2020, I've also made a wineberry and vodka infusion, which will become a cordial and a blackberry and lemon balm brandy that needs no further additions.
My friend Gayle Engels brought some Douglas fir from the Pacific Northwest and I infused some in local honey and also made a Douglas fir sugar that is amazingly fragrant of citrus and resin–I am just imagining all of the things that I can do with it! I also gathered a lot of sumac and have a sumac sugar underway (takes about 6 weeks) and inspired by a recipe in the informative and inspirational book Forage, Harvest, Feast: A Wild Inspired Cuisine by Marie Viljoen (Chelsea Green Publishing, 2018), I made a maple and sumac syrup which I reduced down to a concentrate that is intense (in a good way) and will be treasured and used sparingly like my homemade pomegranate molasses.
Everyday is a new and exciting adventure in garden-to-kitchen alchemy–and it is challenging as to what to create next. Tell me what is happening in your garden and how you are preserving your garden bounty!