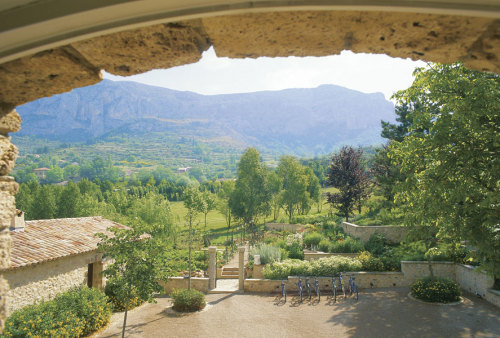 Gardening cooks who find their way to La Bastide de Moustiers, on the edge of the village of Moustiers-Ste.-Marie in southern France, most likely won't want to leave. It isn't just because of the legendary Provençal sun, or the awe-inspiring views of the surrounding mountains, or even the scent of lavender that hangs in the midsummer air. No, it has much more to do with the pristine produce from the garden and nearby markets, and with the respect such bounty is given in the kitchen and the place of honor it has at the table.
La Bastide's owner, Alain Ducasse, is possibly the most celebrated chef in France at the moment, with restaurants in Paris and Monaco. But when Ducasse decided to restore this 17th century farmhouse and turn it into a country inn, he did something refreshingly different. What comes out of the small kitchen is simple country food that manages to be rustic and refined at the same time.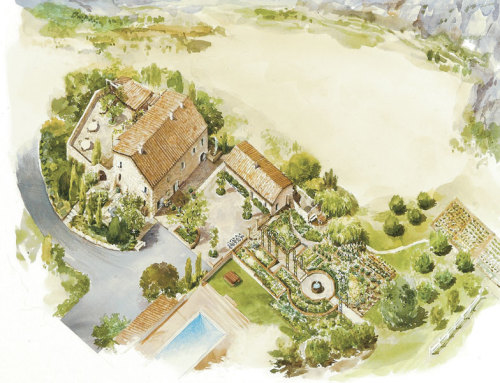 Paying homage to the garden
As with any kitchen worth its salt, the menu is based on local, seasonal foods. But here there's extra emphasis on garden products. Meals often start with not one but two courses of small vegetable dishes, something unusual in France. The chef in charge of La Bastide's kitchen, a young Alsatian named Benoît Witz, has a transparent hand. Under his touch, the produce shines, not fancified nor hidden under heavy sauces. This is real food.
Every morning Witz tours the garden and confers with the gardener to see what's ready to harvest. Then Witz plans the five-course menu he'll serve to lunch and dinner guests. On a day in late June, the morning harvest lined up outside the kitchen door was bright with promise. Perfect zucchini and their blossoms, new potatoes with delicate, see-through skin, tender peas, crisp carrots, ruddy beets, heaps of mâche, mesclun, and spinach sat waiting to be turned into vegetable tarts, or braised to a melting tenderness (see Braised Young Vegetables), or brushed with olive oil and roasted with thyme and garlic.
Ducasse opened La Bastide in May of 1995, and the gardens were begun the following year. The kitchen garden, or potager, is divided into two parts, a formal, decorative area just off the inn's entrance courtyard and visible from the east-facing rooms, and a much larger production garden, where most of the vegetables and soft fruits are grown. The charming formal garden bears all the hallmarks of traditional French kitchen gardens—cross-shaped paths, a central well, beds devoted to vegetables, salads, and herbs, and flowers mixed in to brighten the scene. Iron arches festooned with climbing roses line the central path, which leads to the well, an old basin filled with water and used as it would have been for centuries—to provide warmer water for tender seedlings and young transplants. This is a garden that would have felt comfortable to medieval Frenchmen.
| | |
| --- | --- |
| A beautiful garden, beautifully sited. The elements of the kitchen garden—cross-shaped paths, a central well, and separate beds for herbs, flowers, and vegetables—date back to medieval monastery gardens. | |
The formal potager serves mainly as a source for herbs and flowers, and as an inviting place to wander and view examples of the many vegetables that are raised in the half-acre production garden. Even together, the two gardens can't supply all the vegetables and fruits needed for a kitchen that serves as many as 50 or 60 garden-oriented meals a day. The goal is to get at least one course per meal from the garden. For the rest, Witz depends on the market at Sanary, 15 kilometers away.
Gardening with authenticity
Altogether, almost 400 varieties of vegetables, herbs, and fruits are raised at La Bastide. In keeping with the inn's theme of local, traditional flavors and rustic simplicity, all the vegetables are open-pollinated or heirloom varieties. There's an emphasis on Mediterranean and also short-season varieties, for although this is the south of France, the frost-free season's surprisingly short, running only from mid-May until mid-September.
| | |
| --- | --- |
| La Bastide relies on open-pollinated and heirloom vegetables. Patrick Simon (right) starts most of his plants from seed saved from the previous year's crops. Above, Chef Benoit Witz gathers herbs from the culinary bed in the formal potager. | |
One gardener, Patrick Simon, cares for the entire potager. He coaxes beautiful harvests from the dry, stony soil using organic techniques. For fertilizer there's sheep and rabbit manure, turned in over winter. No sprays are used on the vegetables, not even France's beloved Bordeaux mixture, a solution of copper sulfate and lime that's generally considered an acceptably organic fungicide.
The one place Bordeaux mixture is used is on the olive trees, which otherwise would bear only shrunken, inedible fruits. Later this year, for the first time, La Bastide will serve its own cured black olives. The olives, harvested in late November, then cured for months in salt and water, will yield enough for a season's worth of aperitif snacks.
By mid-November, just days before La Bastide closes for the winter, the garden is looking spare. Frosts killed the tender vegetables weeks ago. Hardy herbs, salad greens, Brussels sprouts, and a few onions brave the chill. Simon is setting up the plastic greenhouse in preparation for next year's seed starting. Tonight, the potager's only contribution to the menu will be bright green spinach leaves to accompany potato gnocchi and roasted farmhouse rabbit. The market at Sanary fills in the rest—fennel for the fish and vegetable soup, carrots and turnips and petite purple-green artichokes for the cocotte, and caramelised pears for dessert.
In the morning, hoarfrost lays a cold, fuzzy blanket over the ground. At breakfast there's toasted bread with two confitures—apricots cooked to a sticky, dark thickness, and a translucent preserve of green tomatoes—sweet reminders of the season gone. Time to rest for the winter.
In and about Moustiers-Ste.-Marie
La Bastide de Moustiers (04360 Moustiers-Ste.-Marie, France; tel. 011-33-4-92-70-47-47) is open February 2 through November 15, 1998. The restaurant opens March 15. Cooking lessons available by special arrangement. Moustiers is renowned for its pottery, sold everywhere in the village. A few kilometers away are the Gorges du Verdon, France's "Grand Canyon," offering spectacular views, hiking, and kayaking.
Hostellerie de la Fuste, near Manosque (04210 Valensole, France; tel. 011-33-4-92-72-05-95) also keeps a kitchen garden, and serves a five-course garden menu.
Château d'Esparron de Verdon (04800 Esparron de Verdon, France; tel. 011-33-4-92-77-12-05) offers bed and breakfast in an ancient renovated castle located in the Parc Naturel du Verdon.
by Ruth Lively
from Kitchen Gardener Issue #13