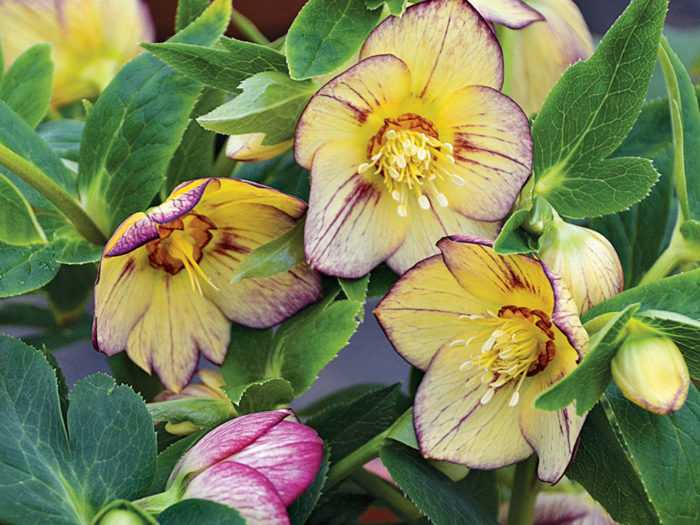 About 40 years ago on a visit to Maryland, I went to a colonial house and garden. It was a cold, blustery day, and the snow had only just melted away. There were some scattered crocus and a few early daffodils, but what caught my eye was a plant called a hellebore. It had lovely roselike, single white flowers and some early foliage. I couldn't believe my eyes. The flowers faced downward but weren't hard for me to see, as I am just 5 feet tall. It was love at first sight.
Today those who love shade gardening usually have a love affair with these marvelous plants. You can purchase them as singles or doubles and in an array of fabulous colors. The lovely evergreen foliage is handsome, and some varieties even sport fantastically patterned leaves. So why did I pick 'Tropical Sunset' to write about, given all the hundreds of wonderful hellebores out there? First, it is part of the Honeymoon® Series, and as a true romantic I couldn't resist. But really, this series has outstanding vigor, has great floral displays, and features varieties with truly unique colors. 'Tropical Sunset' has single creamy yellow-peach flowers that are streaked with burgundy veins, and the back of the petals is also a shade of red. This is sure to give single-shade hellebores an inferiority complex. As the plant matures, you will be delighted with the large number of flowers it produces, each reaching about 3 inches in diameter.
Depending on where you live, you can count on 'Tropical Sunset' coming into bloom in late winter or early spring, and it keeps on going for up to six weeks. Don't deadhead the spent blooms until they drop their seeds and until what's left of the flower turns brown. I consider all new plants generated as a bonus even if they don't resemble their parent. Hellebores may occasionally get sampled by deer, but they're not heavily browsed because they're poisonous. They are easy to grow, can tolerate drought, can be used as a cut flower, and are even salt tolerant. So if you still have the late winter doldrums, the perfect plant for regenerating your spring spirits is 'Tropical Sunset' hellebore. Pick one up at the nursery, plant it, then look out your window while drinking a piña colada and pretend that summer's just around the corner.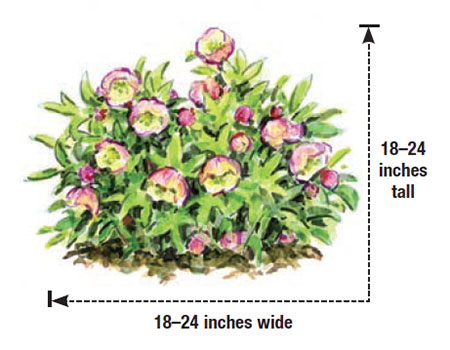 'Tropical Sunset' hellebore
Helleborus 'Tropical Sunset'
Zones: 4–9
Conditions: Partial to full shade; average to moist, well-drained soil
Native range: China
---
Stephanie Cohen has spent most of her life trialing, speaking about, and teaching all things plants.
Illustration: Elara Tanguy
Sources