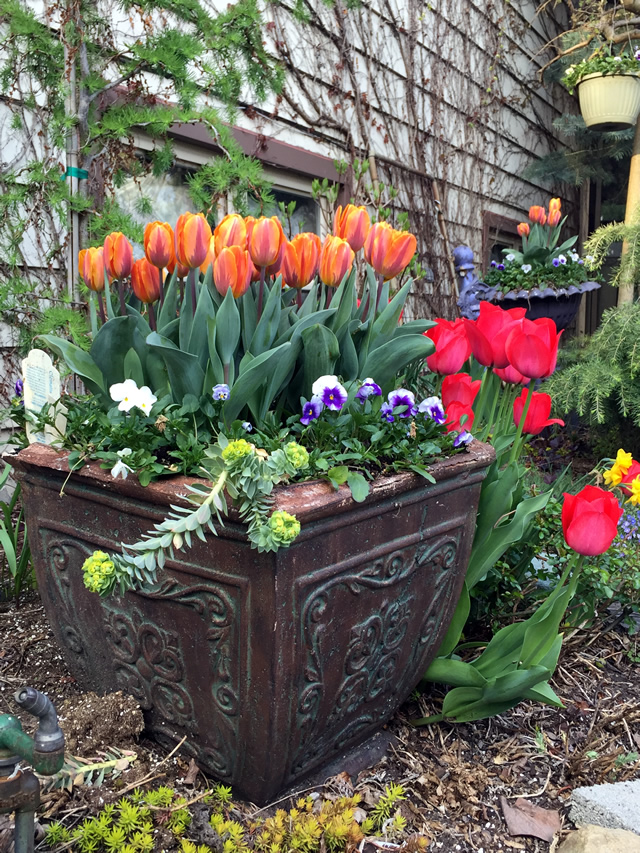 Diane is embracing all that spring has to offer in Chicago, ajuga and all!
"As most of us know, I can not get enough of the vibrant spring colors, especially after a long winter. Now we are in a rainy, cold spell that does not want to let up here in Chicago Land, but watching plants emerge and grow is so exciting! Last Fall I removed what little grass I had left in front, added the flagstone in order to walk through, and still create a border. I planted 'Chocolate Chip' ajuga as a ground cover. I had been wrestling with grass for years. It always looked great in Spring, but as the summer wore on between the root competition of the big silver maple ( I would love to take it out! – it is the ONLY thing that was in my yard when I moved in 21 years ago! ), and just the beating of the sun, it would end up a mess. I am amazed at how much the ajuga has spread! As soon as the flowers are finished, I will cut them off and then the yard will look more like a yard, yet will be more durable! Some pics from the front, some from the back. I hope you enjoy them!"

Have a garden you'd like to share? Email 5-10 photos and a brief story about your garden to [email protected]. Please include where you are located!
Have a mobile phone? Tag your photos on Instagram or Twitter with #FineGardening!
You don't have to be a professional garden photographer – check out our garden photography tips!
Do you receive the GPOD by email yet? Sign up here.
Follow us: @finegardening on Twitter | FineGardeningMagazine on Facebook | @finegardening on Instagram