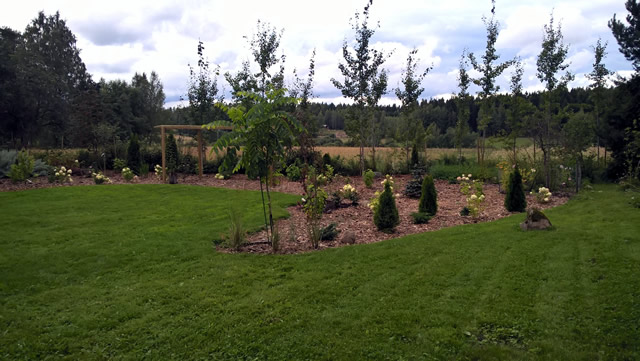 Kathryn Schneider and her husband, take us along on a unique property and garden renovation in Southern Finland.
"My husband Pekka and I are in the process of renovating an old home
(Rintamiestalo)in southern Finland. We've documented our home
improvement journey through our blog site www.vanhatalosuomi.com. We
welcome you to visit our home renovation & gardening projects.
Our climate zone in Finland is I-II, which translates to approximately a
6a-6b US hardiness range. The site of our home is approx. 3,000
sq.meters (+3/4acre) and we're located about 60km west of Helsinki.
When we acquired the home it was in original 1952 condition – sans
indoor plumbing. The yard was overgrown and gout weed (Aegopodium
Podagraria) had taken over nearly everywhere. There were numerous old
apple trees & plum trees which were growing willy-nilly everywhere. Also
massive red, black & white currant bushes were growing in long rows,
which we learned had provided the former owner with a steady revenue at
harvest time years ago. 🙂
In 4 years we've almost completed the renovation of the house. Last year
we seriously began a concentrated effort on landscaping our property. We
moved a select number of berry bushes to another location, thus freeing
up the prime gardening areas nearer the house and began a massive
landscape project. All work was and is done ourselves, although I think
powered machinery would have really made our lives so much easier!
Last spring we brought in 100 hydrangea (Annabelle & Limelight), 75
assorted evergreen (Negishii, Picea Pungens Glauca, Thuja Smaragd, Picea
Glauca Conica, Juniperus Virginiana Blue Arrow, Picea Abies Pendula,
etc) as well as a number of decidious trees (Magnolia Kobus, Acer
Nugundo Flamingo, Acer Griseum, Acer platanoides'Faassen's Black', etc)
We have attempted to provide a landscape scheme on our bog site that
provides a detailed rendering of what and where…
I realize many readers already have long-established gardens. I hope
everyone can still relate to what it was like when you first started
your garden schemes. Maybe our new gardens will remind you of your own
back-breaking early days and you can appreciate your gardens even more
for all their lushness. We of course hope our gardening projects develop
over time to reward us with years of enjoyment.
There's still much to do here. I'm looking forward taking delivery of 20
new David Austin Roses this spring to add to my DA rose garden
collection!
Thanks and best wishes. Happy New Year and happy gardening!"
Have a garden you'd like to share? Email 5-10 photos and a brief story about your garden to [email protected]. Please include where you are located!
Have a mobile phone? Tag your photos on Instagram or Twitter with #FineGardening!
You don't have to be a professional garden photographer – check out our garden photography tips!
Do you receive the GPOD by email yet? Sign up here.
Follow us: @finegardening on Twitter | FineGardeningMagazine on Facebook | @finegardening on Instagram