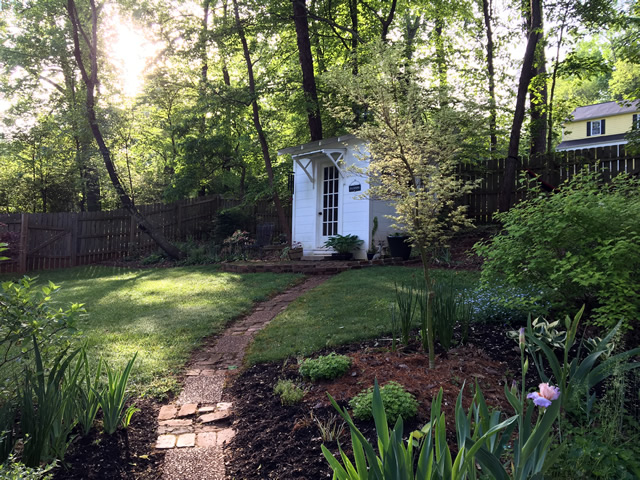 Katie Settlage of TN has created a unique garden sanctuary enjoyed by all, including the local wildlife.
"I have never submitted to GPOD although I do love to look at the submissions of others. I am fairly new to gardening, just since buying our 1930's fixer upper on a rather shaded acre in Knoxville, Tennessee 6 years ago. We have been doing all the work ourselves to remodel the home, and along the way I have fenced in part of the yard to allow me to create a cottage style garden without having to worry about deer. There was no garden to speak of when we bought the house–just weedy lawn and lots of big trees. I have done all the work myself on a tight budget, including building all the water features (last year I made a 170 foot long "stream" that runs through the back garden, and I also have a square fish pond in the front garden). We built the garden shed ourselves, using some repurposed materials from our home remodel, and I built the patios and walkways using antique brick that was found scattered around the property. Many of my plants are pass alongs, foundlings, bought at the scratch and dent sale at the end of summer, etc. I divide a lot and move things around to fill my ever expanding garden beds. I use no pesticides and am a biologist by training so I really enjoy seeing all the wildlife brought to my garden–frogs, salamanders, turtles, lots of birds including hawks, barred owls, and turkeys, and even small mammals like raccoons, opossums, skunks, fox, and once a mother mink and her babies! Last summer was very hot and two box turtles spent many days on end hanging out in my little stream to stay cool.
Best wishes,
Katie Settlage"
Attention GPOD'ers–the Fine Gardening editorial staff will be attending the Northwest Flower & Garden Show at the Washington State Convention Center in Seattle from February 22nd through Feb 26th. We are excited to be a part of this event that will be chock full of inspirational display gardens, unique vendors and informative seminars. We will be located right outside the seminar rooms, so stop by and say hello! (I will personally be in attendance from Friday Feb 24-26).
Have a garden you'd like to share? Email 5-10 photos and a brief story about your garden to [email protected]. Please include where you are located!
Have a mobile phone? Tag your photos on Instagram or Twitter with #FineGardening!
You don't have to be a professional garden photographer – check out our garden photography tips!
Do you receive the GPOD by email yet? Sign up here.
Follow us: @finegardening on Twitter | FineGardeningMagazine on Facebook | @finegardening on Instagram