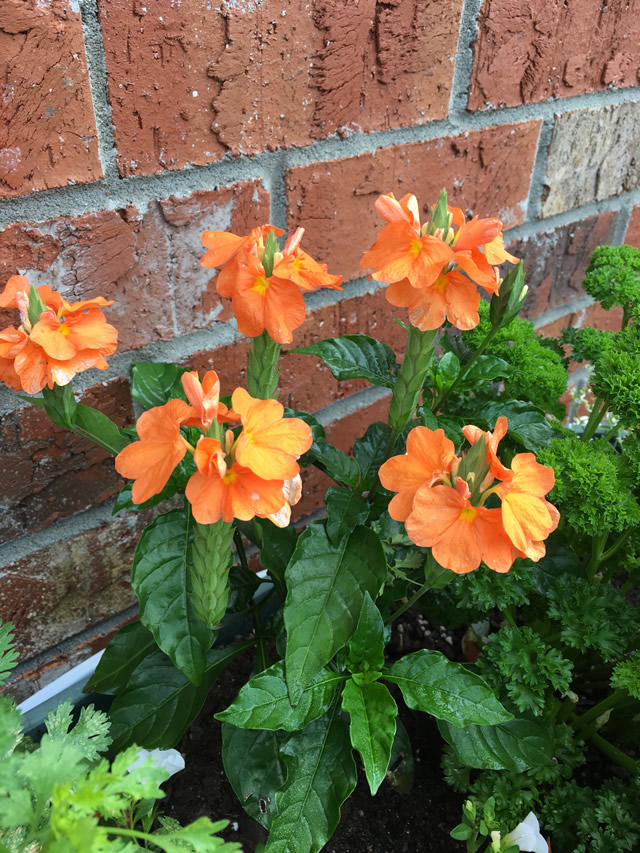 Gayle and Jerry Trousdale of TN, keep their small garden fresh with the addition of new and interesting plant material.
"I live in Murfreesboro, Tennessee. My back yard is small and fenced by a 6 ft wooden fence. It is my private sanctuary for morning coffee, afternoon reading or stargazing at night. Always with my two dogs and husband joining me. I like to find new plants to try every year. This year is the multicolored amaranth and the Crossandra, plus the old fountain turned into a mini succulent garden. Right now- June 2, the lilies and oak leaf hydrangea are showing off. The wire cages support the lilies but mainly keep the dogs from breaking them off. The vine is a Japanese clematis that comes back full force every year. I love it. The lace cap hydrangea is a new variety I found at the wonderful Johnson's nursery in Cookville, TN – Tuff Stuff Red. Next to the house we put out only 3 'Parks Whopper' tomatoes, 3 jalapeños, and some cayenne that my husband loves. It gives us enough for the two of us. I put some herbs in my wrought iron boxes this year. They are working well and easy to grab for cooking. At 71 and 69 this small garden is enough for us. Gayle and Jerry Trousdale"
Have a garden you'd like to share? Email 5-10 photos and a brief story about your garden to [email protected]. Please include where you are located!
Have a mobile phone? Tag your photos on Instagram or Twitter with #FineGardening!
You don't have to be a professional garden photographer – check out our garden photography tips!
Do you receive the GPOD by email yet? Sign up here.
Follow us: @finegardening on Twitter | FineGardeningMagazine on Facebook | @finegardening on Instagram