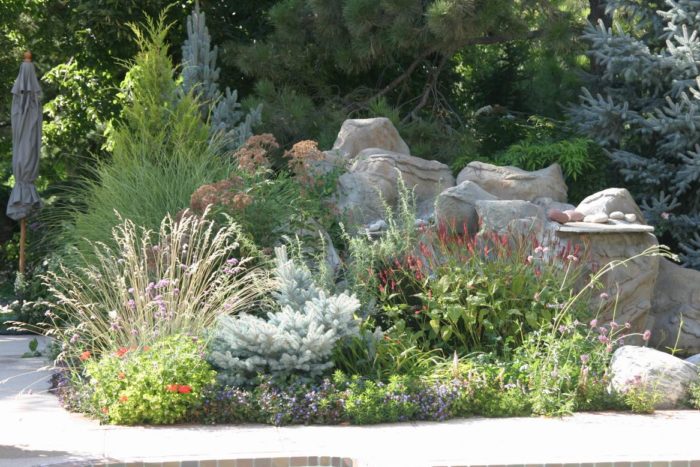 A spot like this, in the baking sun by a pool in Denver, Colorado, needs to have plants that can take a beating and still look good all summer. Garden designer Tom Peace used a variety of tough perennials and shrubs that add interest all season while requiring a minimum of fuss. This planting includes:
Upright juniper (Juniperus cv., USDA Hardiness Zones 2-9)
Columnar blue spruce (Picea pungens cv., Zones 2-8)
Joe Pye weed (Eupatorium purpureum, Zones 3-9)
Blue sage (Salvia azurea ssp. pitcheri, Zones 5-9)
'Firetail' persicaria (Persicaria amplexicaulis 'Firetail', Zones 3-8)
'Butterfly Blue' scabious (Scabiosa columbaria 'Butterfly Blue', Zones 3-8)
Plumbago (Ceratostigma plumbaginoides, Zones 5-9)
'Globosa' dwarf blue spruce (Picea pungens 'Globosa', Zones 2-8)
'Zing Rose' maiden pink (Dianthus deltoides 'Zing Rose', Zones 3-10)
'Happy Thought' geranium (Pelargonium 'Happy Thought', Zone 11)
Tall verbena (Verbena bonariensis, Zones 7-11)
Blue oat grass (Helictotrichon sempervirens, Zones 4-9)
'Morning Light' miscanthus (Miscanthus sinensis 'Morning Light', Zones 4-9)
Welcome to the Fine Gardening Garden Photo of the Day blog! Every weekday we post a new photo of a great garden, a spectacular plant, a stunning plant combination, or any number of other subjects. Think of it as your morning jolt of green.
Sign up to get new posts delivered to your inbox each morning so you'll always remember to take a look, or add us to your RSS feed. We look forward to sharing our garden travels with you.
If you think you have a photo that we should share on the Garden Photo of the day, email us. Send hi-res images to [email protected] with GPOD in the subject line. We'll only respond if we plan to use your photo.