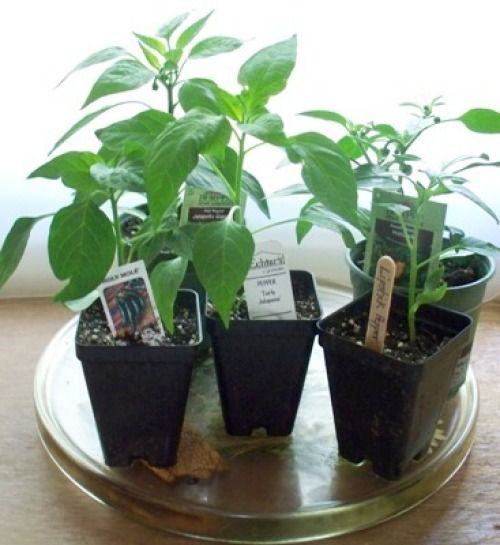 A Pepper in Every Pot

My kitchen garden isn't complete until I've planted at least five or more varieties of Capsicum annum. My peppers include varieties that are mild, sweet and hot. They come in different sizes, shapes and colors and each one is planted with family-favorite recipes in mind.
Peppers are easy to grow in a vegetable bed or in containers placed in a sunny spot on a patio, balcony or deck. Here are five varieties and some ideas for taking them from the garden to the plate.
The Lipstick pepper is a small pepper that resembles a tube of red lipstick when it's ripe and ready to pick. Plan on 70 days for these peppers to grow 4 inches long and to turn from green to bright red. Lipstick peppers are sweet and delicious in summery salsas or chopped and tossed into any salad for color and flavor.
The pepper known as Holy Molé (120 days) was a 2007 All-America Selection's vegetable winner. This pasilla-type pepper turns a beautiful chocolate brown color when it's ready to harvest. Holy Molé makes a tasty molé sauce to use over Mexican rice, burritos or meat dishes.
Pobalano peppers are known for their split personality. When these dark green, mild peppers are fresh they go by their given name, but when dried they're called Ancho peppers. Poblanos take from 75-80 days to mature and are about 5 inches long when ready to pick. They're great used fresh for dishes calling for roasted peppers for stuffing. Anchos can be ground into chile powder to make a tangy rub for pork or other meat for grilling or soaked and pureed to make a paste for sauces.
Jalapeño peppers are an excellent combination of heat and rich flavor used for pickling or to flavor salsas, sauces, soups and Mexican stews. Early varieties produce an abundance of small green peppers in about 70 days from transplanting. Jalapeño Gigante are jumbo peppers that can grow to 5 inches long, the perfect size for making stuffed jalapeño poppers.
Mohawk sweet peppers produce a dwarf bell pepper that ripens to a bright yellow. These peppers take 65 days from transplanting, so they'll be ready early in the season for adding color to many different kinds of salads or sliced and added to an appetizer tray for dipping.