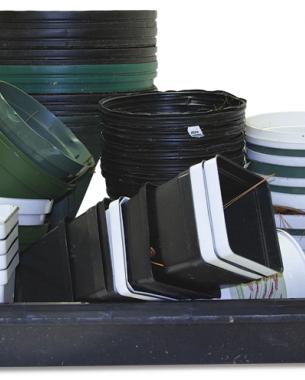 Some good news for environmentally friendly gardeners is the proliferation of recycling programs that seek to reduce the amount of plastic nursery pots and trays that either wind up in a stack behind the garden shed or, worse, clogging landfills. Perhaps the most notable is the Missouri Botanical Garden's 10-year-old program, which last year recycled over 100,000 pounds of nursery plastic from consumers, turning it into large landscape timbers.
Some other companies are forgoing plastic pots altogether. Ball Horticultural Company and Summit Plastic Company are introducing a container made out of rice hulls as part of a larger push toward sustainable plant production. These Circle of Life pots (left) will be available at garden centers around the country and at Wal-Mart, where they will be called Earth Essentials.
Many of these recycling initiatives are locally based. If you know of such an effort in your region, let us and your fellow gardeners know by going to the "Pot Recycling Programs" discussion on our message boards.