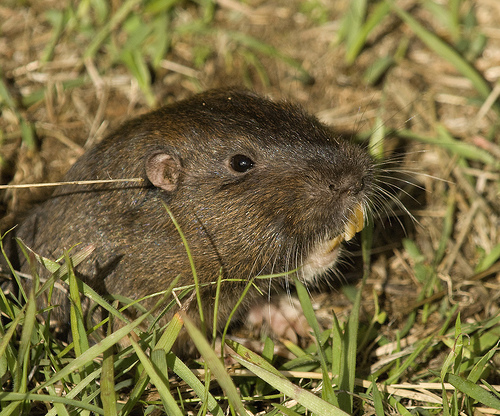 Okay all you garden gopher hunters, I'm looking for some solid advice. No matter how crazy your solution may be, we want to hear about it! Our family is once again expanding our burgeoning home garden to our local community gardens.
It's a beautiful place that sits above a year-round creek. The ambiance is nothing if not tranquil. The community of gardeners there are of the friendly sort who are more than willing to share extra plants, as well as personal gardening tricks-of-the-trade. But one secret has managed to evade even these seasoned growers. How to out-smart the gophers.
Some people have carefully dug trenches around the parameter of their beds, placing a mesh barrier between the open land and their veggies. Some have used those stake things that are suppose to emit a pitch so high that it practically make the rodents' ears bleed. I'm guessing that was an over-sell. Because as far as I can tell, the gophers can't even hear it (although, I've noticed there are no dogs hanging around).
Several gardeners have set out traps for the little plant thieves, and still others have spent entire weekends lining every square foot of their garden with hardware cloth, then replacing the soil. We were there when a husband and wife gardening team had just finished lining their own bed. As the couple gulped down a well-earned bottle of water and congratulated themselves for a job well done, we watched as one patient little dude popped up out of his burrow, ambled over to the garden bed, climbed in between the fence, and sat down to nibble some lettuce.
The last time we had a community garden plot, we simply over-planted our produce and shared with the gophers. They always left us some, but that didn't stop us from pining over the plants that were lost down the gopher holes. After watching these gardeners try every back-breaking, mind-numbing thing they could think of to protect their own, I've decided to throw in the towel before I ever break a sweat. I think we'll just over-plant again and give the little suckers names.