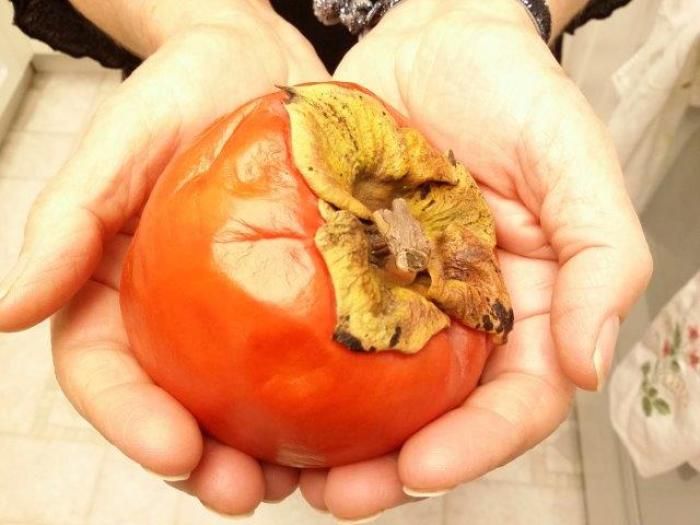 A few weeks ago, my daughter Lucie sent me a box of 'Hachiya' persimmons grown in her backyard in California. These sweet, delectable fruits are truly a gift–and my anticipation built as they ripened. The seven large persimmons arrived packed carefully in a box with a note that said:
"we are hachiyas!
set us on our heads,
then wait until we become
squishy like water balloons,
next add us to a smoothie,
bake us in a cake,
or eat us out of hand!"
Unlike wild persimmons, which are much smaller, Hachiyas can be picked early and allowed to ripen. Those of you who have eaten an unripe persimmon know the meaning of pucker, because that is what an unripe fruit will make your mouth do. The astringent, alum-like drying and puckering of the mouth has been the result of many a joke played on an unsuspecting kid… been there, done that…
However, once the weather turns cold and the wild fruits begin to drop from the tree, they become candylike sweet and lose the puckery characteristic and can be gathered and enjoyed for a few months of the year. The apt description of "squishy like a water balloon" is how the ripe persimmon should feel. You almost think that they will rot–they get darker and wrinkly–just hold on and you shall be rewarded!
Folks who have been gathering and eating persimmons know what prizes they are. Sweet like candy, they can be eaten out of hand, which is probably my favorite way. They are very soft and sort of melt in your mouth when they are dead ripe; they are intensely sweet and somewhat honeylike, reminscent of a perfumed apricot, rather ambrosial. They can also be made into smoothies, puddings, ice cream, breads and cakes. Many cooks puree and freeze the ripened fruit to use during the winter months in desserts and baked goods.
When I was in New England in the fall, my friend Karen O'Brien had the biggest persimmon tree I have ever seen and I mean to tell you it was laden with fruits. We picked up a lot of ripe persimmons from the ground and I washed them and took them to a program where I was presenting to give as samples. When I asked the audience of about 80 gardeners for a show of hands as to how many of them had eaten wild persimmons, I was shocked that only a handful of them held up their hands! "Y'all need to come on a wild foods walk with me!" was my reply. I demonstrated how to make a cordial using the persimmons and left the jar of alcohol-infused persimmons with my hostess.
The wild persimmons have seeds, while the cultivated varieties like the 'Hachiya' do not. I gifted a few of my California persimmons to friends whom I knew would appreciate them as I do. I have savored a few of them "out of hand" all alone, and shared one. Lucie sent me a photo of her persimmons, which she peeled and hung according to an age-old Japanese delicacy called hoshigaki–which is a way to dry them, gently massaging them daily! https://www.rootsimple.com/2012/11/how-to-make-hoshigaki-dried-persimmons/  I certainly am looking forward to trying one of them!
Here's how to make an easy, elegant persimmon mousse with just three ingredients!
Most recently, at a small holiday gathering of women kin, I took the biggest and most ripe persimmon with me, along with a carton of organic whipping cream and a jar of vanilla sugar. (The persimmon was so ripe it was about to burst, so I wrapped it paper towels and then an insulated lunch sack for safe transport.) After lunch, I went in the kitchen and tucked a kitchen towel into my collar and coerced my cousin Sharon into taking pix for me. Then I sliced the persimmon in half in a small bowl and removed what I could of the very thin skin and mashed the soft fruit with a fork into a puree. Next, I got out a whisk and bowl and added 1 cup of whipping cream and about 2 teaspoons of vanilla sugar and whipped the cream until it peaked. Then I folded the persimmon puree into the whipping cream. Given a bit more time, I might have refrigerated the mousse… however it was the right time to serve it forth… and so I spooned it into Mom's cut-glass dessert bowls and served it with silver spoons. It was perfectly decadent. And each and every one cleaned their bowls.
If you have persimmon puree in your freezer, I'd encourage you to try this simple dessert; it is a recipe that I first made with my dear friend Carolyn Dille, many years ago, back in our catering days. There are still persimmons in my local Asian groceries, and even in a few of my regular stores–if you see any–be sure to pick them up while they are available. This a is a perfect recipe to welcome in the new year!
Wishing you and yours, a happy and healthy new year full of bountiful foods from your garden!
For more info on persimmons, where they grow, and some folklore, here's a link to another article that I wrote awhile back: /item/16475/persimmons