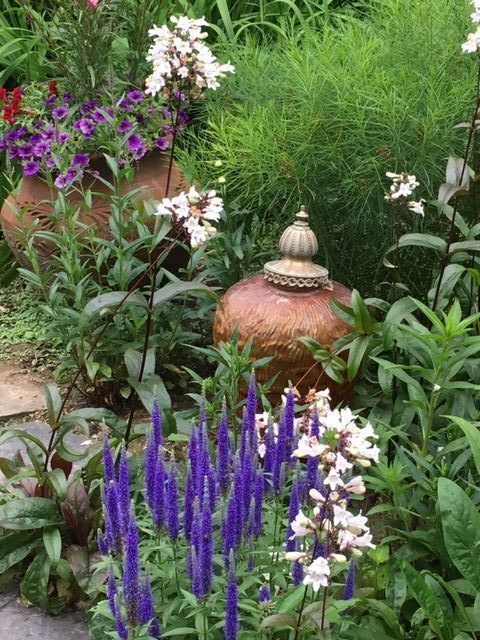 Today's photos come from Cindy Reiss, who shares how beautiful her garden is every time of the year. She gardens in Rochester, New York, and while she's been gardening for 20 years, she took over this garden just four years ago. When she arrived, it was a collection of 50-year-old neglected shrubs and every invasive plant from the region! How did she transform that neglected space into a garden?
I started with the unpleasant task of digging up, eliminating, thinning, and moving shrubs and plants that were overgrown or improperly sited one section at a time and then adding in new, refreshing plants that contribute texture and color. I'm still working on creating that "grand sweeping view"!
Where does she get her ideas?
Honestly, I pour over my Fine Gardening mags for inspiration, since I am not a natural designer. Given that, patience is my number one gardening tool! I try to imagine how plants will go together, and I read planting guides, but trial and error is my best governess. I may move plants several times before they land in the right spot.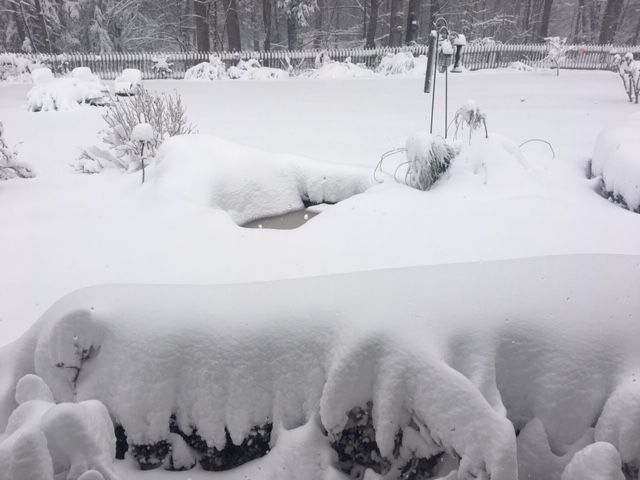 Winter. That's what a lot of our gardens are starting to look like right now! So much promise is buried under that snow.
There is great beauty in the winter, such as these bare trees against a delicately colored sunrise.
Spring! Sheets of blue forget-me-nots (Myosotis sylvatica, Zones 5–9) with the white flowers of fothergilla (Forthergilla gardenii, Zones 4–8) in the background.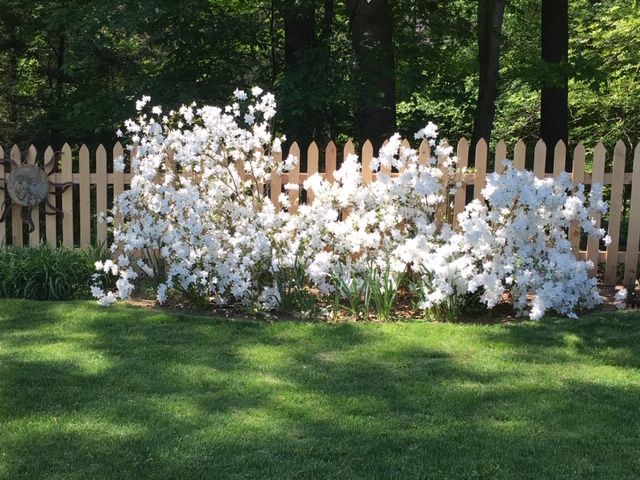 More spring color from a white azalea.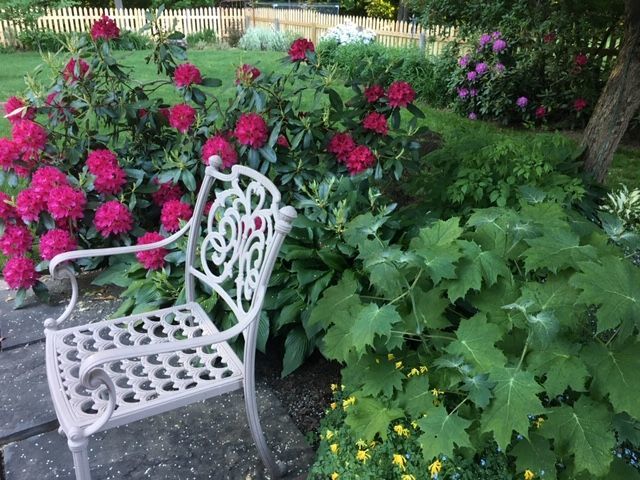 Here's a spot to sit and enjoy the garden, backed by a flowering rhododendron, with the bold foliage of yellow wax-bells (Kirengeshoma palmata, Zones 5–8) to the right. Those leaves will be topped with yellow bell-shaped flowers in the late summer. Cindy says that she's moved that plant four different times to find just the right spot. That's a great lesson for gardeners—if you don't like where something is, move it until you're happy!
Can you believe that Cindy says she's not a natural designer? I love this planting! Purple petunias in the background echo the color of the veronica (Veronica spicata, Zones 3–8) in the front, both of which contrast with the white flowers of foxglove penstemon (Penstemon digitalis, Zones 3–8).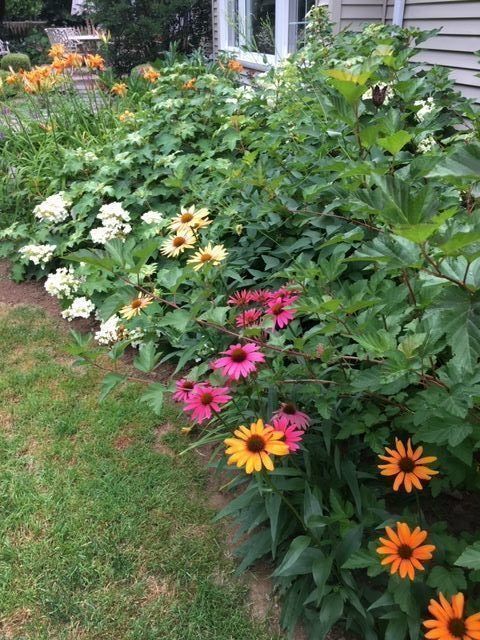 It's high summer in the garden, with colorful coneflowers (Echinacea spp. and hybrids, Zones 3–9) stealing the show. Cindy grows several varieties of coneflowers, including 'Tiki Torch', 'Pow Wow Wild Berry', and 'Big Kahuna'.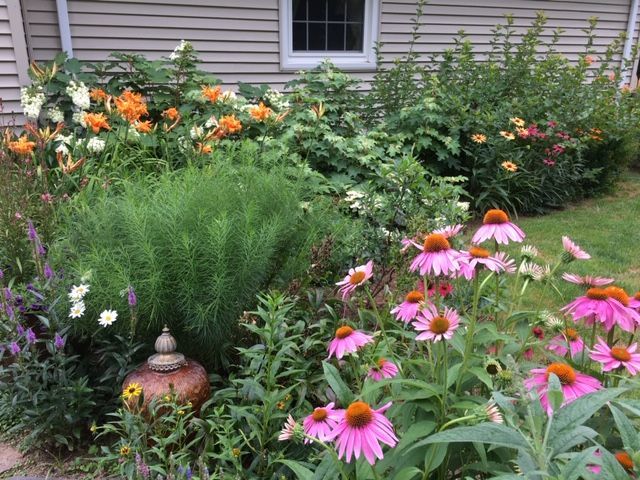 More of the garden in full summer bloom.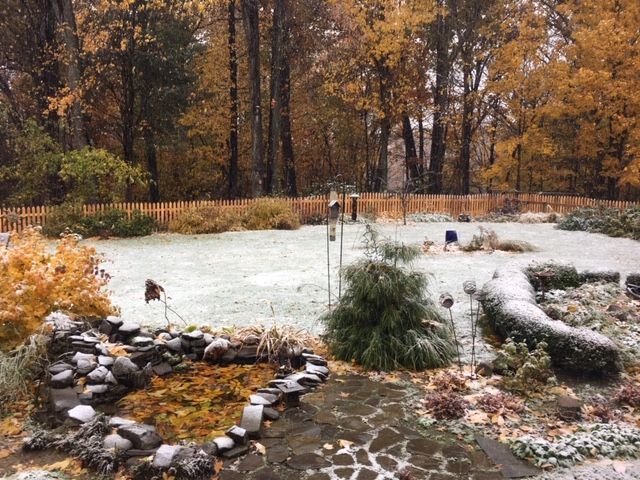 And now we come full circle, with the first snowfall mixing with the bright gold of autumn leaves.
What does your garden look like through the gardening seasons? Send us some photos! We all need an escape and inspiration as winter sets in for real.
Have a garden you'd like to share?
Have photos to share? We'd love to see your garden, a particular collection of plants you love, or a wonderful garden you had the chance to visit!
To submit, send 5-10 photos to [email protected] along with some information about the plants in the pictures and where you took the photos. We'd love to hear where you are located, how long you've been gardening, successes you are proud of, failures you learned from, hopes for the future, favorite plants, or funny stories from your garden.
If you want to send photos in separate emails to the GPOD email box that is just fine.
Have a mobile phone? Tag your photos on Facebook, Instagram or Twitter with #FineGardening!
You don't have to be a professional garden photographer – check out our garden photography tips!
Do you receive the GPOD by email yet? Sign up here.