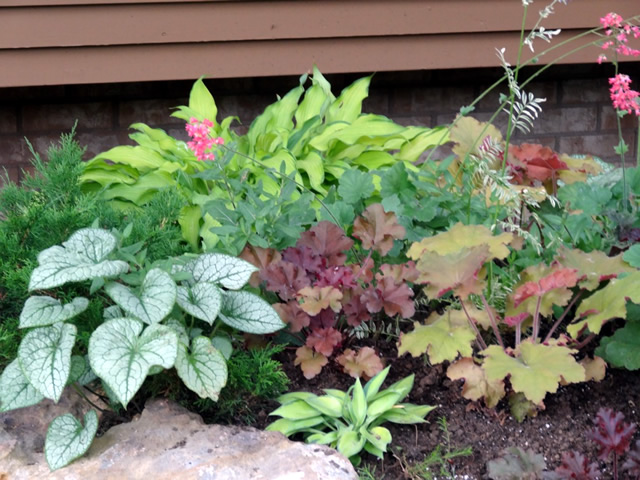 What do you get when you combine a talented "rock whisperer" with Shelia Shultz's green thumb? These photos say it all!
"I figured it was about time to post a few 2016 photos of my non-traditional Denver gardens. A bit of history… we moved from the Chicago area to Denver in 2005 and I joyously went from shade to sun possibilities. Our original Denver outdoor space was 80's landscaping in the front and a cement basketball court encompassing our tiny backyard. A talented friend and designer agreed to help us rethink our space. She is a brilliant rock whisperer and hardscape genius. She did the hardscape and trees, I did the plantings. The only rhyme or reason that relates to my design style are my changing passions, color and local availability. I know many of my fellow GPODers would like for me to include plant ID's but it would take hours since I am no longer that organized, so this is just a visual. 2016 was unforgiving for my gardens and containers. May thru July we were in the wrong path for hail, and we had 3 golf ball sized hail storms that…Well, the following photos are the best I could come up with. Note to anyone…thin leaved plants deal with hail quite nicely, wide leaves, not so well!"
Container post to follow tomorrow!
Have a garden you'd like to share? Email 5-10 photos and a brief story about your garden to [email protected]. Please include where you are located!
Have a mobile phone? Tag your photos on Instagram or Twitter with #FineGardening!
You don't have to be a professional garden photographer – check out our garden photography tips!
Do you receive the GPOD by email yet? Sign up here.
Follow us: @finegardening on Twitter | FineGardeningMagazine on Facebook | @finegardening on Instagram