I finally found a new dianthus—aka pinks—that's a real zinger. And, ironically, it's white. 'Key Lime Pie' sports a larger flower than many dianthus, and it's super floriferous. Sturdy stems hold pearly notched petals with an apple green eye amazingly upright. The interesting flowers have a clean, fresh, slightly spicy fragrance. Cottage pink (Dianthus plumarius, Zones 3–9) is a strong species of dianthus, and that's why it is often used by breeders as a parent plant to make lots of new outstanding hybrids—'Key Lime Pie' being one such example.
This dianthus is part of the American Pie™ series, and all of the new varieties in this group do two things: give me plant lust and make me hungry. The foliage of 'Key Lime Pie' is particularly attractive, with a gray-blue hue that really brings out the colors of the flowers. A bonus is that the slender, grasslike foliage tends to be evergreen even in my Zone 6 garden. This charming plant seems built for cottage gardens, as an edger in borders, or even as a candidate for cutting gardens. It is long blooming, and if you keep deadheading, it will push flowers even into fall. Thankfully, I've also found it to be fairly drought resistant once established. Like most dianthus, 'Key Lime Pie' hates wet feet and may rot if you don't give it adequate drainage— and be sure not to plant it too deeply. (Place the crown slightly above the soil surface.)
This clumping perennial is deer resistant, but butterflies and bees find it enchanting. I guess they must love pie like me. It blends well with almost any color, so you'll have lots of choices for combinations. 'Key Lime Pie' is sure to become one of your new favorites because it has so many commendable qualities. And it's a pink that isn't pink—which is a great conversation starter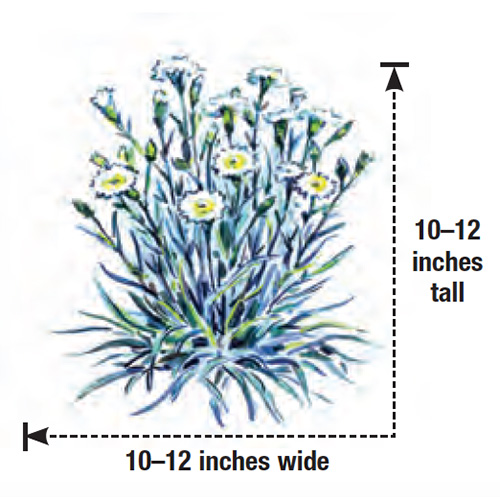 'Key Lime Pie' dianthus
Dianthus plumarius 'Key Lime Pie'
Zones: 4–9
Conditions: Full sun; well-drained soil
Native range: Europe and Asia
---
Stephanie Cohen has spent most of her life trialing, speaking about, and teaching all things plants. She is the author of several books and lectures extensively around North America.
Sources: