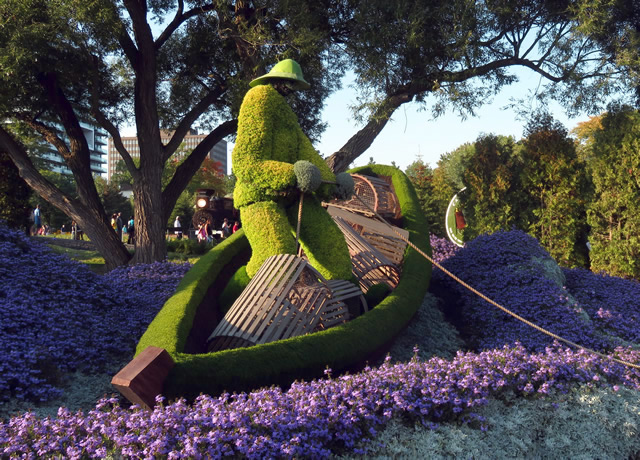 Maria Fleming gives us a glimpse into the art of the MosaÏculture event that is currently taking place in Ottawa.
"Canada is celebrating their 150th birthday this year and one of the events is called MosaiCanada. It takes place in Ottawa and will run until mid-October. The 3-dimensional plant art celebrates the different provinces and important figures or events in Canada's history. China gifted 2 installations as well and shows their talent in the 'mosaïculture' art form. Every morning gardeners come in and water, replace and sculpt where needed. One photo shows the process of a metal frame which is the art shape, filled with growth medium and a drip hose. Some pieces have a plastic frame holding the plant plugs, or landscape cloth is used to cover the metal frame and is then punctured with a dibbler to make the hole for the plant."
Have a garden you'd like to share? Email 5-10 high-resolution photos (there is no need to reduce photo sizing before sending–simply point, shoot and send the photos our way) and a brief story about your garden to [email protected]. Please include where you are located!
Sending photos in separate emails to the GPOD email box is just fine.
Have a mobile phone? Tag your photos on Instagram or Twitter with #FineGardening!
You don't have to be a professional garden photographer – check out our garden photography tips!
Do you receive the GPOD by email yet? Sign up here.
Follow us: @finegardening on Twitter | FineGardeningMagazine on Facebook | @finegardening on Instagram