Growing Knowledge: Lecture Series
Sustainability in the Garden
Presented by Fine Gardening
Join us as we take a deep dive into the complex and sometimes controversial gardening topic of sustainability. This lecture series features four separate classes related to the overall theme. Each highly engaging session is modeled after a college course and is taught by a leading expert in the field. With each class you'll receive not only in-depth instruction but also informative handouts to help you understand and visualize the concepts being discussed. Each class is offered on-demand, so you can view it at your leisure, and is accompanied by a live Q & A with the instructor a few days after the session is made available to participants. If you're looking to improve your gardening skills in an environmentally responsible way, sign up today.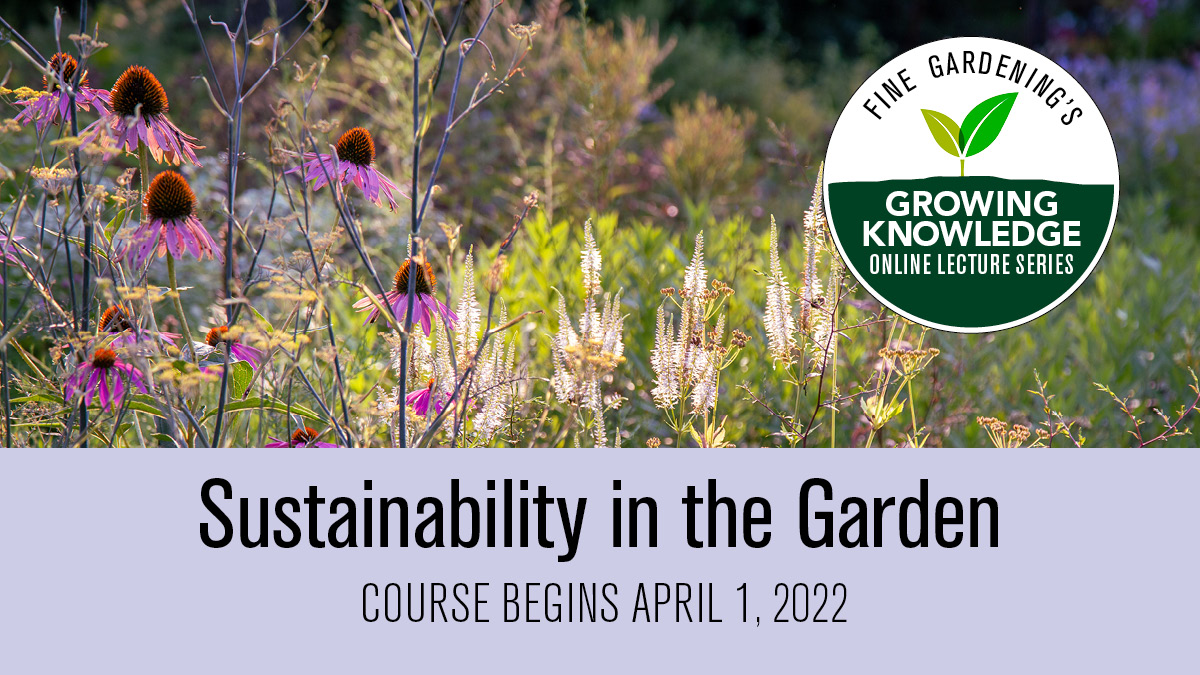 Topics that will be covered include:
Ideas for sustainable garden design
Naturalistic approaches to landscape planning
Native alternatives for common plants
Pollinator-friendly selections for every region
Habitat conservation at the backyard level
Steps for enhancing soil sustainably
Conditional improvements for successful native-plant integration
This event has passed
Details and Tickets
---

Speakers
---
In the spring of 2022, Fine Gardening will bring together an amazing array of experts, professional landscape designers, and educators to share their knowledge and insights in a collaborative learning experience. Their lectures will feature presentations on various topics within their area of expertise, all in service of the same agenda—growing more-sustainable gardens.
---
Lecture 1
Kelly Norris: Digging Deeper into Sustainable Garden Design
Class available on-demand: April 1
Duration: Approx. 60 minutes
Live Q & A with teacher: Wednesday, April 6 (7pm EST)

This immersive class introduces participants to the concepts of site-specific planting in the landscape. Plantsman and planting designer Kelly Norris defines and offers in-depth insight on plant community archetypes that gardeners can use as recipes for more ecologically resilient plantings. Participants will learn about a range of plant communities, the ecological properties that define them, and how to translate them into gardening practice. The class ends with a primer in ecological planting design that reframes plant combinations around properties related to plant architecture, biology, and their relationship to place. It offers real-life solutions to common design challenges while offering participants valuable plant and layout recommendations they can put to use in their own backyards.
About the presenter
Kelly D. Norris is a plant expert, designer, and author of multiple books. Considered one of the leading horticulturists of his generation, Kelly designs both private and public gardens with acute ecological awareness. His work has been featured in The New York Times, Martha Stewart Living, Fine Gardening, and in numerous television, radio, and digital media appearances. His most recent book is New Naturalism: Designing and Planting a Resilient, Ecologically Vibrant Home Garden.
Kelly is the former director of horticulture and education at the Greater Des Moines Botanical Garden in Iowa, and he has received awards from institutions such as the Perennial Plant Association and the American Horticultural Society. He was given a fellowship from the Chanticleer Foundation in 2015 for his curatorial and plant exploration work.
Kelly holds bachelor's and master's degrees in horticulture from Iowa State University.
---
Lecture 2
Panayoti Kelaidis: Native Alternatives to Common Garden Plants
Class available on-demand: April 8
Duration: Approx. 60 minutes
LIVE Q & A: April 13, 7pm EST

There's lots of talk about growing native plants, but many gardeners are disappointed when the wildlings they tuck into established garden beds fail to thrive. Panayoti Kelaidis is a plant explorer, gardener, public garden administrator, and champion of the native plants of western North America. In this class, he introduces some of his favorite North American natives and discusses which common plants they could replace in a typical garden. He also talks about the growing conditions where each plant thrives in the wild, and gives practical advice for creating habitats within the home garden that suit these natives. For example, he demonstrates how you can create a berm to successfully grow spectacular sunset hyssop (Agastache rupestris, Zones 5–9) and Southwestern salvias such as autumn sage (Salvia greggii, Zones 7–9). He also teaches participants how to create a miniature rock berm for smaller perennials, a small meadow garden for bulbs and wildflowers, and a truly xeric garden for xerophytes (not only cacti!) Even a large garden space can accommodate these pocket plantings, which can be as showy as conventional gardens and more sustainable.
About the presenter
Panayoti Kelaidis is a plant explorer, gardener, and public garden administrator associated with Denver Botanic Gardens for over 40 years, where he is now senior curator and director of outreach. He has introduced hundreds of native ornamentals from throughout the western United States to general horticulture. He has taken six collecting trips to South Africa researching the high mountain and steppe flora there, made visits to the Andes and the Himalaya (Pakistan, Tibet, and China), and traveled throughout Europe, the Caucasus, Turkey, and New Zealand. He is currently president of the North American Rock Garden Society.
---
Lecture 3
William Cullina: Gardening in Harmony With Birds and Pollinators
Class available on-demand: April 15
Duration: Approx. 60 minutes
Live Q & A with teacher: Wednesday, April 20 (7pm EST)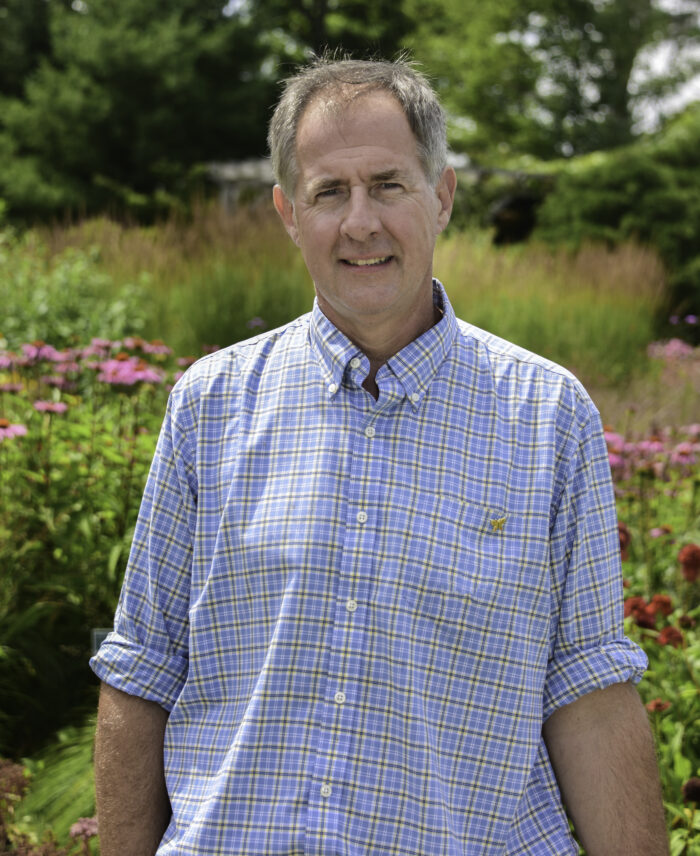 Gardeners love the creatures that inhabit their backyard worlds almost as much as they love their plants. Join renowned native-plant expert William Cullina for an engaging, informative class on how to support and attract birds and pollinators by including the plant species they love in the landscape. Not only will participants learn about matching up wildlife and plants to reach their own gardening objectives, but they will also discover practical strategies to help get the job done. William's knowledge and enthusiasm for creating backyard habitats will provide participants with a solid understanding of the importance and joy of gardening with birds and pollinators in mind. Be prepared to tune in online with a sense of curiosity and to sign off with a strong foundation of information.
About the presenter
William Cullina has been described as an intrepid New England gardener, but native-plant guru might be a better moniker. Before becoming the executive director of the Morris Arboretum of the University of Pennsylvania in 2019, William spent eight years as the president and CEO of the Coastal Maine Botanical Gardens. Prior to that, he worked for 13 years as the nursery director and head propagator at the New England Wild Flower Society, where he developed the largest native-plant nursery in New England. William holds a bachelor's degree in plant sciences from the University of Connecticut. An expert plantsman and skilled photographer, he is the author of several acclaimed books on native plants. He is also a popular lecturer, a regular contributor to national publications, and a frequent guest on television and radio.
---
Lecture 4
Robert Schindelbeck: The Secret Life of Soil 
Class available on-demand: April 22
Duration: Approx. 60 minutes
Live Q & A with teacher: Wednesday, April 27 (7pm EST)

Healthy plants thrive in healthy soils. Gardeners with a green thumb know how to make their plants thrive by providing proper light and water. However, how gardeners impact the soil microbiome is just as essential for healthy plant growth. The holistic approach to soil management covered in this class puts this green thumb in a "brown palm," where the soil is understood to be a great repository of stored nutrients, water, soil carbon, and multitudes of microorganisms that directly impact plant life. The soil food web is one example of some of these ecological interrelationships.
In this class, we will cover how soil responds to gardeners' behavior and best practices to ensure healthy soil. Some soil health testing principles will be used as a framework for identifying essential soil processes as either thriving or constrained. These ideas draw attention to the circle of life in which flourishing soil supports prosperous plants.
About the presenter
Robert Schindelbeck has been working in the field of soil science for the last 35 years. He is currently the director of the Soil Health Lab at Cornell University, where he works in extension, research, and teaching on issues related to soil health testing and adaptive soil management. His research focuses on soil tillage, soil compaction, cover cropping, and soil health. He has considerable field experience planning and executing experiments studying soil behavior under different conditions. In the Soil Health Laboratory, he continues to develop new procedures for soil health testing. He has delivered over 300 presentations on soil health, focusing on a strategic approach to field management.
---
This event has passed