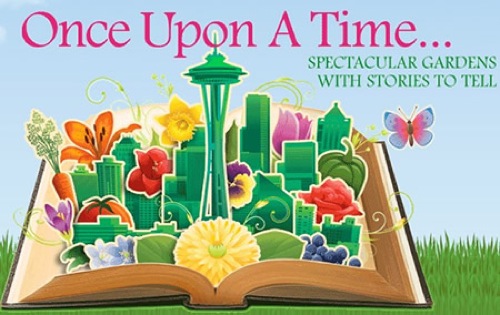 This is the time of year when all my writing pals blog about New Years resolutions for the garden. Since I've never kept a resolution longer than the time it takes to pass across my well-intentioned lips, I'm not gonna even attempt that feat. Instead, I'll ask YOU to make — and keep — a garden resolution.
Repeat after me: "THIS is the year I'll go to a garden show!" And what more appropriate time to dream about spring and working in your own garden than the icy grasp of winter?
At this very moment some of the most imaginative garden designers are hunkered down at their drawing boards putting the finishing touches on displays that'll knock your socks off. Most shows have dozens of seminars presented by experts in every gardening niche – container gardening, vertical gardening, succulents, tropical displays, outdoor living spaces, preserving your harvest, off-planet terraforming — you can't miss.
[Health precaution: Before you step into the show's vendor section, have a full check-up from your physician – some of the luscious plants that debut at the shows will make even a seasoned gardener palpitate.]
To Which Show Shall You Go?
No matter what region you live in, there's a garden show — too many for me to write about here. So I posted a note at Facebook asking some of my hort homies which ones they'd recommend. It didn't take long to get some rave endorsements. Here's what my peeps say you gotta go see…
San Francisco Flower & Garden Show – Wed. Mar. 23 – Tue. Mar. 29; San Mateo Events Center
Laura Livengood Schaub (Schaub Designs), perhaps a bit prejudiced, since she's social media manager for the show, told me "The SFGS is not to be missed, since you're speaking!"
That's right, Laura. My readers can meet me at the show. I'll be speaking on Thursday, March 24 (check the schedule when we get closer to the date). My seminar is titled, "How To Create Any Style Garden Using Mediterranean Plants." (If you live in snow country and can't grow a silver-leaf princess flower to save your life, come anyway, if only for the jokes.)
In the first hour, I'll teach you the same design principles I use in my own garden designs. Once you're brains are filled with cool design ideas, I'll release you to the vendor's hall to hunt for killer plant combos for your own garden. When you've shopped until you drop, come back for a bit of show-and-tell and personalized design advice from yours truly.
Charlotte  "Daffodil Planter" Germane (Daffodil Planter) left a note: "Don't forget Billy, the readers should attend SFGS because you'll be there, and they can spot you in your stingy brim. You do sign autographs, don't you?"
Indeed, Charlotte — I'll be giving away free, signed copies of my debut column, Design Like A Pro, in Fine Gardening Magazine.
But enough about me.
My favorite display at last year's San Francisco show was designed by Andrea Hurd, owner of Mariposa Gardening and Design, Berkeley CA. Andrea is an innovative designer whose gardens are deeply rooted in natural materials, native plants, and sustainable design. She excels in stonework, having studied with traditional builders in Europe. I appreciated the care and craftsmanship she put into her exhibit garden, even though it would be hauled off after a week.
Northwest Flower and Garden Show – Wed. Feb. 23 – Sun. Feb. 27;  Washington State Convention Center, Seattle.
There was strong Facebook lobbying for the Seattle show, and a dash of hometown pride from garden coach Christina Salwitz (The Personal Garden Coach), "because we've worked SO hard to keep it here in town. The NW can grow plants from zones that range from desert to tropical, and all in between — variety!!"
The theme this year is "Once Upon a Time", featuring 25 locally-designed show gardens, including one from the local chapter of the Association of Professional Landscape Designers (APLD).
Tuesday night, there's a gala preview party benefitting the Arboretum Foundation, helping to support the stunningly beautiful, 200-acre Washington Park Arboretum, a great side-trip while you're at the show.
Joe Lamp'l, creator and host of Growing A Greener World TV, adds, "NWFS for sure. Not only are the garden displays beautiful, but they're not over the top, unrealistic; where anything and everything that can bloom in a year is doing so, all in one week. Moreover, it's tops for educational seminars, and the people that attend are real gardeners. I think I've seen all the various shows by now, but the NWFS is consistently the best of all!"
Let's head east.
Chicago Flower and Garden Show – Sat.  Mar. 5 – Sun. Mar. 13; Navy Pier
Shawna Coronado, author of Gardening Nude, displayed a wee bit of local loyalty, singing the praises of the Chicago shindig. Short and sweet: "CF&GS – fantastic relief to winter, all done on Chicago's Navy Pier." (She'll be speaking at the show!)
There will be many fun activities surrounding the show, like the Friday, March 4, preview benefit for the Chicago Arboretum, and a Mix & Mingle night, with music and drinks.
The Garden Gourmet kicks into gear three times a day with culinary demonstrations featuring 36 of Chicago's top chefs, all using natural and home-grown ingredients. If you're bringing the kids, they've got that covered, too: playground, storytelling, plant potting, kid-friendly conservation tips, the science of worm composting — even a bug exhibit.
Philadelphia International Flower and Garden Show – Sun. Mar. 6 – Sun. Mar. 13; Pennsylvania Convention Center
Philly, my wife's hometown, was my impromptu survey's biggest vote getter. "Philly is spectacular. The Disneyland of indoor horticultural entertainment," effuses Kirk R. Brown.
And Laura Matthews (Punk Rock Gardens) calls it "the preeminent canvas for horticulture as art. Amazing artistry, passion and dedication fills every centimeter of this granddaddy of floral celebration."
Not much else I can say, except that this year's theme is "Springtime In Paris." There'll be flowering trees, lilacs, roses and borders of lavender (irrigated with a fine French Bordeaux?).
Visit the show's website for a chance to win two free tickets to the show, or one-night accommodations for two at Center City's French luxury hotel, Sofitel.
What Did I Miss?
If these big city shows are beyond your reach, don't dismay. My Google search for "flower shows" resulted in 18,200,000 hits, so there's bound to be one within 15-inches of your house.
Please quit your job, buy a school bus (slap some 60s stick-on daisies to the sides), and join me at the San Francisco Flower & Garden Show. It's more fun than a barrel of monkey puzzle trees (Araucaria araucana).
[Read last year's reports from the San Francisco Flower and Garden Show]