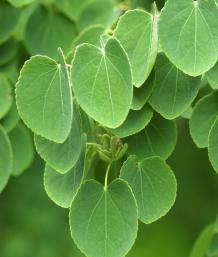 If you know the genus and species of this month's mystery plant, you could win a free year's subscription to Fine Gardening . Send your entry, along with your complete mailing address, by December 30, 2008 to [email protected] . The winner will be chosen at random from all correct entries.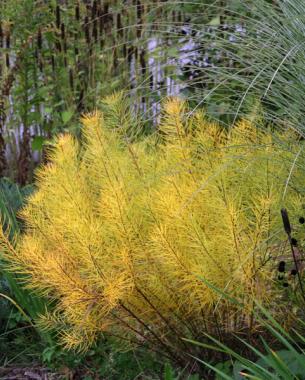 Last month's mystery plant was Amsonia hubrichtii, commonly known as thread-leaf blue star or Akansas blue star. This blue star, a U.S. native, is a clump-forming perennial that grows to 3 feet tall and 4 feet wide. Its finely-textured green foliage is the perfect canvas for its starry, sky-blue flowers that bloom in late spring. But fall is when this plant really comes into its own, when its foliage turns into a brilliant, eye-catching cloud of yellow that lights up any autumn scene it happens to grace. Thread-leaf blue star prefers full sun to light shade and moist, well-drained soil. It is hardy in USDA Hardiness Zones 5 to 8.
Jessica Hilton of Sanford, North Carolina, was chosen at random from all correct entries to receive a free one-year subscription to Fine Gardening. Congratulations, Jessica!
What eLetter subscribers have to say about Amsonia hubrichtii:
"This plant looks best in the fall as shown in your photo. I have mine planted in front of dwarf burning bush (Euonymus alatus 'Compactus') and the contrast of the red burning bush and the golden yellow of the amsonia. The blue flowers in spring are just a bonus to the fall spendor."
-Patti Thompson
"I have several established specimens in my beds, and they get the most "ooo's and ah's" when is they turn that glorious yellow-gold."
-Martha Stump, Marietta, Ohio
"It is one of my favorite plants!"
-Susan Longe, Vergennes, Vermont
"I've never grown it, but I do think it is beautiful!"
-Jeanne E. Mapes, Edmond, Oklahoma
"It looks like Amsonia hubrichtii starting its fall color change. This plant is absolutely beautiful and, for me, maintenance-free."
-Lucy Goszkowski, Annapolis, Maryland
"Lovely three-season perennial, four if you plant daffodils under the foliage."
-Windee Willoughby, Franklin, North Carolina
"It's one of my favorite plants!"
-Linda Cassidy, Elburn, Illinois
"What a wonderful pot of gold in the cold autumn light!"
-Carol Foster Hall, Rockville, Maryland
"I have one growing in my garden. It's lovely!"
-Jane Donelon, Brunswick, Maine
"When I interned at the Frelinghuysen Arboretum I became enamored with how striking the autumn foliage was and how it stood out from the other plants, it was a real show stopper. Since then I've planted it in my garden and I love how I don't have to worry about the deer eating it."
-Susan Manna, Madison, New Jersey
"What a great plant! In the spring it has beautiful purplish blue flowers, in the summer it's all green. But fall is my favorite time, when it turns the striking yellow shown in the photo. Mine also shows signs of orange."
-Susan Lunn, Arlington Heights, Illinois
"One of my favorite three-season perennials."
-Nancy Johnson, Madison, Virginia
"This is a plant I have admired for quite awhile. I've read about its good fall color, and will be looking for a source to get one of my own!"
-Donna Gisch, Farmington, Minnesota
"I just saw and fell in love with this plant at the New York Botanical Gardens."
-Georgette Martin, Hughsonville, New York
"I have several plants in my garden and I love them."
-Diana Harris, Murphysboro, Illinois
"I had three of them in my garden before I moved to totally wooded acreage. They are beautiful."
-Bonnie Tappan, Anderson, Indiana
"It is a wonderful perennial plant with three seasons of interest. You are showing it with its fall robes in your photo. The Scott Arboretum at Swarthmore College in Pennsylvania has huge sweeping stands of it that thrive in a full sun location."
-Ana Bessellieu, Bryn Mawr, Pennsylvania
"A great three-season plant: delicate blue spring bloom, nice willowy summer shape, and brilliant gold fall foliage. Care-free, too! Combine with low growing asters in fall."
-Pam Benz, Winnetka, Illinois
"This has been on my "must have" list for several years. I still don't have one. Maybe next year!"
-April Clark, Kaysville, Utah
"A good performer here in Zone 4."
-Mary Yee, Edina, Minnesota
"This is a fantastic foliage plant seldom seen in gardens. Drought-tolerant as well."
-Timothy Venhuizen, Lakewood, Colorado
"I had it in my backyard at my last house. It was a nice plant and easy to care for."
-Judy Masters, Huntsville, Alabama
"It's one of my favorites for foliage, structure, and fall color."
-Amy Kunkel, Nazareth, Pennsylvania
"It's a plant I've wanted for a long time, but not acquired yet."
-Anita Collins, Chapel Hill, North Carolina
"One of my faves!"
-Mary Ellen Wilson, Philadelphia, Pennsylvania
"I love this plant for its fall color and for the softness the fine foliage adds to the garden during the summer."
-Alice Sassone, Youngstown, Ohio
"It turns golden in fall, with beautiful pale blue flowers in late spring and early summer at my home. It gets larger each year, and I have had to move it to a place of it's own in my garden. This is one of the most beautiful fall foliage plants in the garden."
-Helen A. Scruggs
"It's only A. hubrechtii that has that awesome fine foliage and autumn coloring. When I got my A. tabernaemontana several years ago I didn't know there was A. hubrechtii at the time. Since then I've been looking for A. hubrechtii and have never seen it available."
-Wendy Blatt
"Love the fine texture and fall color of Amsonia hubrichtii."
-Susan Wall, Charlotte, North Carolina